A 17-month-old girl presented with jaundice, hepatosplenomegaly, ascites and scaly erythematous skin lesion
Abstract
This article has no abstract. The first 100 words appear below:
A 17-month-old girl, only issue of non-consanguineous parents, hailing from Sirajgonj, Bangladesh immunized as per EPI schedule got admitted to the inpatient department with the history of abdominal distension, jaundice, not growing well along with scaly skin lesion over scalp, chest, palm and sole for 9 months. She was reasonably well 9 months back. Then she developed abdominal distention which was increasing day-by-day associated with gradually deepening jaundice. There was also a history of irregular fever and cough for 1 month. Fever was high-grade irregular in nature, subsided by taking antipyretics in conjunction with non-productive cough. There was no history of contact with the tuberculosis patient, any surgery or dental procedure, family history of liver disease, but the history of one unit blood transfusion.
Downloads
Download data is not yet available.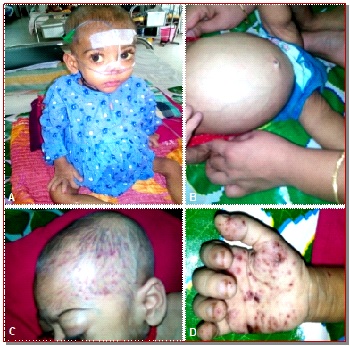 Downloads
How to Cite
Munmun, S. R., Karim, A. S. M. B., Parveen, R., Benazamin, M., Tanim, M. S. A., & Shrestha, M. B. (2018). A 17-month-old girl presented with jaundice, hepatosplenomegaly, ascites and scaly erythematous skin lesion. Bangabandhu Sheikh Mujib Medical University Journal, 11(4), 304–309. https://doi.org/10.3329/bsmmuj.v11i4.38382
Section
Case Presentation