A 5½ month old girl with ascites
Luthfun Nahar

Department of Pediatric Gastroenterology and Nutrition, Faculty of Pediatrics, Bangabandhu Sheikh Mujib Medical University, Shahbag, Dhaka

A. S. M. Bazlul Karim

Department of Pediatric Gastroenterology and Nutrition, Faculty of Pediatrics, Bangabandhu Sheikh Mujib Medical University, Shahbag, Dhaka

Md. Wahiduzzaman Mazumder

Department of Pediatric Gastroenterology and Nutrition, Faculty of Pediatrics, Bangabandhu Sheikh Mujib Medical University, Shahbag, Dhaka

Zannatul Ferdous Sonia

Department of Pediatric Gastroenterology and Nutrition, Faculty of Pediatrics, Bangabandhu Sheikh Mujib Medical University, Shahbag, Dhaka
Keywords:
Ascites, Case Presentation, Chylous, Congenital
Abstract
This article has no abstract. The first 100 words appear below:
A 5½ month old girl, 2nd issue of non-consanguineous parents from Jamalpur immunized as per EPI schedule, presented at the outpatient department with the history of abdominal distension since 2 months of her age which gradually increased day by day (Figure 1). She also had  a history of fever for 1 month which was low-grade, intermittent in nature but not documented and subsided after taking antipyretic. She had no history of cough, contact with tuberculosis patient, jaundice, pale stool, diarrhea, scanty micturition,  abdominal trauma or any history of surgery. Her elder brother was healthy and there was no family history of such type illness.
Downloads
Download data is not yet available.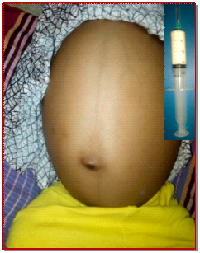 How to Cite
Nahar, L., Karim, A. S. M., Mazumder, M., & Sonia, Z. (2018). A 5½ month old girl with ascites. Bangabandhu Sheikh Mujib Medical University Journal, 11(2), 139-144. https://doi.org/10.3329/bsmmuj.v11i2.36255
Section
Case Presentation
Copyright (c) 2018 Luthfun Nahar, A. S. M. Bazlul Karim, Md. Wahiduzzaman Mazumder, Zannatul Ferdous Sonia
This work is licensed under a Creative Commons Attribution 4.0 International License.