Glucose transporter 4 gene expression in peripheral blood leukocytes in type 2 diabetes mellitus
Shahana Jasmin

Department of Biochemistry and Molecular Biology, Faculty of Basic Science and Paraclinical Science, Bangabandhu Sheikh Mujib Medical University, Shahbag, Dhaka, Bangladesh

Mohammad Ali

Department of Biochemistry and Molecular Biology, Faculty of Basic Science and Paraclinical Science, Bangabandhu Sheikh Mujib Medical University, Shahbag, Dhaka, Bangladesh

Mokerroma Ferdous

Department of Biochemistry and Molecular Biology, Faculty of Basic Science and Paraclinical Science, Bangabandhu Sheikh Mujib Medical University, Shahbag, Dhaka, Bangladesh

M. Iqbal Arslan

Department of Biochemistry and Molecular Biology, Faculty of Basic Science and Paraclinical Science, Bangabandhu Sheikh Mujib Medical University, Shahbag, Dhaka, Bangladesh

Subrata K. Biswas

Department of Biochemistry and Molecular Biology, Faculty of Basic Science and Paraclinical Science, Bangabandhu Sheikh Mujib Medical University, Shahbag, Dhaka, Bangladesh
Keywords:
Glucose transporter 4 gene expression, Diabetes mellitus, mRNA
Abstract
The purpose of this study was to examine the status of glucose transporter type-4 (GLUT4) gene expression in the peripheral blood leukocytes of type 2 diabetic patients and explore the correlation of GLUT4 expression with homeostasis model assessment-insulin resistance with a view to validate GLUT4 as a relatively less invasive alternate marker for insulin resistance. A total of 48 subjects were recruited. Among them, 23 subjects were diabetic and 25 were age, sex and body mass index-matched non-diabetic healthy control subjects. Insulin resistance, beta cell function and insulin sensitivity were assessed from the fasting blood samples. The mRNA levels of GLUT4 gene in the peripheral blood leukocytes were quantified by reverse transcriptase PCR. There was no significant alteration of GLUT4 gene status between type 2 diabetes mellitus and control. The GLUT4 gene expression showed a negative trend in the relationship with fasting glucose, HbA1c, insulin and insulin resistance in diabetic patients. In conclusion, the GLUT4 gene expression in the peripheral blood leukocytes cannot be used as a marker of insulin resistance.
Downloads
Download data is not yet available.
Abstract
416
Download
293 Read
120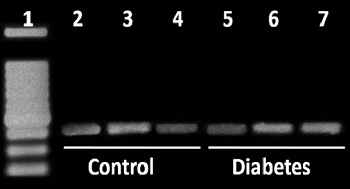 How to Cite
Jasmin, S., Ali, M., Ferdous, M., Arslan, M. I., & Biswas, S. (2019). Glucose transporter 4 gene expression in peripheral blood leukocytes in type 2 diabetes mellitus. Bangabandhu Sheikh Mujib Medical University Journal, 12(1), 19-24. https://doi.org/10.3329/bsmmuj.v12i1.40467
Section
Original Articles
Copyright (c) 2019 Shahana Jasmin, Mohammad Ali, Mokerroma Ferdous, M. Iqbal Arslan, Subrata K. Biswas
This work is licensed under a Creative Commons Attribution 4.0 International License.