Rod derotation technique, a good option for correction of idiopathic kyphoscoliosis
Md. Anowarul Islam

Spine Surgery Unit, Department of Orthopedic Surgery, Faculty of Surgery, Bangabandhu Sheikh Mujib Medical University, Shahbag, Dhaka

Santosh Batajoo

Spine Surgery Unit, Department of Orthopedic Surgery, Faculty of Surgery, Bangabandhu Sheikh Mujib Medical University, Shahbag, Dhaka

Manish Shrestha

Spine Surgery Unit, Department of Orthopedic Surgery, Faculty of Surgery, Bangabandhu Sheikh Mujib Medical University, Shahbag, Dhaka
Keywords:
Idiopathic scoliosis, Rod rotation
Abstract
Review of the radiological and clinical outcomes of the correction of idiopathic scoliosis by convex  rod rotation were done in this prospective interventional study. Axial translation technique with pedicle screw-rod was used for correction of scoliosis. 35 patients (10 males, 25 females) were studied on the basis of clinical and radiological outcomes with a mean age of 14.8 years and follow-up a period of 32.5 months. Placement of screws was more on the concavity, around apical region and instrumentation at all levels were not mandatory. Radiological evaluation was done pre-operatively and at 1, 3, 6 and 12 months post-operatively by whole spine standing anteroposterior, lateral radiographs and yearly thereafter. Spinal balance was noted, measurement of Cobb's angles, SRS questionnaire for clinical evaluation and complications were documented. The study result shows three-dimensional deformity of spine can be corrected effectively with simple rod rotation with pedicle screw instrumentation by axial translation technique.
Downloads
Download data is not yet available.
Abstract
887
Download
930 Read
158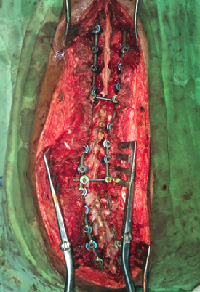 How to Cite
Islam, M., Batajoo, S., & Shrestha, M. (2018). Rod derotation technique, a good option for correction of idiopathic kyphoscoliosis. Bangabandhu Sheikh Mujib Medical University Journal, 11(1), 45-48. https://doi.org/10.3329/bsmmuj.v11i1.35813
Section
Original Articles
Copyright (c) 2018 Md. Anowarul Islam, Santosh Batajoo, Manish Shrestha
This work is licensed under a Creative Commons Attribution 4.0 International License.