Coccygectomy can be a option for coccydynia which is refractory to medical treatment
Md. Anowarul Islam

Santosh Batajoo

Spine unit, Department of Orthopaedic Surgery, Faculty of Surgery, Bangabandhu Sheikh Mujib Medical University, Shahbag, Dhaka, Bangladesh

Md. Sayeed Al Mahmud

Spine unit, Department of Orthopaedic Surgery, Faculty of Surgery, Bangabandhu Sheikh Mujib Medical University, Shahbag, Dhaka, Bangladesh

Manish Shrestha

Spine unit, Department of Orthopaedic Surgery, Faculty of Surgery, Bangabandhu Sheikh Mujib Medical University, Shahbag, Dhaka, Bangladesh
Abstract
The aim of this study was to evaluate the clinical outcome of coccygectomy those who were refractory to conservative treatment. Twenty patients (5 males, 15 females) underwent total coccygectomy when coccygodynia did not responding to medical treatment July 2013 to September 2018. All the patients timely attended with non-traumatic (n = 12) and traumatic (n = 8) cause with mean follow-up visits of 24 months (range 18-28 months). The outcome pain intensity was evaluated by visual analogue scale (VAS) in sitting position and during daily activities. Three patients had infection which improved after antibiotic therapy. The VAS improved from 6.4 ± 0.9 to 2.1 ± 0.9 for sitting and from 5.8 ± 0.9 to 1.6 ± 0.6 for daily activities. Improvement in pain and daily activities were significant at the final follow-up. Ninety percent patients were satisfied with the operation.
Downloads
Download data is not yet available.
Abstract
543
Download
324 Read
108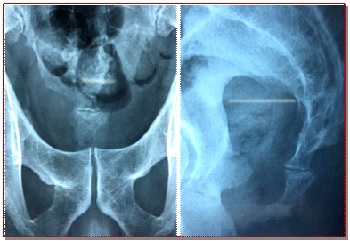 How to Cite
Islam, M., Batajoo, S., Mahmud, M., & Shrestha, M. (2018). Coccygectomy can be a option for coccydynia which is refractory to medical treatment. Bangabandhu Sheikh Mujib Medical University Journal, 11(4), 282-285. https://doi.org/10.3329/bsmmuj.v11i4.38617
Section
Original Articles
Copyright (c) 2018 Md. Anowarul Islam, Santosh Batajoo, Md. Sayeed Al Mahmud, Manish Shrestha
This work is licensed under a Creative Commons Attribution 4.0 International License.