Integrity test of lead apron and its effect on personnel and carers
Keywords:
Carer, Lead apron, Radiation worker
Abstract
The use of lead apron is known to protect radiation workers and carers (patient relatives) from the scatter radiation. The study intends to assess the integrity of lead apron by checking for defects and to estimate the mean dose rate to personnel and carers and also to compare the percentage mean absorbance of the apron with the related studies. Ten lead aprons were used involving three vendors. A fluoroscopy unit, floor mounted X-ray unit, survey meter, lead aprons and meter rule were used. Crack and tear were identified with some areas close to the critical organ site. Eighty percent of the aprons showed signs that they were defective. Correlation of the lead aprons mean age and the total number of defective lead aprons were not significant (p=0.866). The mean thickness of the aprons for the three brands affected the percentage absorbance (p<0.001). The mean dose rate was above 20 mSv recommended for radiation workers averaged over a single year. It is recommended that the defective apron close to the critical organ be replaced and those in areas distal from the critical organs be further evaluated using the rejection criteria test before they are replaced.
Downloads
Download data is not yet available.
Abstract
2005
Download
4578 Read
1716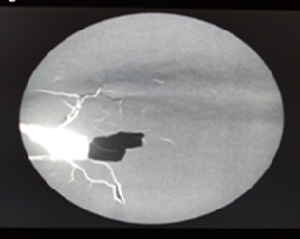 Additional Files
How to Cite
Daniel, O. A., & Xaviera, I. C. (2018). Integrity test of lead apron and its effect on personnel and carers. Bangabandhu Sheikh Mujib Medical University Journal, 11(1), 34–37. https://doi.org/10.3329/bsmmuj.v11i1.35360
Section
Original Articles