A 14 year old boy with reimplantation of avulsed maxillary central incisors
Md. Abdul Hannan Sheikh

Department of Conservative Dentistry and Endodontics, Faculty of Dentistry, Bangabandhu Sheikh Mujib Medical University, Shahbag, Dhaka

Mozammal Hossain

Department of Conservative Dentistry and Endodontics, Faculty of Dentistry, Bangabandhu Sheikh Mujib Medical University, Shahbag, Dhaka

http://orcid.org/0000-0003-3414-9244

Sultana Parveen

Department of Conservative Dentistry and Endodontics, Faculty of Dentistry, Bangabandhu Sheikh Mujib Medical University, Shahbag, Dhaka

Kamrun Nahar Shanta

Department of Conservative Dentistry and Endodontics, Faculty of Dentistry, Bangabandhu Sheikh Mujib Medical University, Shahbag, Dhaka

Md. Joynal Abdin

Department of Conservative Dentistry and Endodontics, Faculty of Dentistry, Bangabandhu Sheikh Mujib Medical University, Shahbag, Dhaka
Keywords:
Avulsion of tooth, Case Presentation, Maxillary central incisor, Reimplantation
Abstract
This article has no abstract. The first 100 words appear below:
A 14 year old boy, came to the Department with the complaint of accidental missing of upper two central incisor teeth (Figure 1A, B). The teeth were brought by the patient those were healthy and intact. His medical history was non-contributory and he was tetanus immunized. He came 2 hours after the accident with the missing teeth immersed into 0.9% sodium chloride solution. On clinical examination, there were missing of both central incisors. Sockets were full of  blood. On palpation, no other tooth was tender.
Downloads
Download data is not yet available.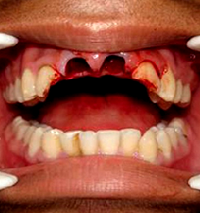 How to Cite
Sheikh, M. A., Hossain, M., Parveen, S., Shanta, K., & Abdin, M. (2018). A 14 year old boy with reimplantation of avulsed maxillary central incisors. Bangabandhu Sheikh Mujib Medical University Journal, 11(2), 155-160. https://doi.org/10.3329/bsmmuj.v11i2.36347
Section
Case Presentation
Copyright (c) 2018 Md. Abdul Hannan Sheikh, Mozammal Hossain, Sultana Parveen, Kamrun Nahar Shanta, Md. Joynal Abdin
This work is licensed under a Creative Commons Attribution 4.0 International License.