A 24 year old male patient with weakness in the left upper limb
Redoy Ranjan

Department of Cardiac Surgery, Faculty of Surgery, Bangabandhu Sheikh Mujib Medical University, Shahbag, Dhaka 1000, Bangladesh

Mayank Acharya

Department of Cardiac Surgery, Faculty of Surgery, Bangabandhu Sheikh Mujib Medical University, Shahbag, Dhaka 1000, Bangladesh

Heemel Saha

Department of Cardiac Surgery, Faculty of Surgery, Bangabandhu Sheikh Mujib Medical University, Shahbag, Dhaka 1000, Bangladesh

Dharmendra Joshi

Department of Cardiac Surgery, Faculty of Surgery, Bangabandhu Sheikh Mujib Medical University, Shahbag, Dhaka 1000, Bangladesh

Sanjoy Saha

Department of Cardiac Surgery, Faculty of Surgery, Bangabandhu Sheikh Mujib Medical University, Shahbag, Dhaka 1000, Bangladesh

Asit Baran Adhikary

Department of Cardiac Surgery, Faculty of Surgery, Bangabandhu Sheikh Mujib Medical University, Shahbag, Dhaka 1000, Bangladesh
Abstract
This article has no abstract. The first 100 words appear below:
A 24 year old male attended the outpatient department of a local hospital with the chief complaints of pain in the central chest for two years and easy fatigability of the left upper limb for one and half years. After performing various examinations and investigations, he was sent to Al Helal Specialized Hospital with the preliminary diagnosis of coarctation of the aorta. The pain was dull aching in nature, continuous in duration, mild in intensity mostly, but sometimes intense sharp stabbing, radiating to the back. There was no known aggravating factor but lying down relieved it partially.
Downloads
Download data is not yet available.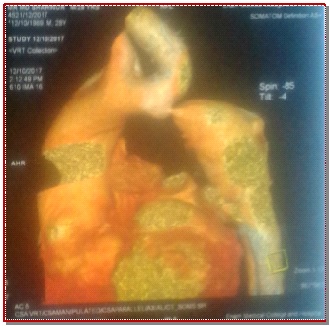 How to Cite
Ranjan, R., Acharya, M., Saha, H., Joshi, D., Saha, S., & Adhikary, A. (2018). A 24 year old male patient with weakness in the left upper limb. Bangabandhu Sheikh Mujib Medical University Journal, 11(3), 236-240. https://doi.org/10.3329/bsmmuj.v11i3.37703
Section
Case Presentation
Copyright (c) 2018 Redoy Ranjan, Mayank Acharya, Heemel Saha, Dharmendra Joshi, Sanjoy Saha and Asit Baran Adhikary
This work is licensed under a Creative Commons Attribution 4.0 International License.