Epstein-Barr virus latent membrane protein-1 expression in Hodgkin lymphoma
Ferdousy Begum

Department of Pathology, Faculty of Basic Science and Paraclinical Science, Bangabandhu Sheikh Mujib Medical University, Dhaka 1000, Bangladesh

Prabir Kumar Saha

Department of Pathology, Faculty of Basic Science and Paraclinical Science, Bangabandhu Sheikh Mujib Medical University, Dhaka 1000, Bangladesh

Tasmina Enam

Department of Pathology, Faculty of Basic Science and Paraclinical Science, Bangabandhu Sheikh Mujib Medical University, Dhaka 1000, Bangladesh

Mohammed Kamal

Department of Pathology, Faculty of Basic Science and Paraclinical Science, Bangabandhu Sheikh Mujib Medical University, Dhaka 1000, Bangladesh
Abstract
Expression of latent membrane protein-1 of Epstein-Barr virus is documented in Hodgkin lymphoma indicating its relationship in disease process. A total of 50 cases of Hodgkin lymphoma were analyzed for latent membrane protein-1 expression by immunohistochemistry. The mean age was 28.7 years with male predominance. Mixed cellularity classical Hodgkin lymphoma was the commonest subtype (50% cases). Out of 50 cases, 48% cases were found positive for latent membrane protein. Of the five histologic subtypes, all cases of lymphocyte depleted classical Hodgkin lymphoma showed positivity which was followed by 60% positivity of mixed cellularity classical Hodgkin lymphoma. Association of latent membrane protein-1 expression in relation to different age group, site of involvement and subtypes of Hodgkin lymphoma were found statistically insignificant while latent membrane protein-1 expression was significantly higher in male than female.
Downloads
Download data is not yet available.
Abstract
843
Download
413 Read
218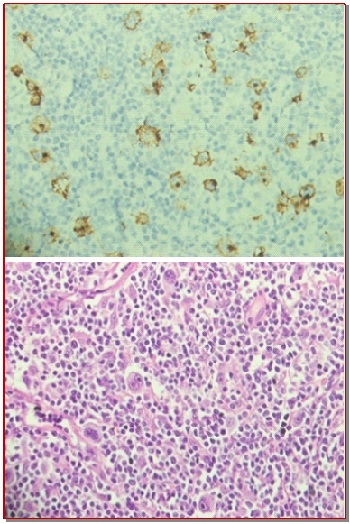 How to Cite
Begum, F., Saha, P., Enam, T., & Kamal, M. (2018). Epstein-Barr virus latent membrane protein-1 expression in Hodgkin lymphoma. Bangabandhu Sheikh Mujib Medical University Journal, 11(3), 203-208. https://doi.org/10.3329/bsmmuj.v11i3.36813
Section
Original Articles
Copyright (c) 2018 Ferdousy Begum, Prabir Kumar Saha, Tasmina Enam, Mohammed Kamal
This work is licensed under a Creative Commons Attribution 4.0 International License.