Cornary microvascular dysfunction: an under- appreciatwed segment of coronary artery disease
Abstract
Abstract not available
University Heart Journal Vol. 9, No. 2, July 2013; 107-111
Downloads
Download data is not yet available.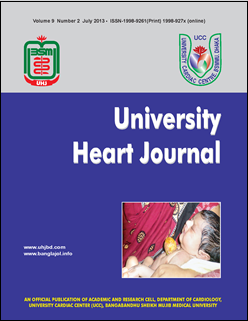 Downloads
How to Cite
Khaled, M. F. I., Banerjee, S. K., Parvin, T., Adhikary, D. K., Ahmed, C., Siddique, M. A., Kabir, M. F. I., Hossain, M. M., Rahman, M. A., Islam, L. M. T., & Hasan, A. I. (2015). Cornary microvascular dysfunction: an under- appreciatwed segment of coronary artery disease. University Heart Journal, 9(2), 107–111. https://doi.org/10.3329/uhj.v9i2.23432
License
Authors are required to transfer their copyright to the University Heart Journal.