Alloimperatorin and its epoxide derivative exhibit in vitro antitumor activity in HL-60 acute myeloid leukemia cancer cells via inducing apoptosis, cell cycle disruption and inhibition of cell migration
Keywords:
Acute myeloid leukemia cancer cell, Alloimperatorin, Antitumor, Apoptosis, Cell cycle disruption, Cell migration, Epoxide, HL-60
Abstract
The aim of the present study was to synthesize epoxide derivative of alloimperatorin and evaluating its antitumor and apoptotic effects in acute myeloid leukemia HL-60 cells. The cytotoxic effects were demonstrated by MTT assay. Fluorescence microscopy along with flow cytometry were performed to evaluate the effect of alloimperatorin epoxide on apoptosis and cell cycle. In vitro wound healing assay was performed to study compounds effect on cancer cell migration. The results indicated that alloimperatorin epoxide (IC50 = 32.1 µM) was much more effective in inhibiting HL-60 cancer cell growth as compared to alloimperatorin (IC50 = 128 µM). Further, alloimperatorin epoxide induced apoptosis related morphological alterations in HL-60 cells including blebbing of plasma membrane, DNA fragmentation and formation of apoptotic bodies. Alloimperatorin epoxide also led to G2/M phase cell cycle arrest and suppressed HL-60 cancer cell migration indicating that this compound may be a promising candidate for the treatment of cancer metastasis.
Downloads
Download data is not yet available.
Abstract
1533
Download
679 Read
1258
References
Durgo K, Koncar M, Komes D, Belscak-Cvitanovic A, Franekic J, Jakopovich I, Jakopovich N, Jakopovich B. Cytotoxicity of blended versus single medicinal mushroom extracts on human cancer cell lines: Contribution of polyphenol and polysaccharide content. Int J Med Mushrooms. 2013; 15: 435-48.
Friesen C, Herr I, Krammer PH, Debatin KM. Involvement of the CD95 (APO-1/FAS) receptor/ligand system in drug-induced apoptosis in leukemia cells. Nat Med. 1996; 2: 574-77.
Gach K, Janecka A. ?-Methylene-?-lactones as a novel class of anti-leukemic agents. Anticancer Agents Med Chem. 2014; 14: 688-94.
Hoffman, Ronald. Hematology: Basic principles and practice. 4th ed. St. Louis, Elsevier Churchill Livingstone, 2005, pp 107475.
Hsu HF, Huang KH, Lu KJ, Chiou SJ, Yen JH, Chang CC, Houng JY. Typhonium blumei extract inhibits proliferation of human lung adenocarcinoma A549 cells via induction of cell cycle arrest and apoptosis. J Ethnopharmacol. 2011; 135: 492-500.
Jemal A, Thomas A, Murray T, Thun M. Cancer statistics, 2002. CA Cancer J Clin. 2002; 52: 2347.
Liang CC, Park AY, Guan JL. In vitro scratch assay: A convenient and inexpensive method for analysis of cell migration in vitro. Nat Protoc. 2007; 2: 329?33.
Luo KW, Sun JG, Chan JY, Yang L, Wu SH, Fung KP, Liu FY. Anticancer effects of imperatorin isolated from Angelica dahurica: Induction of apoptosis in HepG2 cells through both death-receptor- and mitochondria-mediated pathways. Chemotherapy 2011; 57: 449-59.
Manjunatha BK, Amith RR. Alloimperatorin from Aegle mermelos; A promising lead molecule for hepatoprotection: In vivo and in silico approach. Int J Curr Res. 2011; 3: 5-10.
Ravishankar D, Rajora AK, Greco F, Osborn HM. Flavonoids as prospective compounds for anti-cancer therapy. Int J Biochem Cell Biol. 2013; 45: 2821-31.
Wilkinson RW, Odedra R, Heaton SP, Wedge SR, Keen NJ, Crafter C, Foster JR, Brady MC, Bigley A, Brown E, Byth KF, Barrass NC, Mundt KE, Foote KM, Heron NM, Jung FH, Mortlock AA, Boyle FT, Green S. AZD1152, a selective inhibitor of Aurora B kinase, inhibits human tumor xenograft growth by inducing apoptosis. Clin Cancer Res. 2007; 13: 3682-88.
Xu X, Zhang Y, Qu D, Jiang T, Li S. Osthole induces G2/M arrest and apoptosis in lung cancer A549 cells by modulating PI3K/Akt pathway. J Exp Clin Cancer Res. 2011; 30: 33.
Yang C, Zhang X. Incidence survey of leukemia in China. Chin Med Sci J. 1991; 6: 65-70.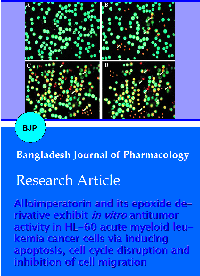 How to Cite
Li, H., X. Chao, C.-L. He, X.-M. Wang, M. Liang, and C.-H. Dong. "Alloimperatorin and Its Epoxide Derivative Exhibit in Vitro Antitumor Activity in HL-60 Acute Myeloid Leukemia Cancer Cells via Inducing Apoptosis, Cell Cycle Disruption and Inhibition of Cell Migration". Bangladesh Journal of Pharmacology, vol. 11, no. 1, Jan. 2016, pp. 194-9, doi:10.3329/bjp.v11i1.24575.
Section
Research Articles
License
Authors who publish with this journal agree to the following terms:
Authors retain copyright and grant the journal right of first publication with the work simultaneously licensed under a

Creative Commons Attribution License

that allows others to share the work with an acknowledgement of the work's authorship and initial publication in this journal.
Authors are able to enter into separate, additional contractual arrangements for the non-exclusive distribution of the journal's published version of the work (e.g., post it to an institutional repository or publish it in a book), with an acknowledgement of its initial publication in this journal.
Authors are permitted and encouraged to post their work online (e.g., in institutional repositories or on their website) prior to and during the submission process, as it can lead to productive exchanges, as well as earlier and greater citation of published work (See

The Effect of Open Access

).