Antidiarrheal activity of methanolic leaf extract of Rumex vesicarius
Keywords:
Antidiarrhea, Rumex vesicarius
Abstract
This study evaluates the antidiarrheal activity of Rumex vesicarius (leaf) by using in vitro and in vivo assays. Antidiarrheal effect of R. vesicarius was  evaluated using castor oil-induced diarrhea model in rat. Weight and  volume of the intestinal content were assessed using the enteropooling method. Atropine (3 mg/kg, i.p) was used as positive control. R. Vesicarius at the  doses of 200 and 400 mg/kg p.o. significantly retarded castor oil-induced  enteropooling and intestinal transit. The gastrointestinal transit rate was  studied and R. vesicarius at the doses of 200 and 400 mg/kg significantly inhibited (p<0.001) weight and volume of intestinal content. R. vesicarius caused concentration-dependent (0.011?mg/mL) relaxation of spontaneous contractions in isolated rabbit jejunum tissue preparation and inhibited K+-80 induced contractions (0.01-5?mg/mL), similar to verapamil, suggestive of calcium channel blockade. Results obtained herein indicate that R. vesicarius may contain effective compounds which can be used as an antidiarrheal agent.
Downloads
Download data is not yet available.
Abstract
2072
Download
883 Read
570
References
Aggarwal BB, Ichikawa H, Garodia P, Weerasinghe P, Sethi G, Bhatt ID, Pandey MK, Shishodia S, Nair MG. From traditional Ayurvedic medicine to modern medicine: Identification of therapeutic targets for suppression of inflammation and cancer. Expert Opin Ther Targets. 2006; 10: 88-118.
Ahirrao YA, Patil DA. Ethnomedicinal claims against stomach complaints in Buldhana District (Maharashtra, India). Life Sci Leaflet. 2011; 1: 1625.
Allen SJ, Okoko B, Martinez E, Gregorio G. Dans LF. Probiotics for treating infectious diarrhea. Cochrane Database Syst Rev. 2004; 2: CD003048.
Amira M, Abu T, Kadriya E, Fatimah OA. Assessment of antifungal activity of Rumex vesicarius L. and Ziziphus spina-christi (L.) Willd. Extracts against two phytopathogenic fungi. Afr J Microbiol Res. 2012; 5: 1001-11.
Ammon HV, Soergel KH. Diarrhea in Bockus Gastroenterology. 4th ed. Philadelphia, Saunders, 1985, pp 125-41.
Aziz A, Khan IA, Munawar SH, Munzoor Z, Agha S. Evaluation of antitussive activity of Lycopus europaeus on cough reflex induced by different cough induced models in mice. Int J Pharma Sci. 2014; 3: 412-16.
Aziz A, Khan IA, Munawar SH, Sadrul, S. Antipyretic study of methanolic bark extract of Plumeriar ubra, Linn. in various pyrexia induced models. Int J Res Dev Pharm Life Sci. 2013a; 2: 680-85.
Aziz A, Khan IA, Ahmad BA. Evaluation of the antidiarrheal activity of aqueous extract of Lycopus europaeus in mice. Pharma Sci Monitor. 2013b; 4 : 442-49.
Croci T, Landi M, Emonds-Alt X, Le-Fur G., Maffrand JP, Manara L. Role of tachykinins in castor oil diarrhoea in rats. Bri J Pharmacol. 1997; 121: 37580.
Dymoke W. A history of the principal drugs of the vegetable origin. 2nd ed. Pharmacographia Indica. Karachi, Hamdard Publications, 1972, p 2114.
Galvez J, Zavzuelo A, Crespo ME, Lorente MD, Ocete MA, Jimenez J. Anti-diarrhoeic activity of Euphorbia hirta extract and isolation of an active flavanoid constituent. Planta Medica. 1993; 59: 333-36.
Hariparasad PS. Phytochemical screening and pharmacognistic evaluation of Rumex vesicarius L. Int J Pharmtech Res. 2011; 3: 1078-82.
Izzo AA, Mascolo N, Capasso R, Germano MP, DePasquel R, Capasso F. Inhibitory effect of caannabinoid agonists on gastric emptying in the rat. Arch Pharmacol. 1999; 360: 221-23.
Iwao I, Terada Y. On the mechanism of diarrhea due to castor oil. Japanese J Pharmacol. 1962; 12: 13745.
Khan IA, Aziz A, Munawar SH, Munzoor Z. Antiemetic activity of methanolic leaf extract of Rumex vesicarius Linn. Int J Pharm Res Allied Sci. 2013; 2: 33-37.
Khan IA, Aziz A, Saqib F, Munawar SH, Manzoor Z, Raza MS. Pharmacological evaluation of Rumex vesicarius Linn leaf extract and fractions in rabbit gastrointestinal ailment. Afri J Pharm Pharmacol. 2014a; 8: 333-41.
Khan IA, Aziz A, Munawar SM, Manzoor Z, Sarwar HS, Afzal A, Raza MA. Study on antipyretic activity of Rumex vesicarius leaves extract in albino rabbits. Vet World. 2014b; 3: 41-45.
Kirtikar KR, Basu BD. Indian medicinal plants. Vol. 2. Dehradun, India, International Book Distributors, 1987.
Longanga QA, Vercruysse A, Foriers A. Contribution to the ethnobotanical, phytochemical and pharmacological studies of traditionally used medicinal plants in the treatment of dysentery and diarrhea in Lomela area, Democratic Republic of Congo (DRC). J Ethnopharmacol. 2000; 71: 411-23.
Madhavashetty K, Shivaji K, Tulasirao K. Flowering plants of Chittor District, Andhra Pradesh, India. 2nd edi. Students Offset Printer, 2008, p 298.
Mascolo N, Izzo AA, Avtore G, Barboto F, Capasso F. Nitric oxide and castor oil induced diarrhea. J Pharmacol Exper Ther. 1994; 268: 291-95.
Mostafa AM, ElBakry EA. Evaluation of antibacterial and antioxidant activities of different plant parts of Rumex vesicarius L. (polygonaceae). Int J Pharm Pharmaceut Sci. 2011; 3: 109-18.
Ouyang H, Chen JZ. Therapeutic roles of acupuncture in functional gastrointestinal disorders. Aliment Pharmacol Therapeut. 2004; 20: 83141.
Pierce NF, Carpenter CJ, Elliot HZ, Greenough WB. Effects of prostaglandins, theophylline and cholera exotoxin upon transmucosal water and electrolyte movement in canine jejunum. Gastroenterology 1977; 60: 22-32.
Pullaiah T, Ali MD. Flora of Andhra Pradesh (India). Vol. 2. Scientific Publishers, 1999, p 817.
Rao R. Bioactive phytochemicals in Indian foods and their potential in health promotion and disease prevention. Asia Pac J Clin Nut. 2003; 12: 9-22.
Rao KN, Sunitha Ch, Sandhya S, Rajeshwar T. Anthelminthic activity of different extracts on aerial parts of Rumex vesicarius Linn. Int J Pharm Sci Rev Res. 2012; 12: 64-66.
Rao KN, Sunitha Ch, David B, Sandhya S, Shwetha D, Murali K. Diuretic activity on different extracts and formulation on aerial parts of Rumex vesicarius Linn. J Chem Pharm Res. 2011; 3: 400-08.
Robert A, Nezamis JE, Lancaster C, Hanchar AJ, Klepper MS. Enteropooling assay: A test for diarrhea produced by prostaglandins. Prostaglandins 1976; 11: 809-28.
Sahli AA, Abdulkhair WM. Inhibition of beta-lactamase enzyme of Pseudomonas aeruginosa by clavulanic acid of Rumex vesicarius L. Afr J Agric Res. 2011; 6: 2908-15.
Thapar N, Sanderson IR. Diarrhea in children: An interface between developing and developed countries. Lancet 2004; 363: 641-53.
Vimala R, Nagarajan S, Alam M, Susan T, Joy S. Anti-inflammatory and antipyretic activity of Michelia champaca Linn., (white variety), Ixora brachiata Roxb. and Rhynchosia cana (Willd.) D.C. flower extract. Indian J Exp Biol. 1997; 35: 1310-14.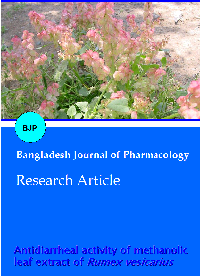 How to Cite
Khan, I. A., K. H. Janbaz, and F. Saqib. "Antidiarrheal Activity of Methanolic Leaf Extract of Rumex Vesicarius". Bangladesh Journal of Pharmacology, vol. 11, no. 1, Jan. 2016, pp. 175-80, doi:10.3329/bjp.v11i1.24251.
Section
Research Articles
License
Authors who publish with this journal agree to the following terms:
Authors retain copyright and grant the journal right of first publication with the work simultaneously licensed under a

Creative Commons Attribution License

that allows others to share the work with an acknowledgement of the work's authorship and initial publication in this journal.
Authors are able to enter into separate, additional contractual arrangements for the non-exclusive distribution of the journal's published version of the work (e.g., post it to an institutional repository or publish it in a book), with an acknowledgement of its initial publication in this journal.
Authors are permitted and encouraged to post their work online (e.g., in institutional repositories or on their website) prior to and during the submission process, as it can lead to productive exchanges, as well as earlier and greater citation of published work (See

The Effect of Open Access

).