Antimalarial efficacy of nine medicinal plants traditionally used by the Karens of Andaman and Nicobar Islands, India
M. Punnam Chander

Department of Medical Microbiology and Molecular Biology, Regional Medical Research Centre (Indian Council of Medical Research), WHO Collaborating Centre for Diagnosis, Reference, Research and Training in Leptospirosis, Port Blair 744 101, Andaman and Nicobar Islands

http://orcid.org/0000-0003-0628-3227

C. R. Pillai

Parasitology Bank, National Institute of Malaria Research (Indian Council of Medical Research), New Delhi

http://orcid.org/0000-0002-3093-3405

P. Vijayachari

Department of Medical Microbiology and Molecular Biology, Regional Medical Research Centre (Indian Council of Medical Research), WHO Collaborating Centre for Diagnosis, Reference, Research and Training in Leptospirosis, Port Blair 744 101, Andaman and Nicobar Islands

http://orcid.org/0000-0002-4939-3875
Keywords:
Andaman, Antimalarial, Nicobar Islands
Abstract
The aim of this study was to assess the antimalarial activity of nine medicinal plants used by Karens of Andaman and Nicobar Islands, against Plasmodium falciparum chloroquine-sensitive MRC-2 isolate. The methanol extracts were obtained by cold percolation method and in vitro antimalarial activity was assessed using M-III method. The results indicated that out of nine plant species tested, four plants, viz., Z. spectabilis, S. wallichiana, C. pulcherrima and Amomum sp. demonstrated significant antimalarial activity (50% inhibitory concentration values were 5.5 ± 0.7, 12.0 ± 2.5, 14.6 ± 1.3 and 37.3 ± 2.5 ?g/mL respectively) with no toxicity effect on erythrocytes.
Downloads
Download data is not yet available.
Abstract
1937
Download
814 Read
535
References
Chander MP, Kartick C, Vijayachari P. Ethnomedicinal knowledge among Karens of Andaman & Nicobar Islands, India. J Ethnopharmacol. 2015; 162: 127-33.
Dubar F, Egan TJ, Pradines B, Kuter D, Ncokazi KK, Forge D, Paul JF, Pierrot C, Kalamou H, Khalife J, Buisine E, Rogier C, Vezin H, Forfar I, Slomianny C, Trivelli X, Kapishnikov S, Leiserowitz L, Dive D, Biot C. The antimalarial ferroquine: Role of the metal and intramolecular hydrogen bond in activity and resistance. ACS Chem Biol. 2011; 6: 275-87.
Krishnamoorthy K, Purushothaman J, Natarajan R, Shriram AN, Pradeep KD, Sehgal SC. Altered environment and risk of malaria outbreak in South Andaman, Andaman & Nicobar Islands, India affected by tsunami disaster. Malaria J. 2005; 4: 32.
Lopez ML, Vommaro R, Zalis M, De Souza W, Blair S, Segura C. Induction of cell death on Plasmodium falcciparum asexual blood stages by Solanum nudum steriods. Parasitol Int. 2010; 59: 217-25.
Mallikharjuna PB, Seetharam YN, Radhamma MN. Phytochemical and antimicrobial studies of Strychnos wallichiana Steud Ex DC. J Phytol. 2010; 2: 2227.
Manimunda SP, Sugunan AP, Sha WA, Singh SS, Shriram AN, Vijayachari P. Tsunami, post-tsunami malaria situation in Nancowry group of islands, Nicobar district, Andaman and Nicobar Islands. Indian J Med Res. 2011; 133: 76-82.
Oberoi CP. Eco-tourism paradise: Andaman and Nicobar Islands. Delhi, B.R. Publishing Corporation, 2000.
Parzy D, Doerig C, Pradines B, Rico A, Fusai T, Doury JC. Proguanil resistance in Plasmodium falciparum African isolates: Assessment by mutation-specific polymerase chain reaction and in vitro susceptibility testing. Am J Trop Med Hyg. 1997; 57: 64650.
Rasoanaivo P, Ratsimamanga US, Ramanitrhasimbola D, Rafatro H, Rakoto RA. Criblage d? extraits de plantes de madagascar pour recherche d? activite antipaludique et d? effet potentialisateur de la chlorquine. J Ethnopharmcol. 1992; 64: 117-26.
Sivasothyu Y, Awangu K, Ibrahim H, Thong KL, Fitrah N, Koh XP Tan LK. Chemical composition and antibacterial activities of essential oils from Zingiber spectabile Griff.J Essential Oil Res. 2012; 24: 305-13.
Trager W, Jensen JB. Human malaria parasites in continuous culture. Science 1976; 193: 67375.
Vivek MN, Sachidananda Swamy HC, Manasa M, Pallavi S, Yashoda K, Asha MM, Chaithra M, PrashithKekuda TR, Mallikarjun N, Onkarappa R. Antimicrobial and antioxidant activity of leaf and flower extract of Caesalpinia pulcherrima, Delonix regia and Peltaphorum ferrugineum. J Appl Pharma Sci. 2013; 3: 64-71.
WHO. WHO/CTD/MAL/97 20 Rev 2, Geneva, 2001.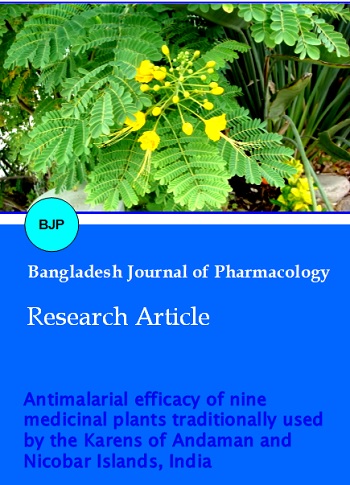 How to Cite
Chander, M., C. R. Pillai, and P. Vijayachari. "Antimalarial Efficacy of Nine Medicinal Plants Traditionally Used by the Karens of Andaman and Nicobar Islands, India". Bangladesh Journal of Pharmacology, Vol. 11, no. 1, Dec. 2015, pp. 126-9, doi:10.3329/bjp.v11i1.24055.
Section
Research Articles
Copyright (c) 2016 M. Punnam Chander, C. R. Pillai, P. Vijayachari
This work is licensed under a Creative Commons Attribution 4.0 International License.
Authors who publish with this journal agree to the following terms:
Authors retain copyright and grant the journal right of first publication with the work simultaneously licensed under a

Creative Commons Attribution License

that allows others to share the work with an acknowledgement of the work's authorship and initial publication in this journal.
Authors are able to enter into separate, additional contractual arrangements for the non-exclusive distribution of the journal's published version of the work (e.g., post it to an institutional repository or publish it in a book), with an acknowledgement of its initial publication in this journal.
Authors are permitted and encouraged to post their work online (e.g., in institutional repositories or on their website) prior to and during the submission process, as it can lead to productive exchanges, as well as earlier and greater citation of published work (See

The Effect of Open Access

).