Anti-tumor activity of cabozantinib by FAK down-regulation in human oral squamous cell carcinoma
Da-Lu Li

Department of Oral and Maxillofacial Surgery, Jinan Stomatological Hospital, Jinan 250001, Shandong

Zhu-Liang Wei

Department of Orthodontics, Jinan Stomatological Hospital, Jinan 250001, Shandong

Wen-Mei Zhang

Department of Oral and Maxillofacial Surgery, Jinan Stomatological Hospital, Jinan 250001, Shandong

Zhi-Gang Li

Department of Oral and Maxillofacial Surgery, Shandong Provincial Qianfoshan Hospital, Shandong University, Jinan 50 014,Shandong

http://orcid.org/0000-0002-2330-482X
Keywords:
Cabozantinib, FAK down-regulation, Oral squamous cell carcinoma, Tumor
Abstract
Cabozantinib is a tyrosine kinase inhibitor involved in inhibition of cell proliferation and colony formation. We studied anti-cancer properties of cabozantinib in oral squamous cell carcinoma cells. The viability of BHY and HSC-3 cells decreased with increase in cabozantinib concentration and time. The proliferation of cell lines was affected by increasing concentration of cabozantinib from 0.3 to 1.2 ?M after 48 hours of treatment. The expression of MET and phosphorylated MET was not affected by cabozantinib treatment. Cabozantinib-treated cells when compared to control, showed concentration-dependent increase in BHY and HSC-3 cells during G2/M phase and decrease in S phase with increase in cabozantinib concentration. Annexin-V/propidium iodide double staining showed that cells with annexin-V increased with the increase in cabozantinib concentration. The expression of apoptosis related proteins cleaved caspase-3 and cleaved-PARP were increased with increase in cabozantinib concentration. It was also found that suppression of FAK activation and expression was dose dependent. The results from this study revealed that cabozantinib can be useful in developing a drug for effective treatment of oral squamous cell carcinoma cells.
Downloads
Download data is not yet available.
Abstract
1279
Download
541 Read
2598
References
Chen YJ, Chang JT, Liao CT, Wang HM, Yen TC, Chiu CC, Lu YC, Li HF, Cheng AJ. Head and neck cancer in the betel quid chewing area: Recent advances in molecular carcinogenesis. Cancer Sci. 2008; 99, 150714.
Chianeh YR, Prabhu K. Biochemical markers in saliva of patients with oral squamous cell carcinoma. Asian Pac J Trop Dis. 2014;4 Suppl 1: S3340.
de Vicente JC, Rosado P, Lequerica-Fernández P, Allonca E, Villallaín L, Hernández-Vallejo G. Focal adhesion kinase overexpression: Correlation with lymph node metastasis and shorter survival in oral squamous cell carcinoma. Head Neck. 2013; 35: 826-30.
Eriksson D, Stigbrand T. Radiation-induced cell death mechanisms. Tumour Biol. 2010; 31: 36372.
Ferlay J, Soerjomataram I, Ervik M, Forman D, Bray F, Dikshit R, Elser S, Franken NA, Rodermond HM, Stap J, Haveman J, van Bree C. Clonogenic assay of cells in vitro. Nat Protoc. 2006; 1: 2315-19.
Hirota T, Lipp JJ, Toh BH, Peters JM. Histone H3 serine 10 phosphorylation by aurora B causes HP1 dissociation from heterochromatin. Nature 2005; 438 (7071): 1176-80
Jonathan EC, Bernhard EJ, McKenna WG. How does radiation kill cells? Curr Opin Chem Biol. 1999; 3: 7783.
Kornberg LJ. Focal adhesion kinase expression in oral cancers, Head Neck. 1998; 20: 634-39.
La Vecchia C, Lucchini F, Negri E, Levi F. Trends in oral cancer mortality in Europe. Oral Oncol. 2004; 40: 43339.
Lee BY, Timpson P, Horvath LG, Daly RJ. FAK signaling in human cancer as a target for therapeutics. Pharmacol Ther. 2015; 146: 132-49.
Mathers C, Rebelo M, Parkin DM. GLOBOCAN. In: Estimated cancer incidence, mortality, and prevalence worldwide in 2012. 2012.
McLean GW, Carragher NO, Avizienyte E, Evans J, Brunton VG, Frame MC. The role of focal-adhesion kinase in cancerda new therapeutic opportunity. Nat Rev Cancer. 2005; 5: 505-15.
Miyazaki T, Kato H, Nakajima M, Sohda M, Fukai Y, Masuda N, Manda R, Fukuchi M, Tsukada K, Kuwano H. FAK overexpression is correlated with tumour invasiveness and lymph node metastasis in oesophageal squamous cell carcinoma. Br J Cancer. 2003; 89: 140-45.
O'Brien S, Golubovskaya VM, Conroy J, Liu S, Wang D, Liu B, Cance WG. FAK inhibition with small molecule inhibitor Y15 decreases viability, clonogenicity, and cell attachment in thyroid cancer cell lines and synergizes with targeted therapeutics. Oncotarget. 2014; 5: 7945-59.
Ocker M, Hopfner M. Apoptosis-modulating drugs for improved cancer therapy. Eur Surg Res. 2012; 48: 11120.
Ola MS, Nawaz M, Ahsan H. Role of Bcl-2 family proteins and caspases in the regulation of apoptosis. Mol Cell Biochem. 2011; 351: 41-58.
Porter AG, Jänicke RU. Emerging roles of caspase-3 in apoptosis. Cell Death Differ. 1999; 6: 99-04.
Ricci MS, Zong WX. Chemotherapeutic approaches for targeting cell death pathways. Oncologist 2006; 11: 34257.
Schaller md, Cellular functions of FAK kinases: Insight into molecular mechanisms and novel functions. J Cell Sci. 2010; 123:1007-13
Seiwert TY, Cohen EE. State-of-the-art management of locally advanced head and neck cancer. Br J Cancer. 2005; 92(8): 134148.
Vermeulen K, Van Bockstaele DR, Berneman ZN. The cell cycle: A review of regulation, deregulation and therapeutic targets in cancer, Cell Prolif. 2003; 36: 131-49.
Yakes FM, Chen J, Tan J, Yamaguchi K, Shi Y, Yu P, Qian F, Chu F, Bentzien F, Cancilla B, Orf J, You A, Laird AD, Engst S, Lee L, Lesch J, Chou YC, Joly AH. Cabozantinib (XL184), a novel MET and VEGFR2 inhibitor, simultaneously suppresses metastasis, angiogenesis, and tumor growth. Mol Cancer Ther. 2011; 10: 2298-08.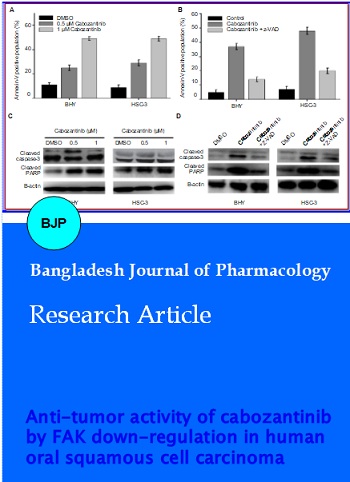 How to Cite
Li, D.-L., Z.-L. Wei, W.-M. Zhang, and Z.-G. Li. "Anti-Tumor Activity of Cabozantinib by FAK Down-Regulation in Human Oral Squamous Cell Carcinoma". Bangladesh Journal of Pharmacology, Vol. 11, no. 1, Dec. 2015, pp. 119-25, doi:10.3329/bjp.v11i1.24001.
Section
Research Articles
Copyright (c) 2016 Da-Lu Li, Zhu-Liang Wei, Wen-Mei Zhang, Zhi-Gang Li
This work is licensed under a Creative Commons Attribution 4.0 International License.
Authors who publish with this journal agree to the following terms:
Authors retain copyright and grant the journal right of first publication with the work simultaneously licensed under a

Creative Commons Attribution License

that allows others to share the work with an acknowledgement of the work's authorship and initial publication in this journal.
Authors are able to enter into separate, additional contractual arrangements for the non-exclusive distribution of the journal's published version of the work (e.g., post it to an institutional repository or publish it in a book), with an acknowledgement of its initial publication in this journal.
Authors are permitted and encouraged to post their work online (e.g., in institutional repositories or on their website) prior to and during the submission process, as it can lead to productive exchanges, as well as earlier and greater citation of published work (See

The Effect of Open Access

).