In silico and antithrombotic studies of 1,3,4-oxadiazoles derived from benzimidazole
Keywords:
Antithrombotic, Benzimidazole, In silico, Oxadiazole
Abstract
In the present study, a series of 1,3,4-oxadiazole derivatives (4a-4k) derived from benzimidazole were docked onto factor Xa (PDB: 1NFY) protein using SYBYLX 2.1. and also evaluated for in vitro clot lysis for thrombolytic activity. The synthesized molecules were also screened for in silico ADME studies. The molecular docking studies highlighted that the molecules showed high affinity towards 1NFY with higher docking score and the in silico ADME results were promising and indicated that the molecules holds great potential as a drug candidate. The thrombolytic evaluation was performed for decrease in solid clot weight by the clot lysis study at a concentration of 6.25, 12.5 and 25 µM strengths, respectively. The results of in vitro clot lysis for thrombolytic evaluation revealed that the tested compounds 4a-4k exhibited significant clot lysis with respect to negative control phosphate buffered saline and in comparison to the reference drug streptokinase (30,000 IU). Among all the tested compounds, compound 4j, 4d and 4g exhibited potent thrombolytic activity with EC50 value of 16.2, 18.1 and 23.7 µM, respectively. The thrombolytic efficacy investigation highlights that the synthesized compound 4j could be considered for further clinical studies to ascertain its possible hit as thrombolytic agents.
Downloads
Download data is not yet available.
Abstract
1326
Download
838 Read
838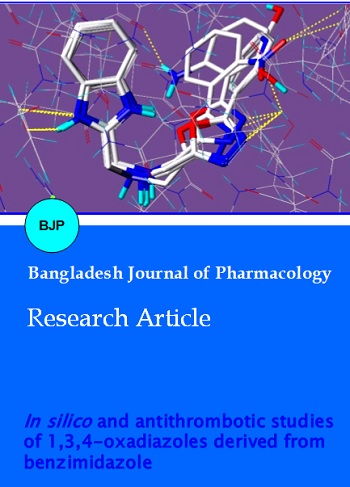 How to Cite
Vishwanathan, B., B. M. Gurupadayya, and K. V. Sairam. "In Silico and Antithrombotic Studies of 1,3,4-Oxadiazoles Derived from Benzimidazole". Bangladesh Journal of Pharmacology, vol. 11, no. 1, Dec. 2015, pp. 67-74, doi:10.3329/bjp.v11i1.23981.
Section
Research Articles
License
Authors who publish with this journal agree to the following terms:
Authors retain copyright and grant the journal right of first publication with the work simultaneously licensed under a

Creative Commons Attribution License

that allows others to share the work with an acknowledgement of the work's authorship and initial publication in this journal.
Authors are able to enter into separate, additional contractual arrangements for the non-exclusive distribution of the journal's published version of the work (e.g., post it to an institutional repository or publish it in a book), with an acknowledgement of its initial publication in this journal.
Authors are permitted and encouraged to post their work online (e.g., in institutional repositories or on their website) prior to and during the submission process, as it can lead to productive exchanges, as well as earlier and greater citation of published work (See

The Effect of Open Access

).