Cucurbitacin B inhibits proliferation, induces G2/M cycle arrest and autophagy without affecting apoptosis but enhances MTT reduction in PC12 cells
Chuanhong Wu

State Key Laboratory of Quality Research in Chinese Medicine, Institute of Chinese Medical Sciences, University of Macau, Macao

Jiaolin Bao

State Key Laboratory of Quality Research in Chinese Medicine, Institute of Chinese Medical Sciences, University of Macau, Macao

Chengwei He

State Key Laboratory of Quality Research in Chinese Medicine, Institute of Chinese Medical Sciences, University of Macau, Macao

Jinjian Lu

State Key Laboratory of Quality Research in Chinese Medicine, Institute of Chinese Medical Sciences, University of Macau, Macao

Xiuping Chen

State Key Laboratory of Quality Research in Chinese Medicine, Institute of Chinese Medical Sciences, University of Macau, Macao

http://orcid.org/0000-0001-9560-4277
Keywords:
Apoptosis, Autophagy, Cucurbitacin B, G2/M cycle, MTT, PC12 cell
Abstract
In the present study, the effect of cucurbitacin B (a natural product with anti-cancer effect) was studied on PC12 cells. It significantly reduced the cell number, changed cell morphology and inhibited colony formation while MTT results showed increased cell viability. Cucurbitacin B treatment increased activity of succinode hydrogenase. No alteration in the integrity of mem-brane, the release of lactic dehydrogenase, the mitochondrial membrane potential, and the expression of apoptotic proteins suggested that cucurbitacin B did not induce apoptosis. The cell cycle was remarkably arrested at G2/M phase. Furthermore, cucurbitacin B induced autophagy as evidence by accumulation of autophagic vacuoles and the increase of LC3II. In addition, cucurbitacin B up-regulated the expression of p-beclin-1, p-ULK1, p-Wee1, p21 and down-regulated p-mTOR, p-p70S6K, CDC25C, CDK1, Cyclin B1. In conclusion, cucurbitacin B inhibited PC12 proliferation but caused MTT pitfall. Cucurbitacin B induced G2/M cell cycle arrest, autophagy, but not the apoptosis in PC12 cells.
Downloads
Download data is not yet available.
Abstract
1558
Download
700 Read
738
References
Barth S, Glick D, Macleod KF. Autophagy: Assays and artifacts. J Pathol. 2010; 221: 117-24.
Bernhard D, Schwaiger W, Crazzolara R, Tinhofer I, Kofler R, Csordas A. Enhanced MTT-reducing activity under growth inhibition by resveratrol in CEM-C7H2 lymphocytic leukemia cells. Cancer Lett. 2003; 195: 193-99.
Bruggisser R, von Daeniken K, Jundt G, Schaffner W, Tullberg-Reinert H. Interference of plant extracts, phytoestrogens and antioxidants with the MTT tetrazolium assay. Planta Med. 2002; 68: 445-48.
Chan EY, Kir S, Tooze SA. siRNA screening of the kinome identifies ULK1 as a multidomain modulator of autophagy. J Biol Chem. 2007; 282: 25464-74.
Chan KT, Li K, Liu SL, Chu KH, Toh M, Xie WD. Cucurbitacin B inhibits STAT3 and the Raf/MEK/ERK pathway in leukemia cell line K562. Cancer Lett. 2010a; 289: 46-52.
Chan KT, Meng FY, Li Q, Ho CY, Lam TS, To Y, et al., Cucurbitacin B induces apoptosis and S phase cell cycle arrest in BEL-7402 human hepatocellular carcinoma cells and is effective via oral administration. Cancer Lett. 2010b; 294: 118-24.
Chen JC, Chiu MH, Nie RL, Cordell GA, Qiu SX. Cucurbitacins and cucurbitane glycosides: Structures and biological activities. Nat Prod Rep. 2005; 22: 386-99.
Chen X, Bao J, Guo J, Ding Q, Lu J, Huang M, et al., Biological activities and potential molecular targets of cucurbitacins: A focus on cancer. Anti-cancer Drug. 2012; 23: 777-87.
Chen X, Pei L, Zhong Z, Guo J, Zhang Q, Wang Y. Anti-tumor potential of ethanol extract of Curcuma phaeocaulis Valeton against breast cancer cells. Phytomedicine 2011; 18: 1238-43.
Dakeng S, Duangmano S, Jiratchariyakul W, Y UP, Bogler O, Patmasiriwat P. Inhibition of Wnt signaling by cucurbitacin B in breast cancer cells: Reduction of Wnt-associated proteins and reduced translocation of galectin-3-mediated beta-catenin to the nucleus. J Cell Biochem. 2012; 113: 49-60.
Es-Saady D, Simon A, Jayat-Vignoles C, Chulia AJ, Delage C. MCF-7 cell cycle arrested at G1 through ursolic acid, and increased reduction of tetrazolium salts. Anticancer Res. 1996; 16: 481-86.
Evan GI, Vousden KH. Proliferation, cell cycle and apoptosis in cancer. Nature 2001; 411: 342-48.
Funderburk SF, Wang QJ, Yue Z. The Beclin 1-VPS34 complex at the crossroads of autophagy and beyond. Trends Cell Biol. 2010; 20: 355-62.
Jayaprakasam B, Seeram NP, Nair MG. Anticancer and antiinflammatory activities of cucurbitacins from Cucurbita andreana. Cancer Lett. 2003; 189: 11-16.
Lee DH, Iwanski GB, Thoennissen NH. Cucurbitacin: Ancient compound shedding new light on cancer treatment. The Scientific World J. 2010; 10: 413-18.
Maioli E, Torricelli C, Fortino V, Carlucci F, Tommassini V, Pacini A. Critical appraisal of the MTT assay in the presence of rottlerin and uncouplers. Biol Proced Online. 2009; 11: 227-40.
Miró M. Cucurbitacins and their pharmacological effects. Phytother Res. 1995; 9: 159-68.
Mizushima N, Yoshimori T. How to interpret LC3 immunoblotting. Autophagy. 2007; 3: 542-45.
Mosmann T. Rapid colorimetric assay for cellular growth and survival: Application to proliferation and cytotoxicity assays. J Immunol Methods. 1983; 65: 55-63.
Munafo DB, Colombo MI. A novel assay to study autophagy: Regulation of autophagosome vacuole size by amino acid deprivation. J Cell Sci. 2001; 114: 3619-29.
Nilsson P, Saido TC. Dual roles for autophagy: Degradation and secretion of Alzheimer's disease Abeta peptide. Bioessays 2014; 36: 570-78.
Pagliacci MC, Spinozzi F, Migliorati G, Fumi G, Smacchia M, Grignani F, et al., Genistein inhibits tumour cell growth in vitro but enhances mitochondrial reduction of tetrazolium salts: A further pitfall in the use of the MTT assay for evaluating cell growth and survival. Eur J Cancer. 1993; 29A: 1573-77.
Recio MC, Prieto M, Bonucelli M, Orsi C, Manez S, Giner RM, et al. Anti-inflammatory activity of two cucurbitacins isolated from Cayaponia tayuya roots. Planta Med. 2004; 70: 414-20.
Sridhar S, Botbol Y, Macian F, Cuervo AM. Autophagy and disease: Always two sides to a problem. J Pathol. 2012; 226: 255-73.
Tannin-Spitz T, Bergman M, Grossman S. Cucurbitacin glucosides: Antioxidant and free-radical scavenging activities. Biochem Bioph Res Co. 2007; 364: 181-86.
Vidal RL, Matus S, Bargsted L, Hetz C. Targeting autophagy in neurodegenerative diseases. Trends Pharmacol Sci. 2014; 35: 583-91.
Yang ZJ, Chee CE, Huang S, Sinicrope FA. The role of autophagy in cancer: Therapeutic implications. Mol Cancer Ther. 2011; 10: 1533-41.
Yasuda S, Yogosawa S, Izutani Y, Nakamura Y, Watanabe H, Sakai T. Cucurbitacin B induces G2 arrest and apoptosis via a reactive oxygen species-dependent mechanism in human colon adenocarcinoma SW480 cells. Mol Nutr Food Res. 2010a; 54: 559-65.
Yasuda S, Yogosawa S, Izutani Y, Nakamura Y, Watanabe H, Sakai T. Cucurbitacin B induces G2 arrest and apoptosis via a reactive oxygen species-dependent mechanism in human colon adenocarcinoma SW480 cells. Mol Nutr Food Res. 2010b; 54: 559-65.
Yin D, Wakimoto N, Xing H, Lu D, Huynh T, Wang X, et al. Cucurbitacin B markedly inhibits growth and rapidly affects the cytoskeleton in glioblastoma multiforme. Int J Cancer. 2008; 123: 1364-75.
Zhang M, Sun C, Shan X, Yang X, Li-Ling J, Deng Y. Inhibition of pancreatic cancer cell growth by cucurbitacin B through modulation of signal transducer and activator of transcription 3 signaling. Pancreas 2010; 39: 923-29.
Zhang T, Li Y, Park KA, Byun HS, Won M, Jeon J, et al. Cucurbitacin induces autophagy through mitochondrial ROS production which counteracts to limit caspase-dependent apoptosis. Autophagy. 2012; 8: 559-76.
Zhu JS, Ouyang DY, Shi ZJ, Xu LH, Zhang YT, He XH. Cucurbitacin B induces cell cycle arrest, apoptosis and autophagy associated with G actin reduction and persistent activation of cofilin in Jurkat cells. Pharmacology 2012; 89: 348-46.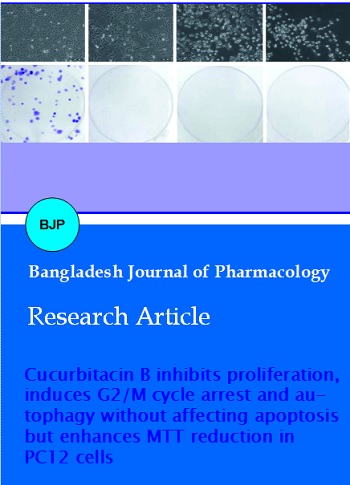 How to Cite
Wu, C., J. Bao, C. He, J. Lu, and X. Chen. "Cucurbitacin B Inhibits Proliferation, Induces G2/M Cycle Arrest and Autophagy Without Affecting Apoptosis But Enhances MTT Reduction in PC12 Cells". Bangladesh Journal of Pharmacology, Vol. 11, no. 1, Dec. 2015, pp. 110-8, doi:10.3329/bjp.v11i1.23791.
Section
Research Articles
Copyright (c) 2016 Chuanhong Wu, Jiaolin Bao, Chengwei He, Jinjian Lu, Xiuping Chen
This work is licensed under a Creative Commons Attribution 4.0 International License.
Authors who publish with this journal agree to the following terms:
Authors retain copyright and grant the journal right of first publication with the work simultaneously licensed under a

Creative Commons Attribution License

that allows others to share the work with an acknowledgement of the work's authorship and initial publication in this journal.
Authors are able to enter into separate, additional contractual arrangements for the non-exclusive distribution of the journal's published version of the work (e.g., post it to an institutional repository or publish it in a book), with an acknowledgement of its initial publication in this journal.
Authors are permitted and encouraged to post their work online (e.g., in institutional repositories or on their website) prior to and during the submission process, as it can lead to productive exchanges, as well as earlier and greater citation of published work (See

The Effect of Open Access

).