Cucurbitacin B inhibits proliferation, induces G2/M cycle arrest and autophagy without affecting apoptosis but enhances MTT reduction in PC12 cells
Keywords:
Apoptosis, Autophagy, Cucurbitacin B, G2/M cycle, MTT, PC12 cell
Abstract
In the present study, the effect of cucurbitacin B (a natural product with anti-cancer effect) was studied on PC12 cells. It significantly reduced the cell number, changed cell morphology and inhibited colony formation while MTT results showed increased cell viability. Cucurbitacin B treatment increased activity of succinode hydrogenase. No alteration in the integrity of mem-brane, the release of lactic dehydrogenase, the mitochondrial membrane potential, and the expression of apoptotic proteins suggested that cucurbitacin B did not induce apoptosis. The cell cycle was remarkably arrested at G2/M phase. Furthermore, cucurbitacin B induced autophagy as evidence by accumulation of autophagic vacuoles and the increase of LC3II. In addition, cucurbitacin B up-regulated the expression of p-beclin-1, p-ULK1, p-Wee1, p21 and down-regulated p-mTOR, p-p70S6K, CDC25C, CDK1, Cyclin B1. In conclusion, cucurbitacin B inhibited PC12 proliferation but caused MTT pitfall. Cucurbitacin B induced G2/M cell cycle arrest, autophagy, but not the apoptosis in PC12 cells.
Downloads
Download data is not yet available.
Abstract
1685
Download
790 Read
783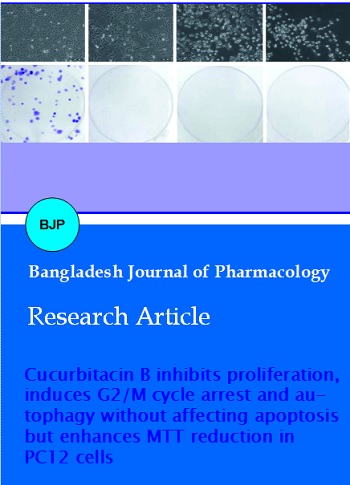 How to Cite
Wu, C., J. Bao, C. He, J. Lu, and X. Chen. "Cucurbitacin B Inhibits Proliferation, Induces G2/M Cycle Arrest and Autophagy Without Affecting Apoptosis But Enhances MTT Reduction in PC12 Cells". Bangladesh Journal of Pharmacology, vol. 11, no. 1, Dec. 2015, pp. 110-8, doi:10.3329/bjp.v11i1.23791.
Section
Research Articles
License
Authors who publish with this journal agree to the following terms:
Authors retain copyright and grant the journal right of first publication with the work simultaneously licensed under a

Creative Commons Attribution License

that allows others to share the work with an acknowledgement of the work's authorship and initial publication in this journal.
Authors are able to enter into separate, additional contractual arrangements for the non-exclusive distribution of the journal's published version of the work (e.g., post it to an institutional repository or publish it in a book), with an acknowledgement of its initial publication in this journal.
Authors are permitted and encouraged to post their work online (e.g., in institutional repositories or on their website) prior to and during the submission process, as it can lead to productive exchanges, as well as earlier and greater citation of published work (See

The Effect of Open Access

).