Increased DNA damage in blood cells of rat treated with lead as assessed by comet assay
Mohammad Arif

Department of Biochemistry and Molecular Biology, University of Dhaka, Dhaka

Yearul Kabir

Department of Family Sciences, College for Women, Kuwait University

Faizule Hassan

Department of Biochemistry and Molecular Biology, University of Dhaka, Dhaka

T. M. Zaved Waise

Department of Biochemistry and Molecular Biology, University of Dhaka, Dhaka

Md. Ehsanul Hoque Mazumder

Department of Pharmacy, Jahangirnagar University, Dhaka

Shafiqur Rahman

Department of Pharmaceutical Sciences, South Dakota State University
Keywords:
DNA damage, Lead toxicity, Oxidative stress
Abstract
A growing body of evidence suggests that oxidative stress is the key player in the pathogenesis of lead-induced toxicity. The present study investigated lead induced oxidative DNA damage, if any in rat blood cells by alkaline comet assay. Lead was administered intraperitoneally to rats at doses of 25, 50 and 100 mg/kg body weight for 5 days consecutively. Blood collected on day six from sacrificed lead-treated rats was used to assess the extent of DNA damage by comet assay which entailed measurement of comet length, olive tail moment, tail DNA (%) and tail length. The results showed that treatment with lead significantly increased DNA damage in a dose-dependent manner. Therefore, our data suggests that lead treatment is associated with oxidative stress-induced DNA damage in rat blood cells which could be used as an early bio-marker of lead-toxicity.
Downloads
Download data is not yet available.
Abstract
1299
Download
633 Read
239
References
Aykin-Burns N, Laegeler A, Kellogg G, Ercal N. Oxidative effects of lead in young and adult Fisher 344 rats. Arch Environ Contam Toxicol. 2003; 44: 417-20.
Bolin CM, Basha R, Cox D, Zawia NH, Maloney B, Lahiri DK, Cardozo-Pelaez F. Exposure to lead and exposed to lead using micronucleus assay, comet assay and TCR gene mutation test. Toxicology 2006; 223: 219-26.
Devi KD, Banu BS, Grover P, Jamil K. Genotoxic effect of lead nitrate on mice using SCGE (comet assay). Toxicology 2000; 145: 195-201.
Ercal N, Gurer-Orhan H, Aykin-Burns N. Toxic metals and oxidative stress part I: mechanisms involved in metal-induced oxidative damage. Curr Top Med Chem. 2001; 1: 529-39.
Johnson FM. The genetic effects of environmental lead. Mutat Res. 1998; 410: 123-40.
Nadin SB, Vargas-Roig LM, Ciocca DR. A silver staining method for single-cell gel assay. J Histochem Cytochem. 2001; 49: 1183-86.
Pande M, Flora SJS. Lead induced oxidative damage and its response to combined administration of a-lipoic acid and succimers in rats. Toxicology 2002; 177: 187-96.
Patrick L. Lead toxicity part II: The role of free radical damage and the use of antioxidants in the pathology and treatment of lead toxicity. Altern Med Rev. 2006; 11: 114-27.
Poma A, Pittaluga E, Tucci A. Lead acetate genotoxicity on human melanoma cells in vitro. Melanoma Res. 2003; 13: 563-66.
Silbergeld EK, Waalkes M, Rice JM. Lead as a carcinogen: Experimental evidence and mechanisms of action. Am J Ind Med. 2000; 38: 316-23.
Tice RR, Agurell E, Anderson D, Burlinson B, Hartmann A, Kobayashi H, Miyamae Y, Rojas E, Ryu JC, Sasaki YF. Single cell gel/comet assay: guidelines for in vitro and in vivo genetic toxicology testing. Environ Mol Mutagen. 2000; 35: 206-21.
Valverde M, Fortoul TI, Diaz-Barriga F, Mejia J, del Castillo ER. Genotoxicity induced in CD-1 mice by inhaled lead: Differential organ response. Mutagenesis 2002; 17: 55-61.
Xu J, Ji LD, Xu LH. Lead-induced apoptosis in PC12 cells, involvement of p53, Bcl-2 family and caspase3. Toxicol Lett. 2006; 166: 160-67.
Xu J, Ling-Jun L, Chen Wu, Xiao-Feng W, Wen-Yu Fu, Li-Hong X. Lead induces oxidative stress, DNA damage and alteration of p53, Bax and Bcl-2 expressions in mice. Food Chem Toxicol. 2008; 46: 1488-94.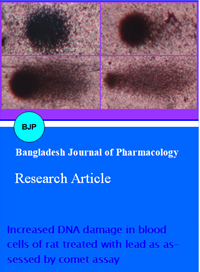 How to Cite
Arif, M., Y. Kabir, F. Hassan, T. M. Waise, M. E. Mazumder, and S. Rahman. "Increased DNA Damage in Blood Cells of Rat Treated With Lead As Assessed by Comet Assay". Bangladesh Journal of Pharmacology, Vol. 3, no. 2, July 2008, pp. 97-01, doi:10.3329/bjp.v3i2.948.
Section
Research Articles
Copyright (c) 2008 Mohammad Arif, Yearul Kabir, Faizule Hassan, T. M. Zaved Waise, Md. Ehsanul Hoque Mazumder, Shafiqur Rahman
This work is licensed under a Creative Commons Attribution 4.0 International License.
Authors who publish with this journal agree to the following terms:
Authors retain copyright and grant the journal right of first publication with the work simultaneously licensed under a

Creative Commons Attribution License

that allows others to share the work with an acknowledgement of the work's authorship and initial publication in this journal.
Authors are able to enter into separate, additional contractual arrangements for the non-exclusive distribution of the journal's published version of the work (e.g., post it to an institutional repository or publish it in a book), with an acknowledgement of its initial publication in this journal.
Authors are permitted and encouraged to post their work online (e.g., in institutional repositories or on their website) prior to and during the submission process, as it can lead to productive exchanges, as well as earlier and greater citation of published work (See

The Effect of Open Access

).