Role of Prosopis cineraria against N-nitrosodiethylamine-induced liver tumor in rats with reference to marker enzymes and nucleic acid contents
Naina Mohamed Pakkir Maideen

School of Pharmacy, Vels Institute of Science, Technology and Advanced Studies (VISTAS), Vels University, Chennai 600117

Ravichandiran Velayutham

School of Pharmacy, Vels Institute of Science, Technology and Advanced Studies (VISTAS), Vels University, Chennai 600117

Gobinath Manavalan

Ratnam Institute of Pharmacy, Pidathapolur (V & Post), Muthukur (M), Nellore 524346, Andhra Pradesh
Keywords:
Liver tumor, N-nitrosodiethylamine, Marker enzymes, Nucleic acid content, Prosopis cineraria
Abstract
The effect of methanol extract of Prosopis cineraria against experimental liver tumor in rats was studied. Liver tumor was induced by the administration of N-nitrosodiethylamine (200 mg/kg) and it was promoted by phenobarbital administration. Methanol extract (200 and 400 mg/kg) was administered to determine the protective activity. Administration of methanol extract suppressed the liver tumor effectively as revealed by  the decrease in elevated levels of aryl hydrocarbon hydroxylase, lactate dehydrogenase, g-glutamyl transpeptidase (g-GTP), 5nucleotidase, deoxyribonucleic acid (DNA) and ribonucleic acid (RNA). We found that methanol extract may extend its protective role by modifying the levels of  marker enzymes and nucleic acid contents.
Downloads
Download data is not yet available.
Abstract
777
Download
341 Read
130
References
Arya S, Asharaf S, Parande C. Hepatitis B and delta markers in primary hepatocellular carcinoma patients in the Gizan area of Saudi Arabia. APMIS (Suppl.). 1988; 3: 30-34.
Belfield A, Goldberg DM. Application of a continuous spectrophotometric assay for 5-nucleotidase activity in normal subjects and patients with liver and bone disease. Clin Chem. 1969; 15: 931-39.
Bose CH, Mukherjee M. Enzymatic tumor markers in ovarian cancer: A multiparametric study. Cancer Lett. 1994; 77: 39-43.
Cantrell E, Abreu M, Busbee D. A simple assay of aryl hydrocarbon hydroxylase in cultured human lymphocytes. Biochem Biophys Res Commun. 1976; 70: 474-79.
Durak I, Umitisik CA, Canbolt O, Akyol O, Kavutul M. Adenosine deaminase, 5-nucleotidase xanthine oxidase, SOD, CAT activities in cancerous and noncancerous human laryngeal tissues. Free Radical Biol Med. 1993; 15: 681-84.
Ellis CN, Burnette JJ, Sedlack R, Dyas C, Balkemore WS. Prognostic applications of DNA analysis in solid malignant lesions in humans. Surgery 1991; 173: 329-42.
Ferringo D, Buccheri G, Biggi A. Serum tumor markers in lung cancer: History, biology and clinical application. Eur Respir. 1994; 7: 186-97.
Gallagher RE. Biochemistry of neoplasia. In: Comprehensive textbook of oncology. Moosa AR, Robson MC, Schimpff SC (eds). Baltimore, USA, Williams and Wilkins, 1986, pp 36-45.
King J. In: Practical clinical enzymology. London, D. van. Nostrand Co., 1965, pp 83-93.
Kokate CK, Purohit AP, Gokhale SB. Pharmacognosy. 1st ed. Pune, Nirali Prakasan, 1990, p 123.
Kuroda Y, Hara Y. Antimutagenic and anticarcinogenic activity of tea polyphenols. Mutation Res. 1999; 436: 69-97.
Ngo EO, Nutler LM. Status of glutathione and glutathione metablolising enzymes in mendione resistance human cancer cells. Biochem Pharmacol. 1994; 47: 421-24.
Orlowski K, Meister A. Isolation of y-glutamyl transpeptidase from hog kidney. J Biol Chem. 1965; 240: 338-47.
Rawal UM, Patel US, Rao GN, Desai RR. Clinical and biochemical studies on cateractous human lens III. Quantitative study of protein, RNA and DNA. Arogya J Health Sci. 1977; 3: 69-72.
Rosi F, Tabucchi A, Carluci F, Galieni P, Laukia F, et al. 5-nucleotidase activity in lymphocytes from patients affected by B-cell chronic lymphocytic leukemia. Clin Biochem. 1998; 31: 269-72.
Schneider WC. In: Methods in enzymology. Colowick SP, Kaplan NO. (eds). Vol. III. New York, Academic Press, 1957, p 680.
Stefanini M. Enzymes, isoenzymes and enzyme variants in the diagnosis of cancer. Cancer 1985; 55: 1931-36.
The Organization of Economic Co-operation and Development (OECD). The OECD guideline for testing of chemicals: 420 Acute oral toxicity. Paris, OECD, 2001, pp 1-14.
Valentich AM, Moris B. Effects of essential fatty acid deficiency on GGT activity of rat pancreas. J Nutri Biochem. 1992; 3: 67-70.
Yoshiji H, Nakae D, Kinugasa T, Matsuzaki M, Denda A, Tsujii T, Konishi Y. Inhibitory effect of dietary iron deficiency on the induction of Putative preneoplastic foci initiated with diethylnitrosamine and promoted by phenobarbital. Br J Cancer. 1991; 64: 839-42.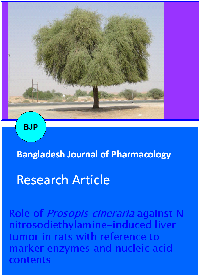 How to Cite
Pakkir Maideen, N., R. Velayutham, and G. Manavalan. "Role of Prosopis Cineraria Against N-Nitrosodiethylamine-Induced Liver Tumor in Rats With Reference to Marker Enzymes and Nucleic Acid Contents". Bangladesh Journal of Pharmacology, Vol. 6, no. 2, Jan. 2012, pp. 128-32, doi:10.3329/bjp.v6i2.9027.
Section
Research Articles
Copyright (c) 2011 Naina Mohamed Pakkir Maideen, Ravichandiran Velayutham, Gobinath Manavalan
This work is licensed under a Creative Commons Attribution 4.0 International License.
Authors who publish with this journal agree to the following terms:
Authors retain copyright and grant the journal right of first publication with the work simultaneously licensed under a

Creative Commons Attribution License

that allows others to share the work with an acknowledgement of the work's authorship and initial publication in this journal.
Authors are able to enter into separate, additional contractual arrangements for the non-exclusive distribution of the journal's published version of the work (e.g., post it to an institutional repository or publish it in a book), with an acknowledgement of its initial publication in this journal.
Authors are permitted and encouraged to post their work online (e.g., in institutional repositories or on their website) prior to and during the submission process, as it can lead to productive exchanges, as well as earlier and greater citation of published work (See

The Effect of Open Access

).