Indigofera pulchra leaves extracts contain anti-Plasmodium berghei agents
Sani Ibrahim

Department of Biochemistry, Ahmadu Bello University, Zaria

Mohammed A. Ibrahim

Department of Biochemistry, Ahmadu Bello University, Zaria

Aliyu M. Musa

Department of Pharmaceutical and Medicinal Chemistry, Ahmadu Bello University

Abubakar B. Aliyu

Department of Chemistry, Ahmadu Bello University, Zaria

Nura S. Haruna

Department of Biochemistry, Ahmadu Bello University, Zaria

Azubuike I. Okafor

Department of Biochemistry, Ahmadu Bello University, Zaria
Keywords:
Anemia, Antimalarial, Indigofera pulchra, Plasmodium berghei
Abstract
This study was conducted to investigate the anti-Plasmodium berghei activities of some extracts from Indigofera pulchra leaves. Six groups of mice were intraperitoneally infected with chloroquine sensitive P. berghei (NK 65) among which two groups were orally treated with 100 and 200 mg/kg body weight of methanol leaves extract while another two groups were treated with 100 and 200 mg/kg of n-butanol fraction derived from the methanol extract. Another infected group was treated with chloroquine (25 mg/kg) whereas the remaining infected group was left untreated. All infected treated groups possessed a significantly (p<0.05) lowered number of parasitized erythrocytes than the infected untreated group throughout the experimental period except at day 6 post-infection. However, the 200 mg/kg n-butanol fraction treated group demonstrated a persistently lower number of parasitized erythrocytes than other extract-treated groups after day 9 post infection to the termination of the experiment. The P. berghei was found to induce anemia whose severity was significantly (p<0.05) ameliorated by all the treatments. It was concluded that the methanol extract and n-butanol fraction of I. pulchra contains anti-P. berghei phytochemicals that could ameliorate the parasite-induced anemia.
Downloads
Download data is not yet available.
Abstract
3549
Download
484 Read
108
References
Adamu HM, Abayeh OJ, Agbo MO, Abdullahi AL, Uba A, Dukku HU, Wufem BM. An ethnobotanical survey of Bauchi State herbal plants and their antimicrobial activity. J Ethnopharmacol. 2005; 99: 1-4.
Abubakar MS, Musa AM, Ahmed A, Husaini IM. The perception and practice of traditional medicine in the treatment of cancers and inflammations by the Hausa and Fulani tribes of Northern Nigeria. J Ethnopharmacol. 2007; 111: 625-29.
Asase A, Oteng-Yeboah AA, Odamtten GT, Simmonds MSJ. Ethnobotanical study of some Ghanaian anti-malarial plants. J Ethnopharmacol. 2005; 99: 273-79.
Becker K, Tilley L, Vennerstrom JL, Roberts D, Rogerson S, Ginsburg H. Oxidative stress in malaria parasite-infected erythrocytes: Host-parasite interactions. Int J Parasitol. 2004; 34: 163-89.
Burkill, HM. The useful plants of West Tropical Africa. Royal Botanic Garden Kew. 1995, pp 361-84.
Camargo LMA, Oliveira S, Basano S, Garcia CRS. Antimalarials and the fight against malaria in Brazil. Ther Clin Risk Manag. 2009; 5: 311-17.
Dondorp AM, Angus BJ, Chotivanich K, Silamut K, Ruangveerayuth R, Hardeman MR, Kager PA, Vreeken J, White NJ. Red blood cell deformability as a predictor of anemia in severe falciparum malaria. Am J Trop Med Hyg. 1999; 60: 733-37.
Ene AC, Atawodi SE, Ameh DA, Ndukwe GI, Kwanashie HO. Bioassay-guided fractionation and in vivo antiplasmodial effect of fractions of chloroform extract of Artemisia maciverae Linn. Acta Trop. 2009; 112: 288-94.
Kayano ACA, Lopes SCP, Bueno FG, Cabral EC, Souza-Neiras WC, Yamauchi LM, Foglio MA, Eberlin MN, Mello JCP, Costa FTM. (2011). In vitro and in vivo assessment of the antimalarial activity of Caesalpinia pluviosa. Malar J. 2011; 10: 112.
Koehn FE, Carter GT. The evolving role of natural products in drug discovery. Nat Rev Drug Discov. 2005; 4: 206-20.
Krishna AP, Chandrika SK, Kumar S, Acharya M, Patil SL, Variation in common lipid parameters in malaria infected patients. Indian J Physiol Pharmacol. 2009; 53: 271-74.
Ibrahim MA, Aliyu AB, Sallau AB, Bashir M, Yunusa I. and Umar TS. Senna occidentalis leaf extract possesses antitrypanosomal activity and ameliorates the trypanosome-induced anemia and organ damage. Pharmacog Res. 2010; 2, 175-80.
Ibrahim MA, Zuwahu MMB, Isah MB, Jatau ID, Aliyu AB, Umar IA. Effects of vitamin E administration on Plasmodium berghei induced pathological changes and oxidative stress in mice. Trop Biomed. 2011; In press.
Margarida C, Silva P, Maria F, Maria MM. Infection by and protective immune responses against Plasmodium berghei ANKA are not affected in macrophage scavenger receptors a deficient mice. BMC Microbiol. 2006; 6: 1-5.
Musa AM, Haruna AK, Ilyas M, Ahmadu A, Gibbons S, Rahman MM. Dihydrostilbenes from Indigofera pulchra. Nat Prod Comm. 2008; 3: 805-08.
Musa AM, Sule MI, Ilyas M, Iliya I, Yaro AH, Magaji MG, Aliyu AB, Abdullahi MI, Hassan HS. Analgesic and anti-inflammatory studies of the methanol extract of Indigofera Pulchra. Res J Medicine Med Sci. 2010; 5: 106-10.
Omodeo-Sale MF, Motti A, Basilico N, Parapini S, Olliaro P. Accelerated senescence of human erythrocytes cultured with Plasmodium falciparum. Blood 2003; 102: 705-11.
Onaku LO, Attama AA, Okore VC, Tijani AY, Ngene AA, Esimone CO. Antagonistic antimalarial properties of pawpaw leaf aqueous extract in combination with artesunic acid in Plasmodium berghei-infected mice. J Vec Borne Dis. 2011; 48: 96-100.
Rasoanaivo P, Wright CE, Wilcox ML, Gilbert B. Whole plant extracts versus single compounds for the treatment of malaria: synergy and positive interactions. Malar J. 2011; 10(Suppl 1): S4.
Sule MI, Pateh UU, Haruna AK, Garba M, Ahmadu AA, Adamu AK. Plants used in Hausa traditional medicine in Northern Nigeria. J Trop Biosci. 2003; 3: 17-20.
Tanko Y, Abdulaziz MM, Adelaiye AB, Fatihu MY, Musa KY. Effects of ethyl acetate portion of Indigofera pulchra leaves extract on blood glucose levels of alloxan-induced diabetic and normoglycemic Wistar rats. Asian J Med Sci. 2009; 1: 10-14.
Van der Heyde HC, Nolan J, Combes V, Gramaglia I, Grau GE A unified hypothesis for the genesis of cerebral malaria: sequestration, inflammation and hemostasis leading to microcirculatory disfunction. Trends Parasitol. 2006; 22: 50308.
Verma G, Dua VK, Agarwai DD, Atul PK. Anti-malarial activity of Holarrhena antidysenterica and Viola canescens, plants traditionally used against malaria in the Garhwal region of north-west Himalaya. Malar J. 2011; 10: 20.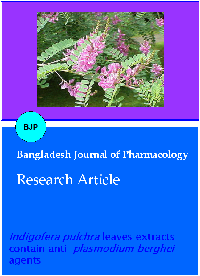 How to Cite
Ibrahim, S., M. Ibrahim, A. Musa, A. Aliyu, N. Haruna, and A. Okafor. "Indigofera Pulchra Leaves Extracts Contain Anti-Plasmodium Berghei Agents". Bangladesh Journal of Pharmacology, Vol. 6, no. 2, 1, pp. 69-73, doi:10.3329/bjp.v6i2.8715.
Section
Research Articles
Copyright (c) 2011 Sani Ibrahim, Mohammed A. Ibrahim, Aliyu M. Musa, Abubakar B. Aliyu, Nura S. Haruna, Azubuike I. Okafor
This work is licensed under a Creative Commons Attribution 4.0 International License.
Authors who publish with this journal agree to the following terms:
Authors retain copyright and grant the journal right of first publication with the work simultaneously licensed under a

Creative Commons Attribution License

that allows others to share the work with an acknowledgement of the work's authorship and initial publication in this journal.
Authors are able to enter into separate, additional contractual arrangements for the non-exclusive distribution of the journal's published version of the work (e.g., post it to an institutional repository or publish it in a book), with an acknowledgement of its initial publication in this journal.
Authors are permitted and encouraged to post their work online (e.g., in institutional repositories or on their website) prior to and during the submission process, as it can lead to productive exchanges, as well as earlier and greater citation of published work (See

The Effect of Open Access

).