Phytochemical screening and antibacterial activity of leaf and callus extracts of Centella asiatica
Keywords:
Antibacterial, Callus induction, Centella asiatica, Plant growth regulators, Secondary metabolite
Abstract
The present study shows the phytochemical analysis and antibacterial activity of leaf and callus of Centella asiatica. Leaf explants of C. asiatica were cultured on MS medium supplemented with different concentration of plant growth regulators for callus initiation. The maximum percentage of callusing was achieved in medium supplemented with 6-benzylaminopurine 4.0 mg/Land 2,4-dichlorophenoxyacetic acid 2.0 mg/L. In the preliminary phytochemical screening, alkaloids, glycosides, terpenoids, steroids, flavonoids, tannins, saponins and reducing sugars were present in most of the tested extracts of leaf and in vitro grown callus of C. asiatica. Methanol, acetone, chloroform and water extracts of leaf and callus were evaluated for in vitro antibacterial activity against Bacillus cereus, Escherichia coli, Staphylococcus aureus and Pseudomonas aeruginosa by agar plate well diffusion method. All the extracts from leaf and callus of C. asiatica showed significant antibacterial activity against the tested organisms. However, methanol extracts of leaf and callus showed maximum inhibitory effect.
Downloads
Download data is not yet available.
Abstract
6271
Download
3593 Read
1316
References
Appa Rao MVR, Srinivas K, Koteshwar Rao T. The effect of Mandookaparni (Centella asiatica) on the general mental ability (Medhya) of mentally retarded children. J Res Indian Med. 1973; 8: 9-16.
Bridgman KE. Herbal medicines. Faculty of Pharmacy, University of Sydney, 2003.
Cheng CL, Guo JS, Luk J, Koo MW. The healing effects of Centella extract and asiaticoside on acetic acid induced gastric ulcers in rats. Life Sci. 2004; 74: 2237-49.
Chew YL, Chan EWL, Tan PL, Lim YY, Stanslas J, Goh JK. Assessment of phytochemical content, polyphenolic composition, antioxidant and antibacterial activities of Leguminosae medicinal plants in Peninsular Malaysia. BMC Complem Altern Med. 2011; 11: 12.
Cho KH. Clinical experiences of madecassol (Centella asiatica) in the treatment of peptic ulcer. Korean J Gastroenterol. 1981; 13: 49-56.
Chopra RN, Nayar SL, Chopra IC. Glossary of Indian Medicinal Plants (Including the Supplement). New Delhi, Council of Scientific and Industrial Research, 1980.
Coste A, Vlase L, Halmagyi A, Deliu C, Coldea G. Effects of plant growth regulators and elicitors on production of secondary metabolites in shoot cultures of Hypericum hirsutum and Hypericum maculatum. Plant Cell Tissue Organ Cult. 2011; 106: 279-88.
Evans WC. Trease and Evans Pharmacognosy. 5th ed. London, Cambridge University Press, 2002, pp 336-93.
Gupta P, Sharma S, Saxena S. Callusing in Stevia rebaudiana (Natural Sweetener) for steviol glycoside production. Int J Agri Biol Sci. 2010; 1: 30-34.
Hassan MM, Oyenwale AO, Abduallahi MS, Okonkwo EM. Preliminary phytochemical and antibacterial investigation of crude extract of the root bark of Datarium microcarpum. J Chem Soc Nigeria. 2004; 29: 26-29.
Howes MR, Houghton PJ. Plants used in Chinese and Indian traditional medicine for improvement of memory and cognitive function. Pharm Biochem Behav. 2003; 75: 513-27.
Jagtap NS, Khadabadi SS, Ghorpade DS, Banarase NB, Naphade SS. Antimicrobial and antifungal activity of Centella asiatica (L.) Urban, Umbeliferae. Res J Pharm Tech. 2009; 2: 329-30.
James JT, Dubery IA. Pentacyclic triterpenoids from the medicinal herb, Centella asiatica (L.) Urban. Molecules 2009; 14: 3922-41.
Lee Y, Lee DE, Lee HS, Kim KS, Lee WS, Kim SH, Kim MW. Influence of auxins, cytokinins, and nitrogen on production of rutin from callus and adventitious roots of the white mulberry tree (Morus alba L.). Plant Cell Tissue Organ Cult. 2011; 105: 9-19.
Loc NH, Tam NT. An Asiaticoside production from Centella (Centella asiatica L. Urban) cell culture. Biotech Bioproc Eng. 2010; 15: 1065-70.
Martin KP. Plant regeneration through somatic embryogenesis in medicinally important Centella asiatica L. In vitro Cell Dev Biol Plant. 2004; 40: 586-91.
Matsuda H, Morikawa T, Ueda H, Yoshikawa M. Medicinal foodstuffs, XXVII. Saponin constituents Gotu Kola (2): Structures of new ursane- and oleanane-type triterpene oligoglycosides, centellsaponin B, C, and D, from Centella asiatica cultivated in Sri Lanka. Chem Pharm Bull. 2001; 49: 1368-71.
Murashige T, Skoog F. A revised medium for rapid growth and bioassays for tobacco tissue cultures. Physiol Plant. 1962; 15: 473-97.
Parekh J, Chanda S. Antibacterial and phytochemical studies on twelve species of Indian medicinal plants. Afri J Microbiol Res. 2007; 1: 175-81.
Patra A, Rai B, Rout GR, Das P. Successful plant regeneration from callus cultures of Centella asiatica (L.) Urban. Plant Growth Regul. 1998; 24: 13-16.
Pointel JP, Boccalon H, Cloarec M, Ledebehat C, Joubert M. Titrated extract of Centella asiatica (TECA) in the treatment of venous insufficiency of the lower limbs. Angiol. 1987; 38: 46-50.
Rao KP, Rao SS, Sadanandam M. Tissue culture studies of Centella asiatica. Indian J Pharm Sci. 1999; 61: 392-94.
Shukla A, Rasik AM, Jain GK, Shankar R, Kulshrestha DK, Dhawan BN. In vitro and in vivo wound healing activity of asiaticoside isolated from Centella asiatica. J Ethnopharmacol. 1999; 65: 111.
Siddiqui AA, Ali M. Practical Pharmaceutical chemistry. 1st ed. New Delhi, CBS Publisher and Distributors, 1997; pp 126-31.
Subban R, Veerakumar A, Manimaran R, Hashim KM, Balachandran I. Two new flavonoids from Centella asiatica (Linn.). J Nat Med. 2008; 62: 369-73.
Utami CV, Hatane SE, Gorjian M. The Application of three herbs; Chrysanthemum indicum, Centella asiatica and Andrographis paniculata to reduce bacteria in cow milk. Proceedings of The First International Conference on Interdisciplinary Research and Development, 31 May - 1 June 2011, Thailand, pp. 51.1-51.6.
Wang XS, Liu L, Fang JN. Immunological activities and structure of pectin from Centella asiatica. Carbohyd Polym. 2005; 60: 95101.
Zaidan MRS, Rain AN, Badrul AR, Adlin A, Norazah A, Zakiah I. In vitro screening of five local medicinal plants for antibacterial activity using disc diffusion method. Trop Biomed. 2005; 22: 165-70.
Zainol MK, Abd-Hamid A, Yusuf S, Muse R. Antioxidative activity and total phenolic compounds of leaf, root and petiole of four accessions of Centella asiatica (L.) Urban. Food Chem. 2003; 81: 57581
Zheng CJ, Qin LP. Chemical components of Centella asiatica and their bioactivities. J Chin Integ Med. 2007; 5: 34851.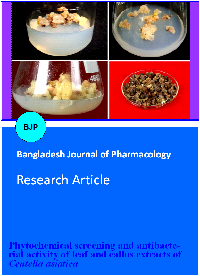 How to Cite
Arumugam, T., M. Ayyanar, Y. J. K. Pillai, and T. Sekar. "Phytochemical Screening and Antibacterial Activity of Leaf and Callus Extracts of Centella Asiatica". Bangladesh Journal of Pharmacology, vol. 6, no. 1, Sept. 2011, pp. 55-60, doi:10.3329/bjp.v6i1.8555.
Section
Research Articles
License
Authors who publish with this journal agree to the following terms:
Authors retain copyright and grant the journal right of first publication with the work simultaneously licensed under a

Creative Commons Attribution License

that allows others to share the work with an acknowledgement of the work's authorship and initial publication in this journal.
Authors are able to enter into separate, additional contractual arrangements for the non-exclusive distribution of the journal's published version of the work (e.g., post it to an institutional repository or publish it in a book), with an acknowledgement of its initial publication in this journal.
Authors are permitted and encouraged to post their work online (e.g., in institutional repositories or on their website) prior to and during the submission process, as it can lead to productive exchanges, as well as earlier and greater citation of published work (See

The Effect of Open Access

).