Antiprotozoal activities of Vincetoxicum stocksii and Carum copticum
Keywords:
Antileishmanial, Antimalarial, Carum copticum, Vincetoxicum stocksii
Abstract
The antileishmanial and antimalarial activities of different fractions of Vincetoxicum stocksii, Carum copticum, Gentiana olivierii and Zygophyllum fabago were determined.  Amongst these, V. stocksii and C. copticum showed moderate to good antimalarial activity. The ethyl acetate fractions of C. copticum and hexane fraction of V. stocksii showed 94 % and 52% inhibition of Plasmodium falciparum (D6 Clone) respectively. The hexane ethyl acetate fraction of C. copticum and  V. stocksi exhibited antileishmanial activity against, Leishmania donovani promastigotes with IC50 of 30 µg/mL and 51 mg/mL, respectively.
Downloads
Download data is not yet available.
Abstract
1580
Download
870 Read
240
References
Bharate SB, Khan SI, Yunus NA, Chauthe SK, Jacob MR, Tekwani BL, Khan IA, Singh IP. Antiprotozoal and antimicrobial activities of O-alkylated and formylated acylphloroglucinols. Bioorg Med Chem. 2007; 15: 87-96.
Makler MT, Hinrichs DJ. Measurement of the lactate dehydrogenase activity of Plasmodium falciparum as an assessment of parasitemia. Am J Trop Med Hyg. 1993; 48: 205-09.
Mansoor A, Samad A, Zaidi MI. Hypotensive effect of G. olivieri and its alkaloid gentianine in rats. Pharm Pharmacol Comm. 1998; 4: 229-30.
Mansoor A. Toxicological evaluation of the extracts and pure compounds of G. olivieri. Pak J Biol Sci. 2003; 6: 1949-50.
Mikus J, Steverding D. A simple colorimetric method to screen drug cytotoxicity against Leishmania using the dye alamar blue. Parasitol Int. 2000; 48, 265-69.
Sahaf BZ, Moharramipour S, Meshkatalsadat MH. Chemical constituents and fumigant toxicity of essential oil from Carum copticum against two stored product beetles. Insect Sci. 2007; 14: 21318.
Staerk D, Christensen J, Lemmich E, Duus JØ, Olsen CE, Janoezewsk JW. Cytotoxic activity of some phenanthroindolizidine N-oxide alkaloids from Cynanchum vincetoxicum. J Nat Prod. 2000; 63: 1584-86.
Zaidi MI. Phytotoxicity and insecticidal activity of Vincetoxicum stocksii. In: Plant ecology and biodiversity research. Barak SK (ed). New Delhi, Regency Publishers, 2006, pp 193-97.
Zaidi MA, Crow SA Jr. Biologically active traditional medicinal herbs from Balochistan, Pakistan. J Ethnopharmacol. 2005; 96: 331-34.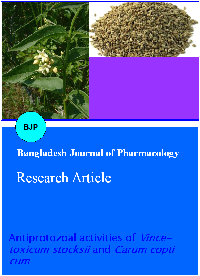 Additional Files
How to Cite
Mansoor, A., M. A. Ibrahim, M. A. Zaidi, and M. Ahmed. "Antiprotozoal Activities of Vincetoxicum Stocksii and Carum Copticum". Bangladesh Journal of Pharmacology, vol. 6, no. 1, Sept. 2011, pp. 51-54, doi:10.3329/bjp.v6i1.8442.
Section
Research Articles
License
Authors who publish with this journal agree to the following terms:
Authors retain copyright and grant the journal right of first publication with the work simultaneously licensed under a

Creative Commons Attribution License

that allows others to share the work with an acknowledgement of the work's authorship and initial publication in this journal.
Authors are able to enter into separate, additional contractual arrangements for the non-exclusive distribution of the journal's published version of the work (e.g., post it to an institutional repository or publish it in a book), with an acknowledgement of its initial publication in this journal.
Authors are permitted and encouraged to post their work online (e.g., in institutional repositories or on their website) prior to and during the submission process, as it can lead to productive exchanges, as well as earlier and greater citation of published work (See

The Effect of Open Access

).