Chemical composition of the leaf essential oils of Murraya koenigii (L.) Spreng and Murraya paniculata (L.) Jack
Keywords:
3-Carene, Caryophyllene oxide, Essential oil, GC-MS, M. paniculata, Murraya koenigi
Abstract
The chemical composition of the leaf oils of Murraya koenigii (L.) Spreng and M. paniculata (L.) Jack from Bangladesh was studied by gas chromatography mass spectroscopy (GC-MS).M. koenigii oil contained 39 compounds of which the major is 3-carene (54.2%) followed by caryophyllene (9.5%). Oil of M. paniculata contained 58 compounds of which the major are caryophyllene oxide (16.6%), b-caryophyllene (11.8%), spathulenol (10.2%), b-elemene (8.9%), germacrene D (6.9%) and cyclooctene, 4-methylene-6-(1-propenylidene) (6.4%). The compositions of both oils varied qualitatively and quantitatively.
Downloads
Download data is not yet available.
Abstract
5329
Download
3159 Read
711
References
Anonymous. The wealth of India: The raw materials. Vol VI, India, CSIR, 1962, pp 446-48.
Brophy JJ, Forsterand PI, Goldsack RJ. Diversity in Australian populations of Murraya paniculata (Rutaceae): New evidence from volatile leaf oils. Australian Syst Bot. 1994; 7: 409-18.
Chopra RN, Nayar SL, Chopra IC. Glossary of Indian medicinal plants. India, CSIR, 1956, p 171.
Dash GK, Patro CP, Maiti AK. Anti-inflammatory and analgesic activity of leaf essential oil from Murraya koenigii Spreng. Hamdard Medicus. 2004; 47: 22-26.
Garg SC, Nigam SS. Chemical study of an essential oil from Murraya exotica leaves. Riechst. Aromen, Koerperpfleg. 1970; 20: 127-32.
Ghani A. Medicinal plants of Bangladesh: Chemical constituents and uses. 2nd ed. Dhaka, Asiatic Society of Bangladesh, 2003, pp 309-10.
Hiremath SM, Madalageri BB, Basarkar PW. Composition of curry leaf (Murraya koenigii Spreng) oil during leaf growth. Indian Perfum. 1998; 42: 58-59.
Jeong JG, Kim YS, Min TY, Kim SH. Low concentration of 3-carene stimulates the differentiation of mouse osteoblastic MC3T3-E1 subclone 4 cells. Phytotherapy Res. 2007; 22: 18-22.
Kinoshita T, Firman K. Highly oxygenated flavonoids from Murraya paniculata. Phytochemistry 1996; 42: 1207-10.
Låstbom L, Boman A, Camner P, Ryrfeldt A. Does airway responsiveness increase after skin sensitisation to 3-carene: A study in isolated guinea pig lungs. Toxicology 1998; 125: 59-66.
MacLeod AJ, Pieris NM. Analysis of the essential oil of Murraya koenigii and Pandanus latifollus. Phytochemistry 1982; 21: 1653-58.
Nigam SS, Purohit RM. Chemical examination of the essential oil derived from the leaves of Murraya koenigii (Linn.) Spreng. (Indian curry leaf). Perfum Ess Oil Rec. 1961; 11: 152-55.
Olawore NO, Ogunwande IA, Ekundayo O, Adeleke KA. Chemical composition of the leaf and fruit essential oils of Murraya paniculata (L.) Jack. (Syn. Murraya exotica Linn.). Flav Frag J. 2004; 20: 54-56.
Omankutty Amma M, Rajaraman K, Sankarikutty B, Sumathikutty MA, Padmakumari KP, Narayanan CS. Processing of curry leaves. Indian Food Packer. 1984, pp 32-36.
Parrotta JA. Healing plants of Peninsular India. New York, CABI Publishing, 2001, p 917.
Prakesh V, Natarajan CP. Studies on curry leaf (Murraya koenigii L.). J Food Sci Tech. 1974; 11: 285-86.
Qiang L, Liang-Feng L, But PPH, Yun-Cheung K, Hung-Ta, C, Waterman RG. Monoterpene and sesquiterpene oils from the leaves of Murraya species: Chemotaxonomic significance. Biochem Syst Ecol. 1988; 16: 491-94.
Raina VK, Lal RK, Tripathi S, Khan M, Syamasundar KV, Srivastava SK. Essential oil composition of genetically diverse stocks of Murraya koenigii from India. Flav Frag J. 2002; 17: 144-46.
Sawangjaroen N, Phongpaichit S, Subhadhirasakul S, Visutthi M, Srisuwan N, Thammapalerd N. The anti-amoebic activity of some medicinal plants used by AIDS patients in southern Thailand. Parasitol Res. 2006; 98: 588-92.
Walde GS, Joythirmay T, Rao PGP, Shivaswamy R, Srinivas P. Flavour volatiles of leaves, fruits and seed cotyledons of Murraya koenigii L. Flav Frag J. 2005; 20: 169-72.
Xiao PG, Wang NG. Can ethnopharmacology contribute to the development of anti-fertility drugs? J Ethnopharmacol. 1991; 32: 167-77.
Yang D, Michel L, Chaumont JP, Millet Clerc J. Use of carryophyllene oxide as an antifungal agent in an in vitro experimental model of Onychomycosis. Mycopathologia 1999; 148: 79-82.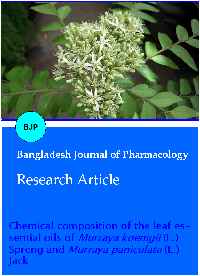 Additional Files
How to Cite
Chowdhury, J. U., M. N. I. Bhuiyan, and M. Yusuf. "Chemical Composition of the Leaf Essential Oils of Murraya Koenigii (L.) Spreng and Murraya Paniculata (L.) Jack". Bangladesh Journal of Pharmacology, vol. 3, no. 2, May 2008, pp. 59-63, doi:10.3329/bjp.v3i2.841.
Section
Research Articles
License
Authors who publish with this journal agree to the following terms:
Authors retain copyright and grant the journal right of first publication with the work simultaneously licensed under a

Creative Commons Attribution License

that allows others to share the work with an acknowledgement of the work's authorship and initial publication in this journal.
Authors are able to enter into separate, additional contractual arrangements for the non-exclusive distribution of the journal's published version of the work (e.g., post it to an institutional repository or publish it in a book), with an acknowledgement of its initial publication in this journal.
Authors are permitted and encouraged to post their work online (e.g., in institutional repositories or on their website) prior to and during the submission process, as it can lead to productive exchanges, as well as earlier and greater citation of published work (See

The Effect of Open Access

).