Occurrence of curcuminoids in Curcuma longa: A quality standardization by HPTLC
M. Paramasivam

Regional Analytical Laboratory of Medicinal & Aromatic Plants, Department of Agricultural Chemicals, Bidhan Chandra Krishi Viswavidyalaya, Mohanpur-741252, Nadia, W.B

Md. Wasim Aktar

Regional Analytical Laboratory of Medicinal and Aromatic Plants, Department of Agricultural Chemicals, Bidhan Chandra Krishi Viswavidyalaya, Mohanpur-741252, Nadia, W.B

R. Poi

Regional Analytical Laboratory of Medicinal and Aromatic Plants, Department of Agricultural Chemicals, Bidhan Chandra Krishi Viswavidyalaya, Mohanpur-741252, Nadia, W.B

H. Banerjee

Regional Analytical Laboratory of Medicinal and Aromatic Plants, Department of Agricultural Chemicals, Bidhan Chandra Krishi Viswavidyalaya, Mohanpur-741252, Nadia, W.B

A. Bandyopadhyay

Department of Spices and plantation Crops, Bidhan Chandra Krishi Viswavidyalaya, Mohanpur-741252, Nadia, W.B
Keywords:
Curcuminoids, Curcuma longa, HPTLC, Quantitative determination, Zingiberaceae
Abstract
A simple high performance thin layer chromatographic (HPTLC) method has been developed for the simultaneous determination of the pharmacologically important active curcuminoids viz. curcumin, demthoxycurcumin and bis-demethoxycurcumin in Curcuma longa L. The assay combines the separation and quantification of the analytes on silica gel 60 GF254 HPTLC plates with visualisation under UV and scanning at 425 nm. Using this technique, the alkaloidal content of different parts of the title plant has been determined.
Downloads
Download data is not yet available.
Abstract
919
Download
832 Read
327
References
Ahsan H, Parveen N, Khan NU, Hadi SM. Pro-oxidant, antioxidant and cleavage activities on DNA of curcumin and its derivatives demethoxycurcumin and bis-demethoxycurcumin. Chem Biol Interact. 1999; 121: 161-75.
Chattopadhyay I, Biswas K, Bandyopadhyay U, Banerjee RK. Turmeric and curcumin: Biological actions and medicinal applications. Curr Sci. 2004; 87: 44-50.
Chopra RN, Nayar SL, Chopra IC. Glossary of Indian medicinal plants. New Delhi, CSTR, 1956, p 7.
Govindarajan VS. Turmeric: Chemistry, technology and quality. Crit Rev Food Sci Nutr. 1980; 12: 199-301.
Gupta AP, Gupta MM, Kumar S. Simultaneous determination of curcuminoids in curcuma samples using high performance thin layer chromatography. J Liq Chromatogr Related Technol. 1999; 22: 1561-69.
Kapoor LD. Handbook of Ayurvedic medicinal plants. Boca Raton, FL, CRC Press, 2001, p 216.
Khurana A, Ho CT. High performance liquid chromatographic analysis of curcuminoids and their photo-oxidative decomposition compounds in Curcuma longa L. J Liq Chromatogr. 1988; 11: 2295-304.
Schieffer GW. Pressurized liquid extraction of curcuminoids and curcuminoid degradation products from turmeric (Curcuma longa) with subsequent HPLC assays. J Liq Chromatogr Related Technol. 2002; 25: 3033-44.
Taylor SJ, McDowell IJ. Determination of the curcuminoid pigments in turmeric (Curcuma domestica Val.) by reversed phase high performance liquid chromatography. Chromatographia 1992; 34: 73-77.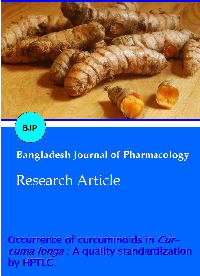 How to Cite
Paramasivam, M., M. Aktar, R. Poi, H. Banerjee, and A. Bandyopadhyay. "Occurrence of Curcuminoids in Curcuma Longa: A Quality Standardization by HPTLC". Bangladesh Journal of Pharmacology, Vol. 3, no. 2, May 2008, pp. 55-58, doi:10.3329/bjp.v3i2.833.
Section
Research Articles
Copyright (c) 2008 M. Paramasivam, Md. Wasim Aktar, R. Poi, H. Banerjee, A. Bandyopadhyay
This work is licensed under a Creative Commons Attribution 4.0 International License.
Authors who publish with this journal agree to the following terms:
Authors retain copyright and grant the journal right of first publication with the work simultaneously licensed under a

Creative Commons Attribution License

that allows others to share the work with an acknowledgement of the work's authorship and initial publication in this journal.
Authors are able to enter into separate, additional contractual arrangements for the non-exclusive distribution of the journal's published version of the work (e.g., post it to an institutional repository or publish it in a book), with an acknowledgement of its initial publication in this journal.
Authors are permitted and encouraged to post their work online (e.g., in institutional repositories or on their website) prior to and during the submission process, as it can lead to productive exchanges, as well as earlier and greater citation of published work (See

The Effect of Open Access

).