Design synthesis and biological evaluation of 2-methylphenyl semicarbazone derivatives
Keywords:
Antipyretic, Chalcone, Cow milk, Pyrexia, Semicarbazone
Abstract
We have used pharmacophore hybridization technique of drug design and designed a pharmacophore model 2-methylphenylsemicarbazone which is having hydrogen acceptor site, hydrogen donor site, lipophilic site etc using ligandscout-2.02 software. A series of 2-methylphenyl-semicarbazone was synthesized and evaluated for their antipyretic activity using boiled cow milk induced pyrexia in rabbits. Compound 11 was the most active compound. The possible metabolites of some selected synthesized chalconesemicarbazones were predicted by computational method using Pallas version-3.1 ADME-Tox prediction software. The major pathway of metabolism was found to be p-hydroxylation and amide hydrolysis.
Downloads
Download data is not yet available.
Abstract
1368
Download
693 Read
260
References
Chattopadhyay D, Arunachalam G, Ghosh L, Rajendran K, Mandal AB, Bhattacharya SK. Antipyretic activity of Alstonia macrophylla Wall ex A. DC: An ethnomedicine of Andaman Islands. J Pharm Pharm Sci. 2005; 8: 558-64.
Deshpande SR, Pai KV. Synthesis, antibacterial and analgesic activities of 4-[1-oxo-3-(substituted aryl)-2-propenyl]-3-(4-methylphenyl) sydnones. e-J Chem. 2010; 7: 59-64.
Dogan HN, Duran A, Yemni E. Synthesis and antibacterial activity of 1-(3-hydroxy-2-naphthoyl)-4-substituted thiosemicarbazides. Drug Metabol Drug Interact. 1999; 15: 187-95.
Gulcin I, Kufrevioglu OI, Oktay M, Buyukokuroglu ME. Antioxidant, antimicrobial, antiulcer and analgesic activities of nettle (Urticadioica L.). J Ethnopharmacol. 2004; 90: 205-15.
Gupta MU, Mazumder K, Manikandan L, Haldar PK, Bhattacharya S, Kandar CC. Antibacterial activity of Vernonia cinerea. Fitoterapia 2003; 74: 148-50.
Keri RS, Hosamani KM, Hugar MH. Synthesis, analgesic and anti-pyretic activity of pyrimidine derivatives containing a coumarin moiety. Eur J Med Chem. 2010; 45: 2597-605.
Khan A, Baki MA, Alim Al-Bari MA, Hasan S, Mosaddik MA, Rahman MM, Haque ME. Antipyretic activity of roots of Laportea crenulata Gaud in rabbit. Res J Med Med Sci. 2007; 2: 58-61.
Lin CN, Lee TH, Hsu MF, Wang JP, Ko FN, Teng CM. 2'',5''-dihydroxychalcone as a potent chemical mediator and cyclooxygenase inhibitor. J Pharm Pharmacol. 1997; 49: 530-36.
McCormick DA, Contreras D. On the cellular and network bases of epileptic seizures. Ann Rev Physiol. 2001; 63: 815-46.
Pandeya SN, Misra V, Singh PN, Rupainwar DC. Anticonvulsant activity of thioureido derivatives of acetopheonone semicarbazones. Pharmacol Res. 1998; 37: 17-22.
Singh HP, Chauhan CS, Pandeya SN, Sharma CS, Srivastava B, Singhal M. Design, Synthesis, Analgesic and Anti-Inflammatory Activity of Some novel Chalcone semicarbazone derivatives. Der Pharmacia Lettre. 2010; 2: 460-62.
Singh HP, Chauhan CS, Pandeya SN, Sharma CS, Srivastava B, Singhal M. Synthesis and pharmacological screening of some novel chloro chalconesemicarbazone derivatives. Der Pharma Chemica. 2010; 2: 343-51.
Sriram D, Yogeeswari P, Thirumurugan RS. Antituberculous activity of some aryl semicarbazone derivatives. Bioorg Med Chem Lett. 2004; 14: 3923-24.
Taranalli AD, Bhat AR, Srinivas S, Saravanan E. Antiinflammatory, analgesic and antipyretic activity of certain thiazolidinones. Indian J Pharm Sci. 2008; 70: 159-64.
Viana GS, Bandeira MA, Matos FJ. Analgesic and anti- inflammatory effects of chalcones isolated from Myracrodruon urundeuva Allemao. Phytomedicine 2003; 10: 189-95.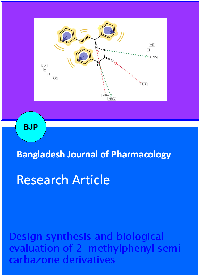 Additional Files
How to Cite
Singhal, M., A. Paul, and H. P. Singh. "Design Synthesis and Biological Evaluation of 2-Methylphenyl Semicarbazone Derivatives". Bangladesh Journal of Pharmacology, vol. 6, no. 1, June 2011, pp. 1-7, doi:10.3329/bjp.v6i1.7771.
Section
Research Articles
License
Authors who publish with this journal agree to the following terms:
Authors retain copyright and grant the journal right of first publication with the work simultaneously licensed under a

Creative Commons Attribution License

that allows others to share the work with an acknowledgement of the work's authorship and initial publication in this journal.
Authors are able to enter into separate, additional contractual arrangements for the non-exclusive distribution of the journal's published version of the work (e.g., post it to an institutional repository or publish it in a book), with an acknowledgement of its initial publication in this journal.
Authors are permitted and encouraged to post their work online (e.g., in institutional repositories or on their website) prior to and during the submission process, as it can lead to productive exchanges, as well as earlier and greater citation of published work (See

The Effect of Open Access

).