Nrf2 signaling contributes to the neuroprotective effect of Cicadidae Periostracum against 1-methyl-4-phenyl-1,2,3,6-tetrahydropyridine toxicity
Keywords:
Cicadidae Periostracum, Parkinson's disease, Nrf2, ML385
Abstract
Cicadidae Periostracum has various pharmacological effects, including neuroprotective potential via nuclear receptor related-1 (NURR1) protein signaling. However, there are no studies on its antioxidative effect. The neuroprotective effect against 1-methyl-4-phenyl-1,2,3,6-tetrahydropyridine (MPTP)-induced damage to dopaminergic neurons was evaluated and explored the mechanisms of its antioxidant action, focusing on nuclear factor E2-related factor 2 (Nrf2) in a mouse model of Parkinson's disease. We measured NURR1-related neurotrophic signaling and the levels of antioxidant factors in vitro and in vivo. The effects of Cicadidae Periostracum against MPTP-induced neurotoxicity were associated with inhibition of the neurotrophic signaling pathways and up-regulation of Nrf2 pathways. Thus, Cicadidae Periostracum mitigates neurotoxicity via neurotrophic signaling not only by increasing Nrf2 activity but also by increasing antioxidant activity.
Downloads
Download data is not yet available.
References
Burton NC, Kensler TW, Guilarte TR. In vivo modulation of the Parkinsonian phenotype by Nrf2. Neurotoxicology 2006; 27: 1094-100.
Chen PC, Vargas MR, Pani AK, Smeyne RJ, Johnson DA, Kan YW, Johnson JA. Nrf2-mediated neuroprotection in the MPTP mouse model of Parkinson's disease: Critical role for the astrocyte. Proc Nati Acad Sci USA. 2009; 106: 2933-38.
Dauer W, Przedborski S. Parkinson's disease: Mechanisms and models. Neuron 2003; 39: 889-909.
Jankovic J, Chen S, Le W. The role of Nurr1 in the development of dopaminergic neurons and Parkinson's disease. Prog Neurobiol. 2005; 77: 128-38.
Kerins MJ, Ooi A. The roles of NRF2 in modulating cellular iron homeostasis. Antioxid Redox Signal. 2018; 29: 1756-73.
Kim S, Viswanath ANI, Park JH, Lee HE, Park AY, Choi JW, Kim HJ, Londhe AM, Jang BK, Lee J, Hwang H, Lim SM, Pae AN, Park KD. Nrf2 activator via interference of Nrf2-Keap1 interaction has antioxidant and anti-inflammatory properties in Parkinson's disease animal model. Neuropharmacology 2020; 167: 107989.
Lannielli A, Bido S, Folladori L, Segnali A, Cancellieri C, Maresca A, Massimino L, Rubio A, Morabito G, Caporali L, Tagliavini F, Musumeci O, Gregato G, Bezard E, Carelli V, Tiranti V, Broccoli V. Pharmacological inhibition of necroptosis protects from dopaminergic neuronal cell death in Parkinson's disease models. Cell Rep. 2018; 22: 2066-79.
Lim HS, Kim JS, Moon BC, Ryu SM, Lee J, Park G. Batryticatus bombyx protects dopaminergic neurons against MPTP-induced neurotoxicity by inhibiting oxidative damage. Antioxidants 2019a; 8: 574.
Lim HS, Kim SJ, Moon BC, Choi G, Ryu SM, Lee J, Ang MJ, Jeon M, Moon C, Park G. Cicadidae Periostracum, the cast-off skin of cicada, protects dopaminergic neurons in a model of Parkinson's disease. Oxi Med Cell Longev. 2019b; 2019.
Lim HS, Moon BC, Lee J, Choi G, Park G. The insect molting hormone 20-hydroxyecdysone protects dopaminergic neurons against MPTP-induced neurotoxicity in a mouse model of Parkinson's disease. Free Radic Biol Med. 2020; 159: 23-36.
Lim HS, Jang Y, Moon BC, Park G. NF-κB signaling contributes to the inhibitory effects of Bombyx batryticatus on neuroinflammation caused by MPTP toxicity. Bangladesh J Pharmacol. 2021; 16: 96-102.
Liu XX, Zhu XY, Yu Z. Mulberrofuran G inhibits proliferation and migration by inactivating JAK2/STAT3 signaling in lung cancer cells. Bangladesh J Pharmacol. 2021; 16: 134-40.
Oh H, Hur J, Park G, Kim HG, Kim YO, Oh MS. Sanguisorbae Radix protects against 6‐ydroxydopamine‐induced neurotoxicity by regulating NADPH oxidase and NF‐E2‐related factor‐2/heme oxygenase‐1 expressions. Phytother Res. 2013; 27: 1012-17.
Park G, Moon BC, Ryu SM, Kim WJ, Lim HS. Cicadidae Periostracum attenuates atopic dermatitis symptoms and pathology via the regulation of NLRP3 inflammasome activation. Oxi Med Cell Longev. 2021; 2021.
Shen S, Hou Y, Wu Y. Tongxinluo preserves the renal function in diabetic kidney disease via protecting the HK-2 cells from the patterns of programmed cell death. Bangladesh J Pharmacol. 2021; 16: 52-64.
Singh A, Venkannagari S, Oh KH, Zhang YQ, Rohde JM, Liu L, Nimmagadda S, Sudini K, Brimacombe KR, Gajghate S, Ma J, Wang A, Xu X, Shahane SA, Xia M, Woo J, Mensah GA, Wang Z, Ferrer M, Gabrielson E, Li Z, Rastinejad F, Shen M, Boxer MB, Biswal S. Small molecule inhibitor of NRF2 selectively intervenes therapeutic resistance in KEAP1-deficient NSCLC tumors. ACS Chem Biol. 2016; 11: 3214-25.
Tonelli C, Chio IIC, Tuveson DA. Transcriptional regulation by Nrf2. Antioxid Redox Signal. 2018; 29: 1727-45.
Wang GQ., Zhang B, He XM., Li DD, Shi JS, F. Zhang F. Naringenin targets on astroglial Nrf2 to support dopaminergic neurons. Pharmacol Res. 2019; 139: 452-59.
Zhao F, Wu T, Lau A, Jiang T, Huang J, Wang XJ, Chen W, Wong PK, Zhang D. Nrf2 promotes neuronal cell differentiation. Free Radic Biol Med. 2009; 47: 867-79.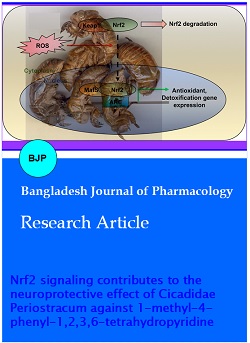 Downloads
How to Cite
Lim, H.-S., B. C. . Moon, and G. Park. "Nrf2 Signaling Contributes to the Neuroprotective Effect of Cicadidae Periostracum Against 1-Methyl-4-Phenyl-1,2,3,6-Tetrahydropyridine Toxicity". Bangladesh Journal of Pharmacology, vol. 17, no. 1, Mar. 2022, pp. 1-8, doi:10.3329/bjp.v17i1.57472.
Section
Research Articles
License
Copyright (c) 2022 Hye-Sun Lim, Byeong Cheol Moon, Gunhyuk Park
This work is licensed under a Creative Commons Attribution 4.0 International License.
Authors who publish with this journal agree to the following terms:
Authors retain copyright and grant the journal right of first publication with the work simultaneously licensed under a

Creative Commons Attribution License

that allows others to share the work with an acknowledgement of the work's authorship and initial publication in this journal.
Authors are able to enter into separate, additional contractual arrangements for the non-exclusive distribution of the journal's published version of the work (e.g., post it to an institutional repository or publish it in a book), with an acknowledgement of its initial publication in this journal.
Authors are permitted and encouraged to post their work online (e.g., in institutional repositories or on their website) prior to and during the submission process, as it can lead to productive exchanges, as well as earlier and greater citation of published work (See

The Effect of Open Access

).