Serum iron concentration and total iron binding capacity in patients of oral squamous cell carcinoma
Shakhawat Hossain

Department of Oral and Maxillofacial Surgery, Faculty of Dentistry, Bangabandhu Sheikh Mujib Medical University, Shahbag, Dhaka 1000

Motiur Rahman Molla

Department of Oral and Maxillofacial Surgery, Faculty of Dentistry, Bangabandhu Sheikh Mujib Medical University, Shahbag, Dhaka 1000

Mahmuda Akhter

Department of Oral and Maxillofacial Surgery, Faculty of Dentistry, Bangabandhu Sheikh Mujib Medical University, Shahbag, Dhaka 1000
Keywords:
Iron, Total iron binding capacity, Squamous cell carcinoma
Abstract
The serum iron concentration and Total Iron Binding Capacity (TIBC) status of 24 patients of oral squamous cell carcinoma (OSCC) were compared with the findings of 13 healthy subjects. OSCC was found to have association with low serum iron level. More patients were found to be with significantly lower iron content in serum (p&lt0.05). But no association between serum TIBC and increased risk of cancer was found (p&gt0.05). Irrespective of age, sex, smoking and betel nut chewing habit of subjects, low serum iron level significantly increase the risk of oral malignancy.
Downloads
Download data is not yet available.
Abstract
765
Download
490 Read
163
References
Ahlbom HE. Simple achlorhydric anaemia, Plummer-Vinson syndrome and carcinoma of the mouth, pharynx and oesophagus in women. BMJ. 1936; 2: 331-33.
Bhattathiri VN. Paradoxes in iron indices in oral cancer patients vis-a-vis tobacco-alcohol habits. Health Administrator. 2006; 17: 76-82.
Binnie WH, Rankin KV, Mackenzie IC. Etiology of oral squamous cell carcinoma. J Oral Pathol. 1983, 12: 11-29.
Chiba I, Muthumala M, Yamazaki Y. Characteristics of P53 gene of oral squamous cell carcinomas associated with betel quid chewing in Sri Lanka. Int J Cancer. 1998; 77: 839-42.
Dallman PR, Reeves JD. Laboratory diagnosis of iron deficiency. In: Iron nutrition in infancy and childhood. Stekel A (ed). New York, Raven Press, 1984, pp 11-24.
Dallman PR, Siemes MA, Stekel A. Iron deficiency in infancy and childhood. Am J Clin Nutr. 1980; 33: 89-118.
Gosselin BJ. Malignant tumors of the mobile tongue. http//www.emedicine.com. 2006; 8: 1-18.
Graham S, Dayal H, Rohrer T, Swanson M, Sultz H, Shedd D, Fischman S. Dentition, diet, tobacco and alcohol in the epidemiology of oral cancer. J Natl Cancer Inst. 1977; 59: 1611-16.
Hasan MN, Molla MR. Primary sites, clinical staging and histological grading of 102 oral squamous cell carcinoma. Bangladesh Dental J. 1997; 12: 17-21.
Hepplestone AD, Pippard MJ. Microcytic and macrocytic anemia. Med Group J. 1996, 23: 4-10.
Huggs JM, Wells RS. Chronic mucocutaneous candidiasis associated abnormalities of iron metabolism. Br J Dermatol. 1972; 86: 88-102.
Joynson DH, Walker DM, Jacobs A, Dolby AE. Defect of cell-mediated immunity in patients with iron-deficiency anaemia. Lancet 1972; 2: 1058-59.
Knekt P, Reunanen A, Takkunen H, Aromaa A, Heliovaara M, Hakulinen T. Body iron stores and risk of cancer. Int J Cancer. 1994; 56: 379-82.
Merk K, Mattsson B, Mattsson A, Hold G, Gullbring B, Bjorkholm M. The incidence of cancer among blood donors. Int J Epidemiol. 1990; 19: 505-9.
Neilands JB. Evolution of biological iron binding center. Structure Bonding. 1972; 11: 145-70.
Rennie JS, MacDonald DG. Quantitative histological analysis of the epithelium of the ventral surface of the hamster tongue in iron deficiency. Arch Oral Biol. 1982;
Shaheed I, Hossain A, Molla MR. Histological and causative factor of oral cancer in Bangladesh. Oral Oncology, Applied. Proceedings of the 4th International Congress on Oral Cancer. Ogaki City, Japan, 1995, pp 27-30.
Stevens RG, Graubard BI, Micozzi MS, Nerishi K, Blumberg BS. Moderate elevation of body iron level and increased risk of cancer occurrence and death. Int J Cancer. 1994; 56: 364-69.
Stevens RG, Joncs DY, Micozzi MS, Taylor PR. Body iron and the risk of cancer. N Engl J Med. 1988; 319: 1047-52.
Stevens RG, Kalkwarf DR. Iron, radiation and cancer. Environ Health Perspect. 1990; 87: 291-300.
Talukder MA, Haq R, Molla MR. A retrospective study of oral cancer and its cervical lymph nodes metastasis in Bangladesh. Bangladesh Dental J. 1997; 13: 21-26.
Toyokuni S. Iron-induced carcinogenesis: The role of Redox regulution. Free Radi Biol Med. 1996; 20: 553-66.
Watkinson JC, Gaze MN, Wilson JA. Stell and Marans Head and neck surgery. 4th ed. 2001, pp 1-3.
World Health Organization. Control of oral cancer in developing countries: From the report of WHO meeting, Colombo, Bull WHO 62, Sri Lanka, 1984, pp 817-30.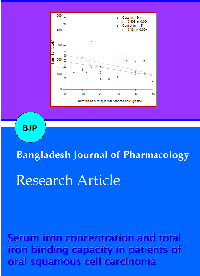 How to Cite
Hossain, S., M. Molla, and M. Akhter. "Serum Iron Concentration and Total Iron Binding Capacity in Patients of Oral Squamous Cell Carcinoma". Bangladesh Journal of Pharmacology, Vol. 2, no. 1, 1, pp. 49-54, doi:10.3329/bjp.v2i1.500.
Section
Research Articles
Copyright (c) 2007 Shakhawat Hossain, Motiur Rahman Molla, Mahmuda Akhter
This work is licensed under a Creative Commons Attribution 4.0 International License.
Authors who publish with this journal agree to the following terms:
Authors retain copyright and grant the journal right of first publication with the work simultaneously licensed under a

Creative Commons Attribution License

that allows others to share the work with an acknowledgement of the work's authorship and initial publication in this journal.
Authors are able to enter into separate, additional contractual arrangements for the non-exclusive distribution of the journal's published version of the work (e.g., post it to an institutional repository or publish it in a book), with an acknowledgement of its initial publication in this journal.
Authors are permitted and encouraged to post their work online (e.g., in institutional repositories or on their website) prior to and during the submission process, as it can lead to productive exchanges, as well as earlier and greater citation of published work (See

The Effect of Open Access

).