Pre-treatment by n-hexane extract of Phyllanthus niruri can alleviate paracetamol-induced damage of the rat liver
Keywords:
Butanol, Dichloromethane, Paracetamol, Phyllanthus niruri, Rat
Abstract
The present study aimed to obtain and evaluate remedy against viral hepatitis with Phyllanthus niruri (Bhui amla). Viral infection and toxic doses of paracetamol produce similar pattern of hepatotoxicity. Hepatotoxicity was induced by administering paracetamol (750 mg/kg body weight, single dose intraperitoneal) into one group (group P) of rats. Propylene glycol (vehicle) was administered (2 ml) into another group (group V) of rats. 4 groups of P. niruri extract-pretreated (200 mg/kg body weight/day for 7 days) rats were administered the same single dose of paracetamol on the 7th day. Extract of P. niruri were obtained through ethanol (E), hexane (H), dichloromethane (D) and butane (B). Rat groups were V, P, E + P, H + P, D + P and B + P. Each group consisted of 6 rats and were sacrificed on the 9th day. Parameters for evaluation were biochemical (serum ALT, serum AST, serum ALP, serum bilirubin), hepatic reduced glutathione concentrations and hepatic histology. Propylene glycol (group V) appeared non-toxic to the liver while significant degrees of centrilobuler hepatotoxicity was observed in group P paracetamol-treated rats. The E + P group suggested significant improvements in the serum parameters but these parameters appeared better alleviated in the H + P group. Hepatic reduced glutathione concentrations were replenished to the control level in both E + P and H + P groups. Hepatic histology supported biochemical and other observations in the P, E + P and H + P groups. Lesser degrees of alleviations were observed in the D + P and B + P groups. However, the hexane extract-pretreated group (H + P) appeared to provide the most significant hepatoprotection against paracetamol induced hepatotoxicity in the rat. Titration of the dose following isolation of the active ingredient might offer complete alleviation.
Downloads
Download data is not yet available.
Abstract
1925
Download
996 Read
398
References
Ahmed A, Pillai KK, Shibli J, Balani DK, Najmi AK, Marwah R, Hameed A. Evaluation of the hepatoprotective potential of jigrine pretreatment on thioacetamide induced liver damage in rats. Indian J Pharmacol. 1999; 31: 416-21.
Black M. Acetaminophen hepatotoxicicty. Gastroenterology 1980; 78: 382-92.
Dastur JF. Medicinal plants of India and Pakistan. Bombay, Taraporevala Sons, 1988.
Futter LE, al-Swayeh OA, Moore PK. A comparison of the effect of nitroparacetamol and paracetamol on liver injury. Bri J Pharmacol. 2001; 132: 10-12.
Garg NK. Screening of natural product for hepatoprotective activity. Lucknow, Central Research Institute, 1995, pp 189-91.
Hentze H, Gantner F, Kolb SA, Wendel A. Depletion of hepatic glutathione prevents death receptor-dependent apoptotic and necrotic liver injury in mice. Am J Path. 2000; 156: 2045-56.
Islam MM. Effect of Eclipta alba and Tinospora cordifolia, Vitamin C and Vitamin E on paracetamol-induced hepatotoxicty in rat. MPhil thesis, BSMMU, 1999.
Kirtikar KR, Basu BD. Indian medicinal plants. 2nd ed. International Book Distributors, Dehradun, 1984, pp 225-27.
Maddrey WC, Boitnott JK. Progress in hepatology: Drug-induced chronic liver disease. Gastroenterology 1977; 72: 1348-53.
Mehrotra R. Rawat S, Kulshrestha DK, Patanaik GK, Dhawan BN. In vitro studies on the effect of certain natural products against hepatitis B virus. Indian J Med Res. 1990; 92: 133-38.
Mitchell JR, Jollow DJ, Potter WZ. Davis DC, Gillette JR, Brodie BB. Acetaminophen-induced hepatic necrosis. I. Role of drug metabolism. J Pharmacol Exp Ther. 1973; 187: 185-94.
Mitchell JR, Jollow DJ, Potter WZ. Gilllete JR, Brodie BB. Acetaminophen-induced hepatic necrosis. II. Protective role of glutathione. J Pharmacol Exp Ther. 1973; 187: 211-17.
Saha DR. Effects of Phyllanthus niruri on paracetamol-induced hepatotoxicty in rat. MPhil thesis, University of Dhaka, Dhaka, 1998.
Souhami RL, Moxham J. Liver and biliary tract disease. In: Textbook of medicine. New York, Churchill Livingstone, 1990, p 623.
Syamasundar KV, Singh B, Thakur RS, Husain A, KisoY, Hikino H. Antihepatotoxic principles of Phyllanthus niruri herbs. J Ethnopharmacol. 1985; 14: 41-44.
Thyagarajan SP, Thiruneelakantan K, Subramanian S, Sundaravelu T. In vitro inactivation of HBsAg by Eclipta alba Hassk and Phyllanthus niruri Linn. Indian J Med Res. 1982; 76 (Suppl): 124-30.
Venkateswaran PS, Millman I, Blumberg BS. Effects of an extract of Phyllanthus niruri on hepatitis B and Woodchuck hepatitis viruses: In vitro and vivo studies. Proc Natl Acad Sci USA. 1987; 84: 274-78.
Walker IS, Kelleher J, Dixon MF, Losowsky MS. Vitamin E protection of the liver from the paracetamol in the rats. Clin Sci Mol Med. 1974; 47: 449-59.
Wang BE. Treatment of chronic liver diseases with traditional Chinese medicine. J Gastroenterol Hepatol. 2000; 15: 67-70.
Wang M, Cheng H, Li Y, Meng L, Zhao G, Mai K. Herbs of genus Phyllanthus in the treatment of chronic hepatitis B: Observations with three preparations from different geographic sites. J Lab Clin Med. 1995; 126: 350-52.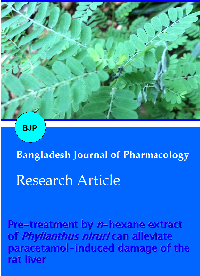 How to Cite
Iqbal, M. J., F. Z. Dewan, S. A. R. Chowdhury, M. I. R. Mamun, M. Moshiuzzaman, and M. Begum. "Pre-Treatment by N-Hexane Extract of Phyllanthus Niruri Can Alleviate Paracetamol-Induced Damage of the Rat Liver". Bangladesh Journal of Pharmacology, vol. 2, no. 1, June 2007, pp. 43-48, doi:10.3329/bjp.v2i1.499.
Section
Research Articles
License
Authors who publish with this journal agree to the following terms:
Authors retain copyright and grant the journal right of first publication with the work simultaneously licensed under a

Creative Commons Attribution License

that allows others to share the work with an acknowledgement of the work's authorship and initial publication in this journal.
Authors are able to enter into separate, additional contractual arrangements for the non-exclusive distribution of the journal's published version of the work (e.g., post it to an institutional repository or publish it in a book), with an acknowledgement of its initial publication in this journal.
Authors are permitted and encouraged to post their work online (e.g., in institutional repositories or on their website) prior to and during the submission process, as it can lead to productive exchanges, as well as earlier and greater citation of published work (See

The Effect of Open Access

).