Ketorolac and pethidine in post-operative pain relief
Md. Burhan Uddin

Department of Pharmacology, J. R. R. Medical College, Sylhet 3100

A. K. M. Mosharrof Hossain

Department of Pharmacology, Sylhet M. A. G. Osmani Medical College, Sylhet 3100

Meer Mahbubul Alam

Department of Surgery, Sylhet M. A. G. Osmani Medical College, Sylhet 3100

A. Z. M. Shakhawat Hossain

Department of Surgery, Sylhet M. A. G. Osmani Medical College, Sylhet 3100
Keywords:
Ketorolac, Pethidine, Post-operative pain, Verbal rating scale, Visual analogue scale
Abstract
The study was designed to compare the analgesic efficacy and safety of ketorolac and pethidine in pain relief after major surgeries. A prospective, interventional study was conducted on 71 patients under-going major surgical intervention. Thirty six patients received ketorolac (15 mg, intramuscularly 6 hourly) and the rest 35 patients received pethidine (100 mg, intramuscularly 6 hourly) for 48 hours post-operatively. Analgesic efficacy and safety of ketorolac were compared with that of pethidine after 1, 6, 12, 24, 32 and 48 hours of drug administration. Analgesic efficacy was measured using Visual Analogue Scale (VAS) and Verbal Rating Scale (VRS). Safety of the drugs was assessed by using sedation score and also recording adverse drug events. Ketorolac showed equianalgesic effect as pethidine estimated by VAS score at 12th and 48th hour and by VRS score at 1st and 48th hour of post-operative period. In other periods of observation, pethidine exhibited better analgesic effects than ketorolac. Ketorolac was better tolerated than pethidine and had less adverse effects compared to pethidine. This study showed that post-operative pain during the first 48 hours can be relieved by either ketorolac or pethidine. Ketorolac appeared safer than pethidine while pethidine appeared more effective analgesic than ketorolac in the management of post-operative pain. Further studies including double-blind randomized trial have been suggested to confirm the present study.
Downloads
Download data is not yet available.
Abstract
1931
Download
1144 Read
717
References
Abbas SM, Kamal RS, Afshan G. Effect of ketorolac on post-operative pain relief in dental extraction cases: A comparative study with pethidine. J Pak Med Assoc. 2004; 54: 319-22.
Aitkenhead AR, Rowbotham DJ, Smith G. Analgesic drugs. In: Textbook of anesthesia. 4th ed. Spain, Churchill Livingstone, 1998, pp 211-22.
Brown CR, Mazzulla JP, Mok MS, Nussdorf RT, Robin PD, Schwesinger WH. Comparison of repeat doses of intramuscular ketorolac tromethamine and morphine sulphate for analgesia after major surgery. Pharmacotherapy 1990; 10: 45S-50S.
Bruster S, Jarman B, Bosanquet N, Weston D, Erens R, Delbanco TL. National survey of hospital patients. BMJ. 1994; 309: 1542-46.
Carborg L, Lindoff C, Hellman A. Diclofenac versus pethidine in the management of pain after hysterectomy. Eur J Anaesthesiol. 1987; 4: 241-47.
Cork RC, Isaac I, Elsharydah A, Saleemi S, Zavisca F, Alexander L. A comparison of the verbal rating scale and the visual analog scale for pain assessment. Internet J Anesthesiol. 2004; 8: 50-52.
Diblasio CJ, Snyder MF, Kalton MW. Ketorolac: Safe and effective analgesia for the management of renal cortical tumors with partial nephrecotomy. J Urol. 2004; 171: 1062-65.
Furst D, Munster T. Non-steroidal anti-inflammatory drugs, disease modifying antirheumatic drugs, non-opioids analgesics and drugs used in gout. In: Basic and clinical pharmacology, Ketzung BG (ed). 9th ed. Singapore, McGraw Hill, 2004, pp 596-623.
Hossain MS. Comparative study between intramuscular ketorolac and intramuscular diclofenac for management of post-operative pain. Comilla BMA Med J. 2003; 10: 58-62.
James D, Justins D. Acute post-operative pain. In: Wyllie and Churchill Davidsons A practice of anesthesia. Healy TEJ, Knight PR (eds). 7th ed. India, Arnold, 2003, pp 1213-34.
Kehlet H. Acute pain control and accelerated post-operative surgical recovery. Surg Clin N Am. 1999; 79: 431-43.
Kinsella J, Moffat AC, Patrick JA, Prentice JW, McArdle CS, Kenny GN, et al. Ketorolac trometamol for post-operative analgesia after orthopaedic surgery. Br J Anaesth. 1992; 69: 19-22.
Kuhn S, Cooke K, Collins M, Jones JM, Mucklow JC. Perceptions of pain relief after surgery. BMJ. 1990; 300: 1687-90.
Larkin GL, Peacock WF, Pearl SM, Blair GA, DAmico F. Efficacy of ketorolac tromethamine versus pethidine in the ED treatment of acute renal colic. Am J Emerg Med. 1999; 17: 6-10.
McCaffery M, Pasero F, Pasero C. Pain assessment tools. In: Pain: Clinical manual, McCaffery M, Pasero C (eds), 2nd ed, St. Louis, Mosby, 1999, p 63.
Oates JD, Snowdon SL, Jayson DW. Failure of pain relief after surgery. Attitudes of ward staff and patients to post-operative analgesia. Anaesthesia 1994; 49: 755-58.
Porter J, Jick H. Addiction rate in patients treated with opioids. N Engl J Med. 1980; 302: 123.
Power I, Noble DW, Douglas E. Comparison of intramuscular ketorolac, trometerol and morphine sulphate for pain relief and cholecystectomy. Br J Anaesth. 1990; 65: 448-55.
Sandhu DP, Iacovou JW, Fletcher MS, Kaisary AV, Philip NH, Arkell DG. A comparison of intramuscular ketorolac and pethidine in the alleviation of renal colic. Br J Urol. 1994; 74: 690-93.
Schumacher MA, Besbaum AI, Way WL. Opioid analgesic and antagonist. In: Basic and clinical pharmacology. Ketzung BG (ed). 9th ed. Singapore, McGraw Hill, 2004, p 497, 516.
Seymour RA, Walton JG. Pain control after 3rd molar surgery. Int J Oral Surg. 1984; 13: 457-85.
Shende D, Das K. Comparative effects of intravenous ketorolac and pethidine on perioperative analgesia and post-operative nausea and vomiting (PONV) for pediatric strabismus surgery. Acta Anesthesiol Scand. 1999; 43: 265-69.
Smith LA, Carroll D, Edward JE. Single-dose ketorolac and pethidine in acute post-operative pain: Systemic review with meta-analysis. Br J Anaesth. 2000; 84: 48-58.
Stanski DR, Cherry C, Bradley R. Efficacy and safety of single doses of intramuscular ketorolac tromethamine compared with pethidine for post-operative pain. Pharmacotherapy 1990; 10: S40-44.
Stouten EM, Armbruster S, Houmes RJ, Prakash O, Erdmann W, Lachmann B. Comparison of ketorolac and morphine for post-operative pain after major surgery. Acta Anaesthesiol Scand. 1992; 36: 716-21.
Swadia VN, Shah MB. Comparative evaluation of ketorolac, tramadol and diclofenac for post-operative pain relief in minor surgical procedures. Indian J Anaes. 1999; 43: 64-66.
Tarkkila P, Saarnivaara L. Ketoprophen, diclofenac or ketorolac for pain after tonsillectomy in adults. Br J Anaesth. 1999; 82: 56-60.
Trotter JP, Reinhart SP, Katz RM, Glazier HS. Economic assessment of ketorolac versus narcotic analgesics and post-operative pain management. Clin Ther. 1993; 15: 938-48.
Wall PD. The prevention of post-operative pain. Pain 1998; 33: 289-90.
Williamson A, Hoggart B. Pain: A review of three commonly used pain rating scales. J Clin Nurs. 2005; 14: 798-804.
Yee JP, Brown CR, Allbon C, Koshiver JE. Analgesia from intramuscular ketorolac tromethamine com-pared to morphine in severe pain following major surgery. Pharmacotherapy 1986; 6: 253-61.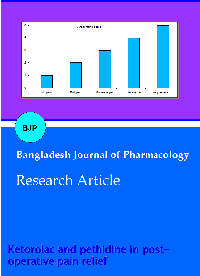 How to Cite
Uddin, M., A. K. M. Hossain, M. Alam, and A. Z. M. Hossain. "Ketorolac and Pethidine in Post-Operative Pain Relief". Bangladesh Journal of Pharmacology, Vol. 2, no. 1, 1, pp. 35-42, doi:10.3329/bjp.v2i1.498.
Section
Research Articles
Copyright (c) 2007 Md. Burhan Uddin, A. K. M. Mosharrof Hossain, Meer Mahbubul Alam, A. Z. M. Shakhawat Hossain
This work is licensed under a Creative Commons Attribution 4.0 International License.
Authors who publish with this journal agree to the following terms:
Authors retain copyright and grant the journal right of first publication with the work simultaneously licensed under a

Creative Commons Attribution License

that allows others to share the work with an acknowledgement of the work's authorship and initial publication in this journal.
Authors are able to enter into separate, additional contractual arrangements for the non-exclusive distribution of the journal's published version of the work (e.g., post it to an institutional repository or publish it in a book), with an acknowledgement of its initial publication in this journal.
Authors are permitted and encouraged to post their work online (e.g., in institutional repositories or on their website) prior to and during the submission process, as it can lead to productive exchanges, as well as earlier and greater citation of published work (See

The Effect of Open Access

).