Antidepressant-like activity of hydroalcoholic extract of Agaricus blazei in stressed and unstressed mice
Israr ul Haq

Department of Pharmacology, Faculty of Pharmacy, Ziauddin University, Karachi, Pakistan

Muhammad Aslam

Department of Pharmacology, Faculty of Pharmacy, University of Sindh, Jamshoro, Pakistan

http://orcid.org/0000-0001-9698-9658

Hammad Ahmed

Department of Pharmacology, Faculty of Pharmacy, Ziauddin University, Karachi, Pakistan

Nuzhat Sultana

Department of Pharmacology, Faculty of Pharmacy, University of Karachi, Karachi, Pakistan
Keywords:
Agaricus blazei, Antidepressant, Forced swim test, Tail suspension test
Abstract
The aim of this study was to investigate the antidepressant activity of hydroalcoholic extract Agaricus blazei (273 and 819 mg/kg; orally) in stressed and unstressed Swiss albino mice. Mice were immobilized to induce stress. Fluoxetine 20 mg/kg orally was given to stressed and unstressed animals and immobility time was noted by using forced swim test and tail suspension test. The concentration of plasma nitrite was also evaluated in stressed and unstressed mice. The effect of prazosin (α1-adrenoceptor antagonist), p-CPA (parachlorophenylalanine–tryptophan hydroxylase inhibitor) and 7-nitro-indazole (nNOS inhibitor) on the antidepressant activity of A. blazei was also evaluated. A. blazei and fluoxetine significantly decreased the duration of immobility time in stressed and unstressed mice, showing significant antidepressant activity. No substantial change was found in the locomotor activity. However, a significant reduction in the level of plasma nitrite was also noted in stressed mice. Hydroalcoholic extract showed prominent antidepressant activity in mice.
Video Clip of Methodology:
Forced swim test, Tail suspension test and Open field test:   4 min 17 sec:  Click to watch
Downloads
Download data is not yet available.
Abstract
737
Download
431 Read
95
References
Berton O, Nestler EJ. New approaches to antidepressant drug discovery: Beyond monoamines. Nat Rev Neurosci. 2006; 7: 137-57.
Bet PM, Hugtenburg JG, Penninx BW, Hoogendijk WJ. Side effects of antidepressants during long-term use in a naturalistic setting. Eur Neuropsychopharmacol. 2013; 23: 1443-51.
Bilici M, Efe H, Köroğlu MA, Uydu HA, Bekaroğlu M, Değer O. Antioxidative enzyme activities and lipid peroxidation in major depression: Alterations by antidepressant treatments. J Affect Disord. 2001; 64: 43-51.
Binfaré RW, Rosa AO, Lobato KR, Santos AR, Rodrigues AL. Ascorbic acid administration produces an antidepressant-like effect: Evidence for the involvement of monoaminergic neurotransmission. Prog Neuropsychopharmacol Biol Psychiatry. 2009; 33: 530-40.
Can A, Dao DT, Terrillion CE, Piantadosi SC, Bhat S, Gould TD. The tail suspension test. J Vis Exp. 2012; 59, e3769.
Dang H, Chen Y, Liu X, Wang Q, Wang L, Jia W. Antidepressant effects of ginseng total saponins in the forced swimming test and chronic mild stress models of depression. Prog Neuropsychopharmacol Biol Psychiatry. 2009; 33: 1417-24.
da Silva GD, Matteussi AS, dos Santos ARS, Calixto JB, Rodrigues AL. Evidence for dual effects of nitric oxide in the forced swimming test and in the tail suspension test in mice. Neuroreport 2000; 11: 3699-702.
Dhingra D, Bhankher A. Behavioral and biochemical evidences for antidepressant-like activity of palmatine in mice subjected to chronic unpredictable mild stress. Pharmacol Rep. 2014; 66: 1-9.
Dhingra D, Joshi P, Gupta A, Chhillar R. Possible involvement of monoaminergic neurotransmission in antidepressant‐like activity of Emblica officinalis fruits in mice. CNS Neurosci Ther. 2012; 18: 419-25.
Fajemiroye J, da Silva D, de Oliveira D, Costa E. Treatment of anxiety and depression: Medicinal plants in retrospect. Fundam Clin Pharmacol. 2016; 30: 198-215.
Faryadian S, Sydmohammadi A, Khosravi A, Kashiri M, Faryadayn P, Abasi N. Aqueous extract of Echium amoenum elevate CSF serotonin and dopamine level in depression rat. Biomed Pharmacol J. 2014; 7: 137-42
Fava M. Diagnosis and definition of treatment-resistant depression. Biol Psychiatry. 2003; 5: 649-59.
Garber J, Barbee W, Bielitzki J, Clayton L, Donovan J, Kohn D, Lipman N, Locke P, Melcher J, Quimby F, Turner P, Wood G, Würbel H. Guidelines for care and use of laboratory animals. 8th ed. Washington, The National Academies Press, 2011.
Ge W, Li H, Zhao Y, Cai E, Zhu H, Gao Y. Study on antidepressant activity of sesquiterpenoids from ginseng root. J Funct Foods. 2017; 33: 261-67.
Giavasis I. Bioactive fungal polysaccharides as potential functional ingredients in food and nutraceuticals. Curr Opin Biotechnol. 2014; 26: 162-73.
Gilhotra N, Jain H, Dhingra D. Differential effects of nitric oxide synthase inhibitors on anxiety in unstressed and stressed mice. Indian J Exp Biol. 2010; 48: 365-72.
Green LC, Wagner DA, Glogowski J, Skipper PL, Wishnok JS, Tannenbaum SR. Analysis of nitrate, nitrite, and [15N] nitrate in biological fluids. Anal Biochem. 1982; 126: 131-38.
Greeson J, Sanford B, Monti D. St. John's wort (Hypericum perforatum): A review of the current pharmacological, toxicological, and clinical literature. Psychopharmacology 2001; 153: 402-14.
Hakime-Silva RA, Vellosa JC, Khalil NM, Khalil OA, Brunetti IL, Oliveira OM. Chemical, enzymatic and cellular antioxidant activity studies of Agaricus blazei Murrill. An Acad Bras Cienc. 2013; 85: 1073-82.
Herken H, Gurel A, Selek S, Armutcu F, Ozen ME, Bulut M, Kap O, Yumru M, Savas HA, Akyol O. Adenosine deaminase, nitric oxide, superoxide dismutase, and xanthine oxidase in patients with major depression: Impact of antidepressant treatment. Arch Med Res. 2007; 38: 247-52.
Kageyama A, Ueno T, Oshio M, Masuda H, Horiuchi H, Yokogoshi H. Antidepressant-like effects of an aqueous extract of lavender (Lavandula angustifolia Mill.) in rats. Food Sci Tech Res. 2012; 18: 473-79.
Kashif SM, Zaidi R, Al-Qirim TM, Hoda N, Banu N. Modulation of restraint stress induced oxidative changes in rats by antioxidant vitamins. J Nutr Biochem. 2003; 14: 633-36.
Kim J, Kim S, Lee S, Jang C. Antidepressant-like effects of Albizzia julibrissin in mice: Involvement of the 5-HT1A receptor system. Pharmacol Biochem Behav. 2007; 87: 41-47.
Krishnan V, Nestler E. The molecular neurobiology of depression. Nature 2008; 455: 894-902.
Kwon S, Lee B, Kim M, Lee H, Park HJ, Hahm DH. Anti-depressant-like effect of the methanolic extract from Bupleurum falcatum in the tail suspension test. Prog Neuropsychopharmacol Biol Psychiatry. 2010; 34: 265-70.
Liao JC, Tsai JC, Liu CY, Huang HC, Wu LY, Peng WH. Antidepressant-like activity of turmerone in behavioral despair tests in mice. BMC Complement Altern Med. 2013; 13: 299.
Liu L, Liu C, Wang Y, Wang P, Li Y, Li B. Herbal medicine for anxiety, depression and insomnia. Curr Neuropharmacol. 2015; 13: 481-93.
Lopresti A, Drummond P. Saffron (Crocus sativus) for depression: A systematic review of clinical studies and examination of underlying antidepressant mechanisms of action. Human Psychopharmacol Clin Exp. 2014; 29: 517-27.
Mao J. Rhodiola Rosea therapy for major depressive disorder: A study protocol for a randomized, double-blind, placebo–controlled trial. J Clin Trials. 2014; 4: 1-15.
Michel TM, Frangou S, Thiemeyer D, Camara S, Jecel J, Nara K, Brunklaus A, Zoechling R, Riederer P. Evidence for oxidative stress in the frontal cortex in patients with recurrent depressive disorder: A postmortem study. Psychiatry Res. 2007; 151: 145-50.
Moussavi S, Chatterji S, Verdes E, Tandon A, Patel V, Ustun B. Depression, chronic diseases, and decrements in health: Results from the World Health Surveys. Lancet 2007; 370: 851-58.
Murray CJ, Lopez AD. The global burden of disease, 1990-2020. Nat Med. 1998; 4: 1241-43.
Ni WY, Wu MF, Liao NC, Yeh MY, Lu HF, Hsueh SC, Liu JY, Huang YP, Chang CH, Chung JG. Extract of medicinal mushroom Agaricus blazei Murill enhances the non-specific and adaptive immune activities in BALB/c mice. In vivo. 2013; 27: 779-86.
Porsolt RD, Bertin A, Jalfre M. Behavioral despair in mice: A primary screening test for antidepressants. Archives Internationales de Pharmacodynamie et de therapie. 1977; 229: 327-36.
Prakash B. Screening of antioxidant and antidepressant activity of Vanda tessellata leaves extract. Int J Green Pharm. 2018; 12.
Rabiei Z, Gholami M, Rafieian-Kopaei M. Antidepressant effects of Mentha pulegium in mice. Bangladesh J Pharmacol. 2016; 11: 711-15.
Rabiei Z, Naderi S, Rafieian-Kopaei M. Study of antidepressant effects of grape seed oil in male mice using tail suspension and forced swim tests. Bangladesh J Pharmacol. 2017; 12: 397-402.
Rahmati B, Kiasalari Z, Roghani M, Khalili M, Ansari F. Antidepressant and anxiolytic activity of Lavandula officinalis aerial parts hydroalcoholic extract in scopolamine-treated rats. Pharm Biol. 2017; 55: 958-65.
Rodrigues AL, Rocha JB, Mello CF, Souza DO. Effect of perinatal lead exposure on rat behaviour in open‐field and two‐wky avoidance tasks. Pharmacol Toxicol. 1996; 79: 150-56.
Saki K, Bahmani M, Rafieian-Kopaei M. The effect of most important medicinal plants on two important psychiatric disorders (anxiety and depression): A review. Asian Pac J Trop Med. 2014; 7: S34-S42.
Sayyah M, Sayyah M, Kamalinejad M. A preliminary randomized double-blind clinical trial on the efficacy of aqueous extract of Echium amoenum in the treatment of mild to moderate major depression. Prog Neuropsychopharmacol Biol Psychiatry. 2006; 30: 166-69.
Shafiee M, Arekhi S, Omranzadeh A, Sahebkar A. Saffron in the treatment of depression, anxiety and other mental disorders: Current evidence and potential mechanisms of action. J Affect Disord. 2018; 227: 330-37.
Sheikh N, Ahmad A, Siripurapu KB, Kuchibhotla VK, Singh S, Palit G. Effect of Bacopa monniera on stress induced changes in plasma corticosterone and brain monoamines in rats. J Ethnopharmacol. 2007; 111: 671-76.
Singh G, Garabadu D, Muruganandam A, Joshi V, Krishnamurthy S. Antidepressant activity of Asparagus racemosus in rodent models. Pharmacol Biochem Behav. 2009; 91: 283-90.
Surana A, Wagh R. GC-MS profiling and antidepressant-like effect of the extracts of Hamelia patens in animal model. Bangladesh J Pharmacol. 2017; 12: 410-16.
Tsuchiya T, Kishimoto J, Koyama J, Ozawa T. Modulatory effect of l-NAME, a specific nitric oxide synthase (NOS) inhibitor, on stress-induced changes in plasma adrenocorticotropic hormone (ACTH) and corticosterone levels in rats: Physiological significance of stress-induced NOS activation in hypothalamic–pituitary–adrenal axis. Brain Res. 1997; 776: 68-74.
Yi LT, Xu HL, Feng J, Zhan X, Zhou LP, Cui CC. Involvement of monoaminergic systems in the antidepressant-like effect of nobiletin. Physiol Behav. 2011; 102: 1-6.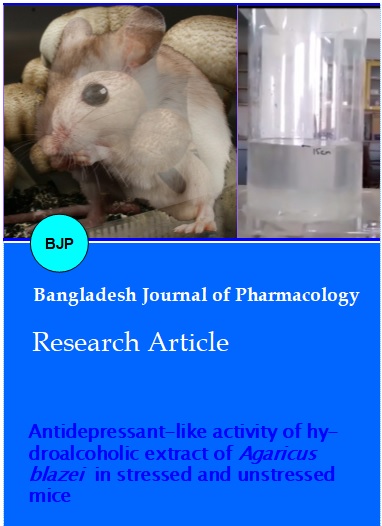 How to Cite
Haq, I., M. Aslam, H. Ahmed, and N. Sultana. "Antidepressant-Like Activity of Hydroalcoholic Extract of Agaricus Blazei in Stressed and Unstressed Mice". Bangladesh Journal of Pharmacology, Vol. 14, no. 3, Aug. 2019, pp. 136-43, doi:10.3329/bjp.v14i3.40803.
Section
Research Articles
Copyright (c) 2019 Muhammad Aslam Solangi, Israr ul Haq, Hammad Ahmed, Nuzhat Sultana
This work is licensed under a Creative Commons Attribution 4.0 International License.
Authors who publish with this journal agree to the following terms:
Authors retain copyright and grant the journal right of first publication with the work simultaneously licensed under a

Creative Commons Attribution License

that allows others to share the work with an acknowledgement of the work's authorship and initial publication in this journal.
Authors are able to enter into separate, additional contractual arrangements for the non-exclusive distribution of the journal's published version of the work (e.g., post it to an institutional repository or publish it in a book), with an acknowledgement of its initial publication in this journal.
Authors are permitted and encouraged to post their work online (e.g., in institutional repositories or on their website) prior to and during the submission process, as it can lead to productive exchanges, as well as earlier and greater citation of published work (See

The Effect of Open Access

).