Cardioprotective effect of Erythrina stricta leaves on isoproterenol-induced myocardial infarction in rat
Keywords:
Cardioprotective, Erythrina stricta, Lipid peroxidation, Myocardial infarction
Abstract
The cardioprotective activity of Erythrina stricta leaves against isoproterenol-induced myocardial infarction was studied. Wistar albino rats were pretreated with leaf extract (200 mg/kg) daily for 28 days. After treatment, isoproterenol (8.5 mg/kg body weight, orally) was injected to rats at an interval of 24 hours for two days to induce myocardial injury. Cardioprotection was investigated by estimating the activities of serum aminotransferase, lactate dehydrogenase  and creatinine kinase. Anti-oxidant enzymes such as superoxide dismutase, catalase, glutathione peroxidase, reduced glutathione and thiobarbituric acid reactive substances were determined. The activities of serum marker enzymes were increased significantly (p<0.05) in isoproterenol-induced rats. E. stricta leaf extract showed a decrease in serum enzyme levels and increase of antioxidant status. The results were confirmed by histopathological evidences. The present study concludes that E. stricta leaf extract has a prophylactic value in myocardial infarction.
Downloads
Download data is not yet available.
Abstract
1252
Download
786 Read
300
References
Asokkumar K, Umamaheswari M, Sivashanmugam AT, Subhadradevi V, Subhashini N, Ravi TK. Antioxidant activities of Erythrina stricta Roxb. using various in vitro and ex vivo models. Oriental Pharm Exp Med. 2008; 8: 266-78.
Budhwar R, Kumar S. Prevention of chromate-induced oxidative stress by alpha-lipoic acid. Indian J Exp Biol. 2005; 43: 531-35.
Chopra RN. Council of scientific and industrial research: Glossary of Indian medicinal plants with active principles. 2nd ed. CSIR, New Delhi, Publication and information directorate, 1992, pp 1398-403.
Halliwell B, Gutteridge JMC. Free radicals and toxicology. In: Free radicals in biology and medicine. 3rd ed. Oxford, Oxford University Press, 1985, pp 1-27.
Karthikeyan K, Bari BRS, Gautham K, Satish KS, Devaraj NS. Cardioprotective effects of the alcoholic extract of Terminalia arjuna bark in an in vivo model of myocardial ischemic reperfusion injury. Life Sci. 2003; 73: 27-39.
Misra HP, Fridovich I. The role of superoxide anion in the auto oxidation of epinephrine and simple assay for superoxide dismutase. J Biol Chem. 1972; 247: 3170-75.
Muralidharan P, Balamurugan G, Kumar P. Inotropic and cardioprotective effects of Daucus carota Linn on isoproterenol-induced myocardial infarction. Bangladesh J Pharmacol. 2008; 3: 74-79
Ohkawa H, Ohishi N, Yagi K. Assay for lipid peroxides in animal tissues by thiobarbituric acid reaction. Anal Biochem. 1979; 95: 351-58.
Prabhu S, Jainu M, Sabitha KE, Devi CSS. Cardioprotective effect of mangiferin on isoproterenol-induced myocardial infarction in rats. Indian J Exp Biol. 2006; 44: 209-15.
Pari L, Latha M. Protective role of Scoparia dulcis plant extract on brain antioxidant status and lipid peroxidation in STZ diabetic male Wistar rats. BMC Complement Altern Med. 2004; 4: 1-8.
Rajadurai M, Prince PSM. Comparative effect of Aegle marmelos extract and alpha-tocopherol on serum lipids, lipid peroxides and cardiac enzyme levels in rats with isoproterenol-induced myocardial infarction. Singapore Med J. 2005; 46: 78-81.
Thippeswamy BS, Thakker SP, Tubachi S, Kalyani GA, Netra MK, Patil U, Desai S, Gavimath CC, Veerapur VP. Cardioprotective effect of Cucumis trigonus Roxb on isoproterenol-induced myocardial infarction in rat. Am J Pharmacol Toxicol. 2009; 4: 29-37.
Trivedi CJ, Balaraman R, Majithiya JB, Bothara SB. Effect of Atrovastatin treatment on isoproterenol-induced myocardial infarction in rats. Pharmacology 2006; 77: 25-32.
Uma B, Nazam AM, Islam F. Cardioprotective effect of aqueous extract of Embelia ribes Burm fruits against isoproterenol-induced myocardial infarction in albino rats. Indian J Exp Biol. 2008; 46: 35-40.
Velavan S, Selvarani S, Adhithan A. Cardioprotective effect of Trichopus zeylanicus against myocardial ischemia induced by isoproterenol in rats. Bangladesh J Pharmacol. 2009; 4: 88-91.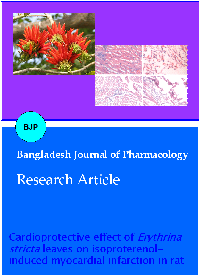 How to Cite
Kuppusamy, A., S. Varadharajan, C. Josey, H. John, D. Sherin, D. Chirakkan, and G. Athiyappan. "Cardioprotective Effect of Erythrina Stricta Leaves on Isoproterenol-Induced Myocardial Infarction in Rat". Bangladesh Journal of Pharmacology, vol. 5, no. 1, Mar. 2010, pp. 1-4, doi:10.3329/bjp.v5i1.3809.
Section
Research Articles
License
Authors who publish with this journal agree to the following terms:
Authors retain copyright and grant the journal right of first publication with the work simultaneously licensed under a

Creative Commons Attribution License

that allows others to share the work with an acknowledgement of the work's authorship and initial publication in this journal.
Authors are able to enter into separate, additional contractual arrangements for the non-exclusive distribution of the journal's published version of the work (e.g., post it to an institutional repository or publish it in a book), with an acknowledgement of its initial publication in this journal.
Authors are permitted and encouraged to post their work online (e.g., in institutional repositories or on their website) prior to and during the submission process, as it can lead to productive exchanges, as well as earlier and greater citation of published work (See

The Effect of Open Access

).