Anti-adipogenic effect of mastoparan B analogue peptide on 3T3-L1 preadipocytes
Keywords:
Mastoparan B, Venom, Vespa basalis
Abstract
Mastoparan B (MP-B), a cationic tetradecapeptide isolated from the venom of the Vespa basalis, exhibits cardiovascular effects, local edema and antibacterial activity. In this study, the anti-adipogenic effect of an MP-B analogue and its mechanism of action in 3T3-L1 preadipocytes were studied. The MP-B analogue (MP-B12) inhibited preadipocyte differentiation and decreased the expression of adipogenic transcription factors, including CCAAT/enhancer binding protein-alpha (C/EBPα), nuclear receptor peroxisome proliferator-activated receptor gamma (PPARγ) and sterol regulatory element-binding protein-1 (SREBP-1). Moreover, MP-B12 regulated the phosphorylation of Akt and glycogen synthase kinase-3 beta (GSK-3β), both of which play a role in preadipocyte differentiation, in which insulin and certain growth factors stimulated adipogenesis. This study demonstrates that MP-B12 inhibits preadipocyte differentiation and the accumulation of lipid droplets in 3T3-L1 preadipocytes and could potentially be used to treat obesity.
Video Clip of Methodology:
4 min 11 sec   Click to watch  
Downloads
Download data is not yet available.
Abstract
979
Download
662 Read
326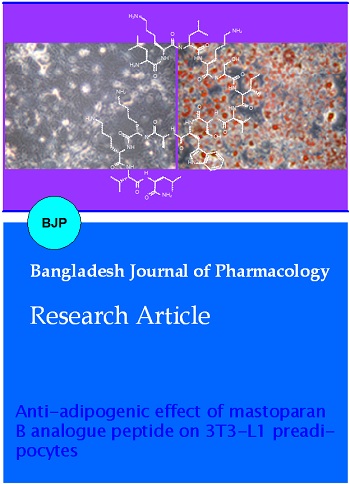 How to Cite
Kim, J. H., M. J. Jo, H. J. Go, N. G. Park, and G. D. Kim. "Anti-Adipogenic Effect of Mastoparan B Analogue Peptide on 3T3-L1 Preadipocytes". Bangladesh Journal of Pharmacology, vol. 13, no. 4, Nov. 2018, pp. 333-9, doi:10.3329/bjp.v13i4.37351.
Section
Research Articles
License
Authors who publish with this journal agree to the following terms:
Authors retain copyright and grant the journal right of first publication with the work simultaneously licensed under a

Creative Commons Attribution License

that allows others to share the work with an acknowledgement of the work's authorship and initial publication in this journal.
Authors are able to enter into separate, additional contractual arrangements for the non-exclusive distribution of the journal's published version of the work (e.g., post it to an institutional repository or publish it in a book), with an acknowledgement of its initial publication in this journal.
Authors are permitted and encouraged to post their work online (e.g., in institutional repositories or on their website) prior to and during the submission process, as it can lead to productive exchanges, as well as earlier and greater citation of published work (See

The Effect of Open Access

).