Isolation of phytoconstituents and evaluation of biological potentials of Berberis hispanica from Algeria
Redouane Lemoui

Unité de Recherche Valorisation des Ressources Naturelles, Molécules Bioactives et Analyses Physicochimiques et Biologiques. Université Frères Mentouri, Constantine, Route d'Ain El Bey 25000, Constantine

http://orcid.org/0000-0002-7084-8758

Samira Benyahia

Unité de Recherche Valorisation des Ressources Naturelles, Molécules Bioactives et Analyses Physicochimiques et Biologiques. Université Frères Mentouri, Constantine, Route d'Ain El Bey 25000, Constantine

http://orcid.org/0000-0002-2382-9669

Labib Noman

Laboratory of Plant Research, Department of Chemistry, Faculty of Science, Cankiri Karatekin University, Cankiri

Ilham Bencherchar

Unité de Recherche Valorisation des Ressources Naturelles, Molécules Bioactives et Analyses Physicochimiques et Biologiques. Université Frères Mentouri, Constantine, Route d'Ain El Bey 25000, Constantine

Feyza Oke-Altuntas

Department of Biology, Faculty of Science, Gazi University, Ankara 06500

http://orcid.org/0000-0001-6696-9090

Khellaf Rebbas

Université de M'Sila, 28000 M'Sila

http://orcid.org/0000-0002-2846-3838

Samir Benayache

Unité de Recherche Valorisation des Ressources Naturelles, Molécules Bioactives et Analyses Physicochimiques et Biologiques. Université Frères Mentouri, Constantine, Route d'Ain El Bey 25000, Constantine

http://orcid.org/0000-0003-2298-2466

Fadila Benayache

Unité de Recherche Valorisation des Ressources Naturelles, Molécules Bioactives et Analyses Physicochimiques et Biologiques. Université Frères Mentouri, Constantine, Route d'Ain El Bey 25000, Constantine

http://orcid.org/0000-0002-2282-6343

Ibrahim Demirtas

Laboratory of Plant Research, Department of Chemistry, Faculty of Science, Cankiri Karatekin University, Cankiri

http://orcid.org/0000-0001-8946-647X
Keywords:
Berberis hispanica, Phytoconstituent
Abstract
The aim of this study was to isolate the phytoconstituents and evaluate the biological activities of Berberis hispanica. Three phenolic compounds (tamarixetin, caffeic acid and rutin)  were isolated from B. hispanica. The structures of the pure compounds were elucidated by spectroscopic and mass-spectrometric analyses, including 1D-, 2D-NMR, and HPLC-TOF/MS. In addition, antimicrobial, anti-oxidant and anti-proliferative effects of the extracts, some fractions and isolated compounds were evaluated. The extracts of B. hispanica were evaluated against six bacterial strains and exhibited the highest activity against Klebsiella pneumonia (15 mm at 100 mg/mL). Fraction T36 (IC50<5 μg/mL) from the n-butanol extract displayed higher radical scavenging activity than butylated hydroxytoluene. The isolated compounds were evaluated for their antiproliferative effects against human cervical adenocarcinoma (HeLa) cell line by real time cell analyzer assay and tamarixetin exhibited the remarkable effect (IC50<50 μg/mL) on HeLa cells. This study supports the documented medicinal effects of B. hispanica.
Video Clip of Methodology:
Antiproliferative Assay: 4 min 31 sec   Click to watch
Downloads
Download data is not yet available.
Abstract
2353
Download
1010 Read
338
References
Alamzeb M, Khan MR, Ali S, Shah SQ, Rashid M. Antimicrobial properties of extracts and compounds isolated from Berberis jaeschkeana. Bangladesh J Pharmacol. 2013; 8: 107-09.
Alonso-Castro AJ, Domínguez F, García-Carrancá A. Rutin exerts antitumor effects on nude mice bearing SW480 tumor. Arch Med Res. 2013; 44: 346-51.
Alves MJ, Ferreira ICFR, Froufe HJC, Abreu RMV, Martins A, Pintado M. Antimicrobial activity of phenolic compounds identified in wild mushrooms, SAR analysis and docking studies. J Appl Microbiol. 2013; 115: 346-57.
Amina CH, Abdellatif H, Suzanna D, Saad I, Mohammed I. In vitro evaluation of the antimycobacterial activity and fractionation of Berberis hispanica root bark. J Pure Appl Microbiol. 2014; 8: 917-25.
Arora S, Kaur K, Kaur S. Indian medicinal plants as a reservoir of protective phytochemicals. Teratog Carcinog Mutagen. 2003; 23: 295-300.
Basile A, Sorbo S, Giordano S, Ricciardi L, Ferrara S, Montesano D, Cobianchi RC, Vuotto ML, Ferraro L. Antibacterial and allelopathic activity of extract from Castanea sativa leaves. Fitoterapia 2000; 71: 110-16.
Bellakhdar J. Moroccan traditional medicine, In: Ibis Press (eds), France, 1997, p 112.
Ben-Sghaier M, Pagano A, Mousslim M, Ammari Y, Kovacic H, Luis J. Rutin inhibits proliferation, attenuates superoxide production and decreases adhesion and migration of human cancerous cells. Biomed Pharmacother. 2016; 84: 1972-78.
Birdsall TC, Kelly GS. Berberine: Therapeutic potential of an alkaloid found in several medicinal plants. Altern Med Rev. 1997; 2: 94-103.
Blois MS. Anti-oxidant determinations by the use of a stable free radical. Nature 1958; 181: 1199-200.
Delgado L, Fernandes I, González-Manzano S, de Freitas V, Mateus N, Santos-Buelga C. Antiproliferative effects of quercetin and catechin metabolites. Food Function. 2014; 5: 797-803.
El-Youbi AEH, Ouahidi I, Aarab L. In vitro immunomodulation effects of the aqueous and protein extracts of Berberis hispanica Boiss and Reut. (Family Berberidaceae). J Med Plant Res. 2012a; 6: 4239-46.
El-Youbi AEH, Bousta D, Jamoussi B, Greche H, El Mansouri L, Benjilali J, Soidrou SH. Activités anti-oxydante, apoptotique et anti-proliférative de Tetraena gaetula (Emb. & Maire) Beier & Thulin et de Berberis hispanica Boiss. & Reut. originaires du Maroc. Phytothérapie 2012b; 10: 151-60.
Greenwell M, Rahman PKSM. Medicinal Plants: Their use in anti-cancer treatment. Int J Pharm Sci Res. 2015; 6: 4103-12.
Harish CA. Genus Berberis and Berberine HPLC: An overview. J Biol Active Prod Nat. 2012; 2: 256-64.
Hussain N, Adhikari A, Ahmad MS, Wahab A, Ali M, Choudhary MI. Two new prenylated flavonoids from the roots of Berberis thunbergii DC. Nat Prod Res. 2016; 31: 785-90.
Ibtissem A, Smain C, Youcef HP, Walter L. Isolation of berberinetannate using a chromatography activity-guided fractionation from root bark of Berberis hispanica Boiss. & Reut. J Liq Chromatogr Relat Technol. 2017; 40: 894-99.
Kuntz S, Wenzel U, Daniel H. Comparative analysis of the effects of flavonoids on proliferation, cytotoxicity, and apoptosis in human colon cancer cell lines. Eur J Nutr. 1999; 38: 133-42.
Meenakshi S, Sharad S, Rawat AKS. Antimicrobial activities of Indian Berberis species. Fitoterapia 2007; 78: 574-76.
Mokhber‑Dezfuli N, Saeidnia S, Gohari AR, Kurepaz-Mahmoodabadi M. Phytochemistry and pharmacology of Berberis species. Pharmacogn Rev. 2014; 8: 8-15.
Nascimento GGF, Locatelli J, Freitas PC, Silva GL. Antibacterial activity of plant extracts and phytochemical on antibiotic resistant bacteria. Brazilian J Microbiol. 2000; 31: 247-56.
Nicolini F, Burmistrova O, Marrero MT, Torres F, Hernández C, Quintana J, Estevez F. Induction of G2/M phase arrest and apoptosis by the flavonoid tamarixetin on human leukemia cells. Mol Carcinog. 2014; 53: 939-50.
Oke-Altuntas F, Demirtas I, Tufekci AR, Koldas S, Gul F, Behcet L, Gecibesler HI. Inhibitory effects of the active components isolated from Satureja Boissieri hausskn. Ex Boiss. On human cervical cancer cell line. J Food Biochem. 2016; 40: 499-506.
Prakash V, Mishra PK, Mishra M. Screening of medicinal plant extracts for anti-oxidant activity. J Med Plant Res. 2009; 3: 608-12.
Santos BL, Silva AR, Pitanga BPS, Sousa CS, Grangeiro MS, Fragomeni BO, Coelho PLC, Oliveira MN, Menezes-Filho NJ, Costa MFD, El-Bachá RDS, Velozo ES, Sampaio GP, Freire SM, Tardy M, Costa SL. Antiproliferative, proapoptotic and morphogenic effects of the flavonoid rutin on human glioblastoma cells. Food Chem. 2011; 127: 404-11.
Servili M, Montedoro G. Contribution of phenolic compounds in virgin olive oil quality. Eur J Lipid Sci Technol. 2002; 104: 602-13.
Silva NCC, Fernandes Júnior A. Biological properties of medicinal plants: A review of their antimicrobial activity. J Venom Anim Toxins Tropical Dis. 2003; 16: 402-13.
Silva S, Gomes L, Leitão F, Coelho AV, Boas LV. Phenolic compounds and anti-oxidant activity of Olea europaea L. fruits and leaves. Food Sci Tech Int. 2006; 12: 385-96.
Singleton VL, Rossi JA. Colorimetry of total phenolics with phosphormolybdic-phosphotungstic acid reagent. Am J Enol Vitic. 1965; 16: 144-58.
Srinivasan R, Natarajan D, Shivakumar MS. In vitro evaluation of anti-oxidant, antiproliferative potentials of bioactive extract-cum-rutin compound isolated from Memecylon edule leaves and its molecular docking study. J Biol Active Prod Nat. 2016; 6: 43-58.
Sultanova N, Makhmoor T, Abilov ZA, Parween Z, Omur-kamzinova VB, Rahman AU, Choudhary MI. Anti-oxidant and antimicrobial activities of Tamarix ramosissima. J Ethnopharmacol. 2001; 78: 201–05.
Toudert N, Djilani SE, Djilani A. Antimicrobial activity of flavonoids of Ampelodesma Mauritanica. American-Eurasian J Sustainable Agric. 2009; 3: 227-28.
Yamaguchi F, Ariga T, Yoshimura Y, Nakazawa H. Anti-oxidative and antiglycation activity of garcinol from Garcinia indica fruit rind. J Agric Food Chem. 2000; 48: 180-85.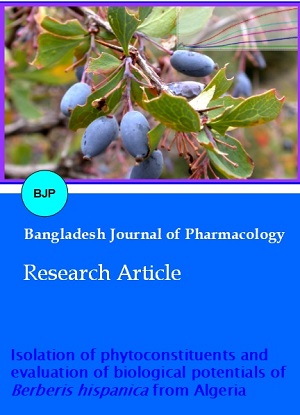 How to Cite
Lemoui, R., S. Benyahia, L. Noman, I. Bencherchar, F. Oke-Altuntas, K. Rebbas, S. Benayache, F. Benayache, and I. Demirtas. "Isolation of Phytoconstituents and Evaluation of Biological Potentials of Berberis Hispanica from Algeria". Bangladesh Journal of Pharmacology, Vol. 13, no. 2, June 2018, pp. 179-86, doi:10.3329/bjp.v13i2.36133.
Section
Research Articles
Copyright (c) 2018 Redouane Lemoui, Samira Benyahia, Labib Noman, Ilham Bencherchar, Feyza Oke-Altuntas, Khellaf Rebbas, Samir Benayache, Fadila Benayache, Ibrahim Demirtas
This work is licensed under a Creative Commons Attribution 4.0 International License.
Authors who publish with this journal agree to the following terms:
Authors retain copyright and grant the journal right of first publication with the work simultaneously licensed under a

Creative Commons Attribution License

that allows others to share the work with an acknowledgement of the work's authorship and initial publication in this journal.
Authors are able to enter into separate, additional contractual arrangements for the non-exclusive distribution of the journal's published version of the work (e.g., post it to an institutional repository or publish it in a book), with an acknowledgement of its initial publication in this journal.
Authors are permitted and encouraged to post their work online (e.g., in institutional repositories or on their website) prior to and during the submission process, as it can lead to productive exchanges, as well as earlier and greater citation of published work (See

The Effect of Open Access

).