Hypoglycemic, hepatoprotective and molecular docking studies of 5-[(4-chlorophenoxy) methyl]-1, 3, 4-oxadiazole-2-thiol
Naureen Shehzadi

Punjab University College of Pharmacy, University of the Punjab, Allama Iqbal Campus, Lahore 54030, Pakistan

http://orcid.org/0000-0001-6688-3289

Khalid Hussain

Punjab University College of Pharmacy, University of the Punjab, Allama Iqbal Campus, Lahore 54030, Pakistan

Nadeem Irfan Bukhari

Punjab University College of Pharmacy, University of the Punjab, Allama Iqbal Campus, Lahore 54030, Pakistan

Muhammad Islam

Punjab University College of Pharmacy, University of the Punjab, Allama Iqbal Campus, Lahore 54030, Pakistan

Muhammad Tanveer Khan

Faculty of Pharmacy, The University of Lahore, Lahore, Pakistan

Muhammad Salman

Punjab University College of Pharmacy, University of the Punjab, Allama Iqbal Campus, Lahore 54030, Pakistan

Sabahat Zahra Siddiqui

Department of Chemistry, Government College University, Lahore 54030, Pakistan

Aziz Ur Rehman

Department of Chemistry, Government College University, Lahore 54030, Pakistan

Muhammad Athar Abbasi

Department of Chemistry, Government College University, Lahore 54030, Pakistan
Keywords:
Hepatoprotective, Hypoglycemic, Molecular docking
Abstract
The present study aimed at the evaluation of anti-hyperglycemic and hepatoprotective potential of a new drug candidate, 5-[(4-chlorophenoxy) methyl]-1,3,4-oxadiazole-2-thiol (OXCPM) through in vitro and in vivo assays, respectively. The compound displayed excellent dose-dependent ɑ-amylase (28.0-92.0%), ɑ-glucosidase (40.3-93.1%) and hemoglobin glycosylation (9.0%-54.9%) inhibitory effects and promoted the uptake of glucose by the yeast cells (0.2 to 26.3%). The treatment of the isoniazid- and rifampicin- (p.o., 50 mg/kg of each) intoxicated rats with OXCPM (100 mg/kg, p.o.) resulted in restoring the normal serum levels of the non-enzymatic (total bilirubin, total protein and albumin) and bringing about a remarkable decrease in the levels of enzymatic (alanine transaminases, aspartate transaminases and alkaline phosphatase) biomarkers. The molecular docking studies indicated high binding affinity of the compound for hyperglycemia-related protein targets; fructose-1,6-bisphosphatase, beta2-adrenergic receptors and glucokinase. The results indicate that OXCPM may not only reduce hyperglycemia by enzyme inhibition but also the disease complications through protection of hemoglobin glycosylation and hepatic injury.
Video Clip of Methodology:
Glucose uptake by yeast cells:   4 min 51 sec   Click to watch
Downloads
Download data is not yet available.
Abstract
2407
Download
1300 Read
899
References
Abbasi MA, Ahmad VU, Zubair M, Rashid MA, Khan SN, Farooq U, Iqbal M. Α new α-glucosidase inhibiting dithiadiazetidin derivative from Symplocos racemosa. Heterocycles 2005; 65: 1837-42.
Adisa R, Choudhary M, Adewoye E, Olorunsogo O. Hypoglycaemic and biochemical properties of Cnestis ferruginea. Afr J Tradit Complement Altern Med. 2010; 7: 185-94.
Alberti KG, Zimmet PF. Definition, diagnosis and classification of diabetes mellitus and its complications. Part 1: Diagnosis and classification of diabetes mellitus. Provisional report of a WHO consultation. Diabetic Med. 1998; 15: 539-53.
American Diabetes Association (ADA). Standards of medical care in diabetes. Diabetes Care. 2005; 28: 4-36.
Bhutkar M, Bhise S. In vitro hypoglycemic effects of Albizzia lebbeck and Mucuna pruriens. Asian Pac J Trop Biomed. 2013; 3: 866-70.
Bucala R, Vlassara H. Advanced glycosylation end products in diabetic renal and vascular disease. Am J Kidney Dis. 1995; 26: 875-88.
Cirillo VP. Mechanism of glucose transport across the yeast cell membrane. J Bacteriol. 1962; 84: 485-91.
Eble AS, Thorpe SR, Baynes JW. Non-enzymatic glucosylation and glucose-dependent cross-linking of protein. J Biol Chem. 1983; 258: 9406-12.
El-Serag HB, Tran T, Everhart JE. Diabetes increases the risk of chronic liver disease and hepatocellular carcinoma. Gastroenterology 2004; 126: 460-68.
Fujisawa T, Ikegami H, Inoue K, Kawabata Y, Ogihara T. Effect of two α-glucosidase inhibitors, voglibose and acarbose, on postprandial hyperglycemia correlates with subjective abdominal symptoms. Metabolism 2005; 54: 387-90.
Goldstein DE, Little RR, Lorenz RA, Malone JI, Nathan D, Peterson CM. Tests of glycemia in diabetes. Diabetes Care. 1995; 18: 896-909.
Konya H, Miuchi M, Satani K, Matsutani S, Yano Y, Tsunoda T, Ikawa T, Matsuo T, Ochi F, Kusunoki Y, Tokuda M. Asymmetric dimethylarginine, a biomarker of cardio-vascular complications in diabetes mellitus. World J Exp Med. 2015; 5: 110-19.
Lyons TJ. Lipoprotein glycation and its metabolic consequences. Diabetes 1992; 41: 67-73.
Parker KM, England JD, Da Costa J, Hess RL, Goldstein DE. Improved colorimetric assay for glycosylated hemoglobin. Clin Chem. 1981; 27: 669-72.
Rang HP, Dale MM, Ritter JM, Moore PK. Pharmacology. Churchill Livingstone, New York, 2003.
Sankar M, Rajkumar J, Devi J. Hepatoprotective activity of hepatoplus on isoniazid and rifampicin induced hepatotoxicity in rats. Pakistan J Pharm Sci. 2015; 28: 983-90.
Shehzadi N, Hussain K, Islam M, Bukhari NI, Khan MT, Salman M, Siddiqui SZ, Aziz-ur-Rehman, Abbasi MA. In silico drug-qualifying parameters of 5-[(4-chlorophenoxy) methyl]-1, 3, 4-oxadiazole-2-thiol. Lat Am J Pharm. 2016; 35: 1991-97.
Shobana S, Sreerama YN, Malleshi NG. Composition and enzyme inhibitory properties of finger millet (Eleusine coracana L.) seed coat phenolics: Mode of inhibition of α-glucosidase and pancreatic amylase. Food Chem. 2009; 115: 1268-73.
Tesfamariam B. Free radicals in diabetic endothelial cell dysfunction. Free Radical Bio Med. 1994; 16: 383-91.
Teusink B, Diderich JA, Westerhoff HV, Van Dam K, Walsh MC. Intracellular glucose concentration in derepressed yeast cells consuming glucose is high enough to reduce the glucose transport rate by 50%. J Bacteriol. 1998; 180: 556-62.
Venn BJ, Mann JI. Cereal grains, legumes and diabetes. Eur J Clin Nutr. 2004; 58: 1443-61.
Vinson JA, Howard TB. Inhibition of protein glycation and advanced glycation end products by ascorbic acid and other vitamins and nutrients. J Nut Biochem. 1996; 7: 659-63.
Xiao Z, Storms R, Tsang A. A quantitative starch–iodine method for measuring alpha-amylase and glucoamylase activities. Anal Biochem. 2006; 351: 146-48.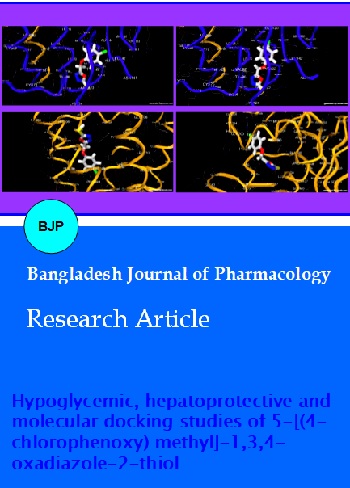 How to Cite
Shehzadi, N., K. Hussain, N. Bukhari, M. Islam, M. Khan, M. Salman, S. Siddiqui, A. Rehman, and M. Abbasi. "Hypoglycemic, Hepatoprotective and Molecular Docking Studies of 5-[(4-Chlorophenoxy) Methyl]-1, 3, 4-Oxadiazole-2-Thiol". Bangladesh Journal of Pharmacology, Vol. 13, no. 2, May 2018, pp. 149-56, doi:10.3329/bjp.v13i2.35514.
Section
Research Articles
Copyright (c) 2018 Naureen Shehzadi, Khalid Hussain, Nadeem Irfan Bukhari, Muhammad Islam, Muhammad Tanveer Khan, Muhammad Salman, Sabahat Zahra Siddiqui, Aziz Ur Rehman, Muhammad Athar Abbasi
This work is licensed under a Creative Commons Attribution 4.0 International License.
Authors who publish with this journal agree to the following terms:
Authors retain copyright and grant the journal right of first publication with the work simultaneously licensed under a

Creative Commons Attribution License

that allows others to share the work with an acknowledgement of the work's authorship and initial publication in this journal.
Authors are able to enter into separate, additional contractual arrangements for the non-exclusive distribution of the journal's published version of the work (e.g., post it to an institutional repository or publish it in a book), with an acknowledgement of its initial publication in this journal.
Authors are permitted and encouraged to post their work online (e.g., in institutional repositories or on their website) prior to and during the submission process, as it can lead to productive exchanges, as well as earlier and greater citation of published work (See

The Effect of Open Access

).