Antimicrobial evaluation of the crude extract of symbiotic fungi from marine sponge Reniera japonica
Xuelian Bai

College of Life and Environmental Sciences, Hangzhou Normal University, Hangzhou 310036, China

http://orcid.org/0000-0003-3735-8164

Menglian Dong

School of Pharmaceutical Sciences, Zhejiang University of Technology, Hangzhou 310014, China

http://orcid.org/0000-0002-0842-4145

Tongfei Lai

College of Life and Environmental Sciences, Hangzhou Normal University, Hangzhou 310036, China

Huawei Zhang

School of Pharmaceutical Sciences, Zhejiang University of Technology, Hangzhou 310014, China

http://orcid.org/0000-0002-2430-3845
Abstract
Marine sponge-derived microbes are one of the rich sources of bioactive natural products with a broad spectrum of bioactivities. The present work focuses on the isolation and antimicrobial screening of the marine sponge-associated fungi from Reniera japonica MNP-2016. The results indicated that five fungi (L1-2, L2-1, L4, L8-1 and L14) were successfully isolated. Bioassay tests showed that only strain L14 had strong inhibitory effect on the pathogens, Staphyloccocus aureus, Escherichia coli and Candida albicans. 18S rDNA sequence analysis indicated that strain L14 was ascribed to Aspergillus genus. To the best of our knowledge, this work was the first report on the isolation and antimicrobial evaluation of fungi from R. japonica.
Video Clip of Methodology:
1 min 13 sec:   Full Screen   Alternate
Downloads
Download data is not yet available.
Abstract
1214
Download
867 Read
754
References
Bhatnagar I, Kim SK. Immense essence of excellence: Marine microbial bioactive compounds. Mar Drugs. 2010; 8: 2673-701.
Corsaro D, Kohsler M, Filippo MMD, Venditti D, Monno R, Cave DD, Berrilli F, Walochnik J. Update on Acanthamoeba jacobsi genotype T15, including full-length 18S rDNA molecular phylogeny. Parasitol Res. 2017; 116: 1273-84.
Huang Y, Li ZY. Chemical defense and active compounds of sponge and sponge-associated microorganisms. Biotechnol Bull. 2006; 25: 13-17.
Jin LM, Quan CS, Hou XY, Fan SD. Potential pharmacological resources: Natural bioactive compounds from marine-derived fungi. Mar Drugs. 2016; 14: ID76.
Miki W, Otaki N, Yokoyama A, Kusumi T. Possible origin of zeaxanthin in the marine sponge, Reniera japonica. Experientia 1995; 52: 93-96.
Pejin B, Jovanovic KK, Mojovic M, Savic AG. New and highly potent antitumor natural products from marine-derived fungi: Covering the period from 2003 to 2012. Curr Top Med Chem. 2013; 13: 2745-66.
Wang CT, Cao YP, Sun BG, Liu XD, Zhang H. Screening of bacteriocin-like substance producing lactic acid bacterium and its characteristics. Chn Brw. 2008; 27: 50-53.
Wang CY, Wang KL, Qian PY, Xu Y, Chen M, Zheng JJ, Liu M, Shao CL, Wang CY. Antifouling phenyl ethers and other compounds from the invertebrates and their symbiotic fungi collected from the South China Sea. AMB Expr. 2016; 6: 2-10.
Wei RB, Li FC, Song R, Qin S. Comparison of two marine sponge-associated penicillium strains DQ25 and SC10: Differences in secondary metabolites and their bioactivities. Ann Microbio. 2009; 59: 579-85.
Zhang Y, Jun M, Feng Y, Li HN, Dong XW. Biological and chemical diversity of cytotoxin-producing symbiotic marine fungi in intertidal zone of Dalian. Chin Sci Bull. 2012; 58: 2290-97.
Zhang Y, Mu J, Feng Y, Kang Y, Zhang J, Gu PJ, Wang Y, Ma LF, Zhu YH. Broad-spectrum antimicrobial epiphytic and endophytic fungi from marine organisms: Isolation, bioassay and taxonomy. Mar Drugs. 2009; 7: 97-112.
Zhang HW, Ying C, Tang YF. Antimicrobial screening of endophytic fungi from Hypericum perforatum Linn. Pakistan J Pharm Sci. 2014; 27: 1153-56.
Zhang HW, Zhao ZP, Wang H. Cytotoxic natural products from marine sponge-derived microorganisms. Mar Drugs. 2017; 15: ID68.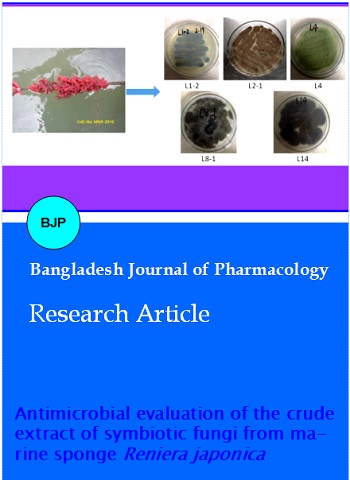 How to Cite
Bai, X., M. Dong, T. Lai, and H. Zhang. "Antimicrobial Evaluation of the Crude Extract of Symbiotic Fungi from Marine Sponge Reniera Japonica". Bangladesh Journal of Pharmacology, Vol. 13, no. 1, Feb. 2018, pp. 53-56, doi:10.3329/bjp.v13i1.34468.
Section
Research Articles
Copyright (c) 2018 Xuelian Bai, Menglian Dong, Tongfei Lai, Huawei Zhang
This work is licensed under a Creative Commons Attribution 4.0 International License.
Authors who publish with this journal agree to the following terms:
Authors retain copyright and grant the journal right of first publication with the work simultaneously licensed under a

Creative Commons Attribution License

that allows others to share the work with an acknowledgement of the work's authorship and initial publication in this journal.
Authors are able to enter into separate, additional contractual arrangements for the non-exclusive distribution of the journal's published version of the work (e.g., post it to an institutional repository or publish it in a book), with an acknowledgement of its initial publication in this journal.
Authors are permitted and encouraged to post their work online (e.g., in institutional repositories or on their website) prior to and during the submission process, as it can lead to productive exchanges, as well as earlier and greater citation of published work (See

The Effect of Open Access

).