Antioxidant, DNA-damage protection and anti-cancer properties of n-butanol extract of the endemic Perralderia coronopifolia
Khadidja Bekhouche

Departement of Animal Biology, Faculty of Natural and Life Sciences Unversity of Mentouri 1 Constantine

http://orcid.org/0000-0002-1039-6681

Tevfik Ozen

Department of Chemistry, Faculty of Science and Arts, Ondokuz May?s University, Samsun

http://orcid.org/0000-0003-0133-5630

Sara Boussaha

Research Unit and Valuation of Natural Resources, Bioactive Molecules, Physicochemical and Biological Analyzes (VARENBIOMOL), Constantine University 1 Constantine

Serkan Koldas

Plant Research Laboratory, Department of Chemistry, University of Cankiri Karatekin, Cankiri

http://orcid.org/0000-0002-7917-4008

Semiha Yenigun

Department of Chemistry, Faculty of Science and Arts, Ondokuz May?s University, Samsun

http://orcid.org/0000-0002-1979-5427

Somia Lassed

Departement of Animal Biology, Faculty of Natural and Life Sciences Unversity of Mentouri 1 Constantine

http://orcid.org/0000-0003-1684-880X

Ibrahim Demirtas

Plant Research Laboratory, Department of Chemistry, University of Cankiri Karatekin, Cankiri

http://orcid.org/0000-0001-8946-647X

Fadila Benayache

Research Unit and Valuation of Natural Resources, Bioactive Molecules, Physicochemical and Biological Analyzes (VARENBIOMOL), Constantine University 1 Constantine

http://orcid.org/0000-0002-2282-6343

Samir Benayache

Research Unit and Valuation of Natural Resources, Bioactive Molecules, Physicochemical and Biological Analyzes (VARENBIOMOL), Constantine University 1 Constantine

http://orcid.org/0000-0003-2298-2466

Djamila Zama

Departement of Animal Biology, Faculty of Natural and Life Sciences Unversity of Mentouri 1 Constantine
Keywords:
Anti-cancer, Antioxidant, DNA-damage, Perralderia coronopifolia
Abstract
This study was designed to evaluate in vitro the total phenolic, flavonoid content, antioxidant activity, oxidative DNA-damage protection and anti-cancer activity of n-butanol extract from Perralderia coronopifolia, endemic plant. DNA protection capacity was performed using 46966 plasmid DNA against UV-photolysis of H2O2-induced oxidative damage. The antiproliferative effects of extract were performed on HeLa and C6 cells. Experimental results showed that extract had convenient number of phenolic and flavonoids. Furthermore, it provided strong anti-oxidant, reducing power, hydrogen peroxide and higher DPPH· scavenging ability with IC50= 7.02 ± 0.02 µg/mL. As it shown an oxidative plasmid DNA-damage inhibition against UV-photolysis of H2O2, an anti-cancer activity athigher concentrations in cells. The data obtained that P. coronopifolia extract could be useful in human protection against infection and degenerative illness.
Video Component of Methodology:
Metal chelating activity:   2 min 56 sec   Click to watch
Downloads
Download data is not yet available.
Abstract
28662
Download
1206 Read
686
References
Arora N, Tripathi D, Pandey N, Rai KK, Rai SK, Pandey-Rai S. Study of anti-oxidant, anti-inflammatory, and DNA-damage protection properties of some Indian medicinal plants reveal their possible role in combating psoriasis. Int J Appl Sci Biotechnol. 2017; 5: 141-49.
Barros L, Baptista P, Ferreira IC. Effect of Lactarius piperatus fruiting body maturity stage on anti-oxidant activity measured by several biochemical assays. Food Chem Toxicol. 2007; 45: 1731-37.
Boussaha S, Bekhouche K, Boudjerda A, Leon F, Koldas S, Yaglioglu AS, Demirtas I, Brouard I, Marchioni E, Zama D. Chemical constituents, in vitro anti-oxidant and anti-proliferative activities of Perralderia coronopifolia Coss. subsp. eucoronopifolia M. var. typica M. extract. Rec Nat Prod. 2015; 9: 312-22.
Braca A, De Tommasi N, Di Bari L, Pizza C, Politi M, Morelli I. Anti-oxidant principles from Bauhinia tarapotensis. J Nat Prod. 2001; 64: 892-95.
Casagrande R, Georgetti SR, Verri WA, Dorta DJ, dos Santos AC, Fonseca MJ. Protective effect of topical formulations containing quercetin against UVB-induced oxidative stress in hairless mice. J Photochem Photobio B. 2006; 84: 21-27.
Chaudhary AK, Nokubo M, Reddy GR, Yeola SN, Morrow JD, Blair IA, Marnett LJ. Detection of endogenous malondialde-hydedeoxyguanosine adducts in human liver. Science 1994; 265: 1580-82.
Collins AR, Gedik CM, Olmedilla B, Southon S, Bellizzi M. Oxidative DNA damage measured in human lymphocytes: Large differences between sexes and between countries, and correlations with heart disease mortality rates. FASEB J. 1998; 12: 1397-400.
Dandona P, Thusu K, Cook S, Snyder B, Makowski J, Armstrong D. Nicotera T. Oxidative damage to DNA in diabetes mellitus. Lancet 1996; 347: 444-45.
Demirtas I, Sahin A, Ayhan B, Tekin S, Telci I. Antiproliferative effects of the methanolic extracts of Sideritis libanotica Labill. subsp linearis. Rec Nat Prod. 2009; 3: 104-09.
Dinis TC, Madeira VM, Almeida LM. Action of phenolic derivatives (acetaminophen, salicylate, and 5-aminosalicylate) as inhibitors of membrane lipid peroxidation and as peroxyl radical scavengers. Arch Biochem Biophys. 1994; 315: 161-69.
Gao X, Björk L, Trajkovski V, Uggla M. Evaluation of anti-oxidant activities of rosehip ethanol extracts in different test systems. J Sci Food Agric. 2000; 80: 2021-27.
Guha G, Rajkumar V, Ashok Kumar R, Mathew L. Therapeutic potential of polar and non-polar extracts of Cyanthillium cinereum in vitro. Evid Based Complement Alternat Med. 2011; 2011: 1-10.
Gutteridge JM. Ferrous ion-EDTA-stimulated phospholipid peroxidation. A reaction changing from alkoxyl-radical-to hydroxyl-radical-dependent initiation. Biochem J. 1984; 224: 697-701.
Koldaş S, Demirtas I, Ozen T, Demirci M A, Behçet L. Phytochemical screening, anti-cancer and anti-oxidant activities of Origanum vulgare L. ssp. viride (Boiss.) Hayek, a plant of traditional usage. J Sci Food Agric. 2015; 95: 786-98.
Kumar A, Pant MC, Singh HS, Khandelwal S. Assessment of the redox profile and oxidative DNA damage (8-OHdG) in squamous cell carcinoma of head and neck. J Canc Res Ther. 2012; 8: 254-59.
Kumar PS, Sucheta S, Deepa VS, Selvamani P, Latha S. Anti-oxidant activity in some selected Indian medicinal plants. Afr J Biotechnol. 2008; 7: 1826-28.
Lassed S, Amrani A, Altun M, Zama D, Demirtas I, Benayache F, Benayache S. In vitro anti-oxidant, inhibition of oxidative DNA damage and antiproliferative activities of ethanolic green tea (Camellia sinensis) extract. Int J Pharm Sci Rev Res. 2015; 35: 36-42.
Lezza A, Mecocci P, Cormio A, Beal MF, Cherubini A, Cantatore P, Senin U, Gadaleta M. Area-specific differences in OH8dG and mtDNA4977 levels in Alzheimer disease patients and aged controls. J Anti-Aging Med. 1999; 2: 209-16.
Oyaizu M. Studies on products of browning reaction. Jpn J Nutr. 1986; 44: 307-15.
Ozen T, Darcan C, Aktop O, Turkekul I. Screening of anti-oxidant, antimicrobial activities and chemical contents of edible mushrooms wildly grown in the Black Sea region of Turkey. Comb Chem High T Scr. 2011; 14: 72-84.
Özen T. Anti-oxidant activity of wild edible plants in the Black Sea Region of Turkey. Grasas Aceites. 2010; 61: 86-94.
Prieto P, Pineda M, Aguilar M. Spectrophotometric quantitation of anti-oxidant capacity through the formation of a phosphomolybdenum complex: Specific application to the determination of vitamin E. Anal Biochem. 1999; 269: 337-41.
Russo A, Izzo A, Cardile V, Borrelli F, Vanella A. Indian medi-cinal plants as antiradicals and DNA cleavage protectors. Phytomedicine 2001; 8: 125-32.
Singleton VL, Orthofer R, Lamuela-Raventós RM. Analysis of total phenols and other oxidation substrates and anti-oxidants by means of Folin-Ciocalteu reagent. Methods Enzymol. 1999; 299: 152-78.
Souri E, Amin G, Farsam H. Screening of anti-oxidant activity and phenolic content of 24 medicinal plant extracts. DARU J Pharml Sci. 2008; 16: 83-87.
Wang H, Gao XD, Zhou GC, Cai L, Yao WB. In vitro and in vivo anti-oxidant activity of aqueous extract from Choerospondias axillaris fruit. Food Chem. 2008; 106: 888-95.
Yaglıoglu AS, Akdulum B, Erenler R, Demirtas I, Telci I. Tekin S. Anti-proliferative activity of pentadeca-(8E, 13Z) dien-11-yn-2-one and (E)-1, 8-pentadecadiene from Echinacea pallida (Nutt.) Nutt. roots. Med Chem Res. 2013; 22: 2946-53.
Zhao GR, Xiang ZJ, Ye TX, Yuan YJ, Guo ZX. Anti-oxidant activities of Salvia miltiorrhiza and Panax notoginseng. Food Chem. 2006; 99: 767-74.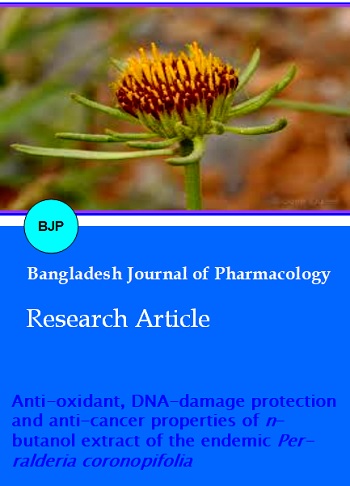 How to Cite
Bekhouche, K., T. Ozen, S. Boussaha, S. Koldas, S. Yenigun, S. Lassed, I. Demirtas, F. Benayache, S. Benayache, and D. Zama. "Antioxidant, DNA-Damage Protection and Anti-Cancer Properties of N-Butanol Extract of the Endemic Perralderia Coronopifolia". Bangladesh Journal of Pharmacology, Vol. 13, no. 1, Mar. 2018, pp. 82-89, doi:10.3329/bjp.v13i1.34255.
Section
Research Articles
Copyright (c) 2018 Khadidja Bekhouche, Tevfik Ozen, Sara Boussaha, Serkan Koldas, Semiha Yenigun, Somia Lassed, Ibrahim Demirtas, Fadila Benayache, Samir Benayache, Djamila Zama
This work is licensed under a Creative Commons Attribution 4.0 International License.
Authors who publish with this journal agree to the following terms:
Authors retain copyright and grant the journal right of first publication with the work simultaneously licensed under a

Creative Commons Attribution License

that allows others to share the work with an acknowledgement of the work's authorship and initial publication in this journal.
Authors are able to enter into separate, additional contractual arrangements for the non-exclusive distribution of the journal's published version of the work (e.g., post it to an institutional repository or publish it in a book), with an acknowledgement of its initial publication in this journal.
Authors are permitted and encouraged to post their work online (e.g., in institutional repositories or on their website) prior to and during the submission process, as it can lead to productive exchanges, as well as earlier and greater citation of published work (See

The Effect of Open Access

).