Evaluation of methanolic extract of Phragmites karka on carbon tetrachloride-induced liver fibrosis in rat
Keywords:
Anti-fibrotic, Hepatic fibrosis, PCR, Phragmites karka, ?-Smooth muscle actin
Abstract
Phragmites karka has been reported for its anti-inflammatory and analgesic activities. Here, extracts of leaf and rhizome of the plant were individually investigated in CCl4-induced hepatofibrosis in male Wistar rats by administering CCl4 intraperitoneally biweekly for 6 weeks.  Afterwards the animals were investigated for liver fibrosis at biochemical, molecular and histological levels, and it showed a profound increase (p<0.001) in elevation of serum levels of transaminases, ?-glutamyl transpeptidase, mRNA expression of ? smooth muscle actin, collagen and transforming growth factor beta (TGF?), and extracellular matrix deposition and perilobular necrosis. Both extracts markedly (p<0.001) decreased the elevated levels of these markers. Histopathological investigations also substantiated the above results by exhibiting a decreased in extracellular matrix deposition in post-treatment animals. In conclusion, both extracts had substantially modified the biochemical and molecular markers of liver fibrosis, in addition to histological improvement in architecture of liver.
Video Clip of Methodology:
Expression evaluation of gene: 4 min 43 sec   Full Screen   Alternate
Downloads
Download data is not yet available.
Abstract
1583
Download
1274 Read
786
References
Abideen Z, Qasim M, Rasheed A, Adnan MY, Gul B, Khan MA. Antioxidant activity and polyphenolic content of Phragmites karka under saline conditions. Pakistan J Bot. 2015; 47: 813-18.
Ahmed M, Khan AF, Kamran SH, Rehman AU. Amelioration of oral contraceptives induced hepatotoxicity by methanolic extract of turmeric (Curcuma longa Linn.). IJBPAS. 2016; 5: 104-17.
Bissell DM, Wang SS, Jarnagin WR, Roll FJ. Cell-specific expression of transforming growth factor-beta in rat liver: Evidence for autocrine regulation of hepatocyte proliferation. J Clin Invest. 1995; 96: 447-55.
Desmouliere A, Geinoz A, Gabbiani F, Gabbiani G. Transforming growth factor-beta 1 induces alpha-smooth muscle actin expression in granulation tissue myofibroblasts and in quiescent and growing cultured fibroblasts. J Cell Biol. 1993; 122: 103-11.
Dooley S, ten Dijke P. TGF-? in progression of liver disease. Cell Tissue Res. 2012; 347: 245-56.
Dunning S, Ur Rehman A, Tiebosch MH, Hannivoort RA, Haijer FW, Woudenberg J, van den Heuvel FA, Buist-Homan M, Faber KN, Moshage H. Glutathione and anti-oxidant enzymes serve complementary roles in protecting activated hepatic stellate cells against hydrogen peroxide-induced cell death. Biochim Biophys Acta. 2013; 1832: 2027-34.
Fireman E, Schwartz Y, Mann A, Greif J. Effect of montelukast, a cysteinyl receptor antagonist, on myofibroblasts in interstitial lung disease. J Clin Immunol. 2004; 24: 418-25.
Friedrich-Rust M, Wunder K, Kriener S, Sotoudeh F, Richter S, Bojunga J, Herrmann E, Poynard T, Dietrich CF, Vermehren J. Liver fibrosis in viral hepatitis: Noninvasive assessment with acoustic radiation force impulse imaging versus transient elastography 1. Radiology 2009; 252: 595-604.
González-Ponce HA, Martínez-Saldaña MC, Rincón-Sánchez AR, Sumaya-Martínez MT, Buist-Homan M, Faber KN, Moshage H, Jaramillo-Juárez F. Hepatoprotective effect of Opuntia robusta and Opuntia streptacantha fruits against acetaminophen-induced acute liver damage. Nutrients 2016; 8: 607.
Gou X, Tao Q, Feng Q, Peng J, Zhao Y, Dai J, Wang W, Zhang Y, Hu Y, Liu P. Urine metabolic profile changes of CCl4-liver fibrosis in rats and intervention effects of Yi Guan Jian decoction using metabonomic approach. BMC Complement Altern Med. 2013; 13: 123.
Gu J, Gui Y, Chen L, Yuan G, Lu HZ, Xu X. Use of natural products as chemical library for drug discovery and net-work pharmacology. PLoS One. 2013; 8: e62839.
Inagaki Y, Kushida M, Higashi K, Itoh J, Higashiyama R, Hong YY, Kawada N, Namikawa K, Kiyama H, Bou-Gharios G, Watanabe T, Okazaki I, Ikeda K. Cell type-specific intervention of transforming growth factor beta/Smad signaling suppresses collagen gene expression and hepatic fibrosis in mice. Gastroenterology 2005; 129: 259-68.
Ismail MH, Pinzani M. Reversal of liver fibrosis. Saudi J Gastroenterol. 2009; 15: 72-79.
Kew MC. Serum aminotransferase concentration as evidence of hepatocellular damage. Lancet 2000; 355: 591-92.
Liedtke C, Luedde T, Sauerbruch T, Scholten D, Streetz K, Tacke F, Tolba R, Trautwein C, Trebicka J, Weiskirchen R. Experimental liver fibrosis research: Update on animal models, legal issues and translational aspects. Fibrogenesis Tissue Repair. 2013; 6: 19.
Mohammed A, Abd Al Haleem EN, El?Bakly WM, El?Demerdash E. Deferoxamine alleviates liver fibrosis induced by CCl4 in rats. Clin Exper Pharmacol Physiol. 2016; 43: 760-68.
Moore BB, Peters-Golden M. Opposing roles of leukotrienes and prostaglandins in fibrotic lung disease. Exp Rev Clin Immunol. 2006; 2: 87-100.
Nakamura T, Akiyoshi H, Saito I, Sato K. Adenovirus-mediated gene expression in the septal cells of cirrhotic rat livers. J Hepatol. 1999; 30: 101-06.
Nanji AA, Khettry U, Sadrzadeh SM, Yamanaka T. Severity of liver injury in experimental alcoholic liver disease: Correlation with plasma endotoxin, prostaglandin E2, leukotriene B4, and thromboxane B2. Am J Pathol. 1993; 142: 367-73.
Nimse SB, Pal D. Free radicals, natural antioxidants, and their reaction mechanisms. RSC Adv. 2015; 5: 27986-06.
Op den Winkel M, Gmelin L, Schewe J, Leistner N, Bilzer M, Goke B, Gerbes AL, Steib CJ. Role of cysteinyl-leukotrienes for portal pressure regulation and liver damage in cholestatic rat livers. Lab Invest. 2013; 93: 1288-94.
Oyen LPA. Phragmites karka (Retz.) Trin. ex Steud. Pages Phragmites karka (PROTA). Wageningen, Netherlands: PROTA (Plant Resources of Tropical Africa). 2011.
Rehman AU. ABC transporters as therapeutic targets for liver fibrosis. University of Groningen, Wohrmann Print Service, Zutphen, Netherlands, 2014.
Sultan RA, Kabir MSH, Uddin MMN, Uddin M, Mahmud ZA, Raihan SZ, Qais N. Ethnopharmacological investigation of the aerial part of Phragmites karka (Poaceae). J Basic Clin Physiol Pharmacol. 2017. 28; 283-91.
Tiggelman AM, Boers W, Linthorst C, Sala M, Chamuleau RA. Collagen synthesis by human liver (myo)fibroblasts in culture: Evidence for a regulatory role of IL-1 beta, IL-4, TGF beta and IFN gamma. J Hepatol. 1995; 23: 307-17.
Tsukada S, Parsons CJ, Rippe RA. Mechanisms of liver fibrosis. Clin Chim Acta. 2006; 364: 33-60.
van Acker SA, de Groot MJ, van den Berg DJ, Tromp MN, Donne-Op den Kelder G, van der Vijgh WJ, Bast A. A quantum chemical explanation of the antioxidant activity of flavonoids. Chem Res Toxicol. 1996; 9: 1305-12.
Zhou WC, Zhang QB, Qiao L. Pathogenesis of liver cirrhosis. World J Gastroenterol. 2014; 20: 7312-24.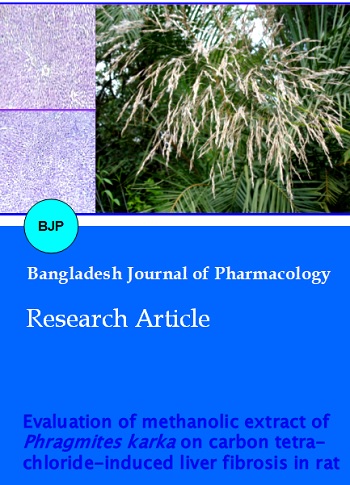 How to Cite
Rehman, A., M. Liaqat, R. Asghar, and N.- i-H. Syed. "Evaluation of Methanolic Extract of Phragmites Karka on Carbon Tetrachloride-Induced Liver Fibrosis in Rat". Bangladesh Journal of Pharmacology, Vol. 12, no. 3, July 2017, pp. 276-81, doi:10.3329/bjp.v12i3.32127.
Section
Research Articles
Copyright (c) 2017 Atta ur Rehman, Manal Liaqat, Rabia Asghar, Nawazish-i-Husain Syed
This work is licensed under a Creative Commons Attribution 4.0 International License.
Authors who publish with this journal agree to the following terms:
Authors retain copyright and grant the journal right of first publication with the work simultaneously licensed under a

Creative Commons Attribution License

that allows others to share the work with an acknowledgement of the work's authorship and initial publication in this journal.
Authors are able to enter into separate, additional contractual arrangements for the non-exclusive distribution of the journal's published version of the work (e.g., post it to an institutional repository or publish it in a book), with an acknowledgement of its initial publication in this journal.
Authors are permitted and encouraged to post their work online (e.g., in institutional repositories or on their website) prior to and during the submission process, as it can lead to productive exchanges, as well as earlier and greater citation of published work (See

The Effect of Open Access

).