Isolation and antifungal screening of endophytic fungi from Erigeron canadensis
Xuelian Bai

College of Life and Environmental Sciences, Hangzhou Normal University, Hangzhou 310036

Ting Zhou

College of Life and Environmental Sciences, Hangzhou Normal University, Hangzhou 310036

Tongfei Lai

College of Life and Environmental Sciences, Hangzhou Normal University, Hangzhou 310036

Yicong Li

College of Life and Environmental Sciences, Hangzhou Normal University, Hangzhou 310036

Jiale Chai

College of Life and Environmental Sciences, Hangzhou Normal University, Hangzhou 310036

Jiajun Ni

College of Life and Environmental Sciences, Hangzhou Normal University, Hangzhou 310036

Huawei Zhang

School of Pharmaceutical Sciences, Zhejiang University of Technology, Hangzhou 310014
Keywords:
Antifungal, Endophytic fungi, Erigeron canadensis
Abstract
Sixteen fungal strains isolated from the Erigeron canadensis, one of traditional Chinese medicines used to treat the pathogenic infection and dysentery, were evaluated for their antifungal activities against one human pathogen Candida albicans, and two phytopathogens, Colletotrichum fructicola and Rhizoctonia cerealis. The bioassay results indicated that the ethyl acetate extract of the fermentation broth of these fungal endophytes had stronger antimicrobial activities. Among these endophytic strains, the ethyl acetate extracts of strains NPR003 and NPR005 showed the strongest inhibitory effects and has potential application in the discovery of new antifungal agents. This was the first report on the isolation of endophytic fungi from E. canadensis and evaluation of their antifungal activities.
Video Clip of Methodology:
1  min 4 sec   Full Screen   Alternate
Downloads
Download data is not yet available.
Abstract
1322
Download
854 Read
545
References
Bennett AJ, Bending GD, Chandler D, Hilton S, Mills P. Meeting the demand for crop production: The challenge of yield decline in crops grown in short rotation. Biol Rev. 2012; 87: 52-71.
Choi HJ, Wang HY, Kim YN, Heo SJ, Kim NK, Jeong MS, Park YH, Kim S. Composition and cytotoxicity of essential oil extracted by steam distillation from horseweed (Erigeron canadensis L.) in Korea. J Korean Soc Appl Biol Chem. 2008; 51: 55-59.
Curini M, Bianchi A, Epifano F, Bruni R, Torta L, Zambonelli A. Composition and in vitro antifungal activity of essential oils of Erigeron canadensis and Myrtus communis from France. Chem Nat Compd. 2003; 39: 191-94.
Hong ES, Nguyen DTM, Nguyen DH, Kim EK. Inhibition of melanogenesis by Erigeron canadensis via down-regulating melanogenic enzymes in B16F10 melanoma cells. Korean J Chem Eng. 2008; 25: 1463-66.
Park WS, Bae JY, Chun MS, Chung HJ, Han SY, Ahn MJ. Suppression of gastric ulcer in mice by administration of Erigeron canadensis extract. Proc Nutr Soc. 2013; 72: E263-63.
Pawlaczyk I, Czerchawski L, Kuliczkowski W, Karolko B, Pilechi W, Witkiewicz W, Gancarz R. Anticoagulant and anti-platelet activity of polyphenolic-polysaccharide preparation isolated from the medicinal plant Erigeron canadensis L. Thromb Res. 2011; 127: 328-40.
Sohn SH, Ko E, Oh BG, Kim J, Choi E, Kim SH, Kim Y, Shin M, Hong M, Bae H. Global gene analysis of Erigeron canadensis-treated TNF-alpha-, IL-4- and IL-1 beta-stimulated A549 human epithelial cells. Ann Nutr Metab. 2009; 54: 227-35.
Sung J, Sung M, Kim Y, Ham H, Jeong HS, Lee J. Anti-inflammatory effect of methanol extract from Erigeron canadensis L. may be involved with up-regulation of heme oxygenase-1 expression and suppression of NF kappa B and MAPKs activation in macrophages. Nutr Res Pract. 2014; 8: 352-59.
Wu CY, Shao S, Yan MM, Fu ML, Xu DM. Research on development chemical constituents of Erigeron canadensis L. China Pharm. 2015; 24: 1-3.
Xie JL, Polvi EJ, Shekhar-Guturja T, Cowen LE. Elucidating drug resistance in human fungal pathogens. Future Microbiol. 2014; 9: 523-42.
Zhang HW, Bai XL, Wu BX. Evaluation of antimicrobial activities of extracts of endophytic fungi from Artemisia annua Linn. Bangladesh J Phamacol. 2012; 7: 249-57.
Zhang HW, Ruan CF, Bai XL. Isolation and antimicrobial effects of endophytic fungi from Edgeworthia chrysantha. Bangladesh J Pharmacol. 2015; 10: 529-32.
Zhang HW, Song YC, Tan RX. Biology and chemistry of endophytes. Nat Prod Rep. 2006; 23: 753-71.
Zhang HW, Ying C, Bai XL. Advancement in endophytic microbes from medicinal plants. Int J Pharm Sci Res. 2014; 5: 1589-1600.
Zhang HW, Ying C, Tang YF. Antimicrobial screening of endophytic fungi from Hypericum perforatum Linn. Pakistan J Pharm Sci. 2014; 27: 1153-56.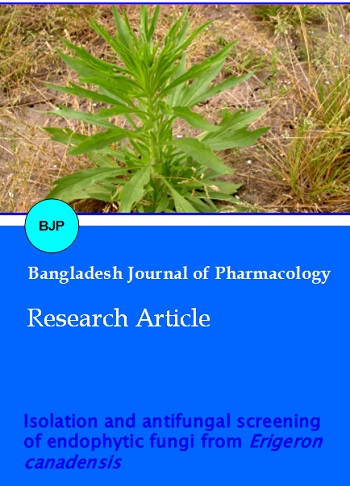 How to Cite
Bai, X., T. Zhou, T. Lai, Y. Li, J. Chai, J. Ni, and H. Zhang. "Isolation and Antifungal Screening of Endophytic Fungi from Erigeron Canadensis". Bangladesh Journal of Pharmacology, Vol. 12, no. 3, July 2017, pp. 256-9, doi:10.3329/bjp.v12i3.32126.
Section
Research Articles
Copyright (c) 2017 Xuelian Bai, Ting Zhou, Tongfei Lai, Yicong Li, Jiale Chai, Jiajun Ni, Huawei Zhang
This work is licensed under a Creative Commons Attribution 4.0 International License.
Authors who publish with this journal agree to the following terms:
Authors retain copyright and grant the journal right of first publication with the work simultaneously licensed under a

Creative Commons Attribution License

that allows others to share the work with an acknowledgement of the work's authorship and initial publication in this journal.
Authors are able to enter into separate, additional contractual arrangements for the non-exclusive distribution of the journal's published version of the work (e.g., post it to an institutional repository or publish it in a book), with an acknowledgement of its initial publication in this journal.
Authors are permitted and encouraged to post their work online (e.g., in institutional repositories or on their website) prior to and during the submission process, as it can lead to productive exchanges, as well as earlier and greater citation of published work (See

The Effect of Open Access

).