Mouse model of DNCB-induced atopic dermatitis
Keywords:
Atopic dermatitis, DNCB, Mouse
Abstract
Atopic dermatitis is a skin disease characterized by allergic skin inflammation, redness and itching. The animal model is necessary to find out new drugs. The DNCB-induced animal model of atopic dermatitis includes the following steps: 1) Selection of animals; 2) Shaving of dorsal skin; 3) Applying DNCB once in 24 hours for three days; 4) Monitoring the development of atopy on day 4 post DNCB application. Further, the efficacy of reference drug can be determined by applying on the atopy skin, depends on the nature and aim of the work.
Video Clip of Methodology: 8 min   Full Screen   Alternate
Downloads
Download data is not yet available.
Abstract
4108
Download
3250
References
Fukuda S, Midoro K, Kamei T, Gyoten M, Kawano Y, Ashida Y, Nagaya H. Inhibition of allergic dermal inflammation by the novel imidazopyridazine derivative TAK-427 in a guinea pig experimental model of eczema. J Pharmacol Exp Ther. 2002; 303: 1283-90.
Gutermuth J, Ollert M, Ring J, Behrendt H, Jakob T. Mouse models of atopic eczema critically evaluated. Int Arch Allergy Immunol. 2004; 135: 262-76.
Jin H, He R, Oyoshi M, Geha R. Animal models of atopic dermatitis. J Invest Dermatol. 2009; 129: 31-40.
Lee KS, Jeong ES, Heo SH, Seo JH, Jeong DG, Choi YK. A novel model for human atopic dermatitis: Application of repeated DNCB patch in BALB/c mice, in comparison with NC/Nga mice. Lab Anim Res. 2010: 26: 95-102.
Lorch G, Hillier A, Kwochka KW, Saville WA, LeRoy BE. Results of intradermal tests in horses without atopy and horses with atopic dermatitis or recurrent urticaria. Am J Vet Res. 2001; 62: 1051-59.
Matsuoka H, Maki N, Yoshida S, et al: A mouse model of the atopic eczema/dermatitis syndrome by repeated application of a crude extract of house-dust mite Dermatophagoides farinae. Allergy 2003; 58: 139-45.
Mueller RS, Fieseler KV, Fettman MJ, Zabel S, Rosychuk RA, Ogilvie GK, Greenwalt TL. Effect of omega-3 fatty acids on canine atopic dermatitis. J Small Anim Pract. 2004; 45: 293-97.
Nolte T, Zadeh-Khorasani M, Safarov O, Rueff F, Varga R, Herbach N, Wanke R, Wollenberg A, Mueller T, Gropp R, Wolf E, Siebeck M. Induction of oxazolone-mediated features of atopic null mice engrafted withgdermatitis in NOD-scid IL2R human peripheral blood mononuclear cells. Dis Model Mech. 2013; 6: 125-34.
Schleifer SG, Willemse T. Evaluation of skin test reactivity to environmental allergens in healthy cats and cats with atopic dermatitis. Am J Vet Res. 2003; 64: 773-78.
Tanaka A, Matsuda H. Animal models of atopic eczema. In: Handbook of atopic eczema. Ring J, Przybilla B, Ruzicka T (eds). 2nd edi. Berlin, Springer-Verlag, 2006, pp 410-16.
Takeda K, Gelfand EW. Mouse models of allergic diseases. Curr Opin Immunol. 2008; 21: 660-65.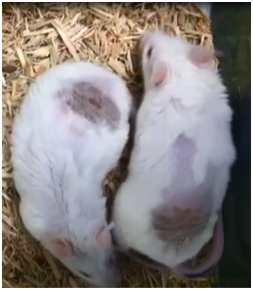 Downloads
How to Cite
Hamad, A. F., J.-H. Han, and I. A. Rather. "Mouse Model of DNCB-Induced Atopic Dermatitis". Bangladesh Journal of Pharmacology, vol. 12, no. 2, Apr. 2017, p. Available Online: Apr 30, 2017, doi:10.3329/bjp.v12i2.31950.
Section
Visual Experiment
License
Authors who publish with this journal agree to the following terms:
Authors retain copyright and grant the journal right of first publication with the work simultaneously licensed under a

Creative Commons Attribution License

that allows others to share the work with an acknowledgement of the work's authorship and initial publication in this journal.
Authors are able to enter into separate, additional contractual arrangements for the non-exclusive distribution of the journal's published version of the work (e.g., post it to an institutional repository or publish it in a book), with an acknowledgement of its initial publication in this journal.
Authors are permitted and encouraged to post their work online (e.g., in institutional repositories or on their website) prior to and during the submission process, as it can lead to productive exchanges, as well as earlier and greater citation of published work (See

The Effect of Open Access

).