Effects of Heliotropium strigosum and Trapa bicornis in hyperactive gut disorders
Keywords:
Heliotropium strigosum, Hyperactive gut disorder, Trapa bicornis
Abstract
The current study was aimed to investigate the extracts from Heliotropium strigosum and Trapa bicornis phytochemically for various constituents and pharmacologically for gastro-intestinal disorders. Phytochemical analysis indicated the presence of alkaloids, flavonoids, glycosides and tannins in both the extracts. In castor oil-induced diarrhea, H. strigosum and T. bicornis, at 100-1000 mg/kg dose provided protection of 10-83% and 14-76% respectively. In isolated rabbit jejunum preparations, T. bicornis (0.01-5 mg/mL) relaxed the spontaneous and K+ (80 mM)-induced contractions with EC<sub>50</sub> values of 1.2 mg/mL and 2.6 mg/mL respectively, suggesting that spasmolytic effect was possibly mediated through calcium channel blockade. This was further authenticated when pretreatment of tissues with T. bicornis (1-5 mg/mL) caused rightward shift of Ca++ concentrationresponse curves, similar to verapamil. In acute toxicity test, both extracts were safe up to 10 g/kg dose. These results indicated the usefulness of H. strigosum and T. bicornis in the treatment of hyperactive gut disorders.
Downloads
Download data is not yet available.
Abstract
1502
Download
878 Read
482
References
Agrahari AK, Khaliquzzama M, Panda SK. Evaluation of analgesic activity of methanolic extract of Trapa natans L. var. bispinosa Roxb roots. J Curr Pharm Res. 2010; 1: 8-11.
Awouters F, Niemegeers CJE, Lenaerts FM, Janssen PAJ. Delay of castor oil diarrhoea in rats, a new way to evaluate inhibitors of prostaglandin biosynthesis. J Pharm Pharmacol. 1978; 30: 41-45.
Bhatiwal S, Jain A, Chaudhary J. Trapa natans (water chestnut): An overview. Int Res J Pharm. 2012; 3: 3133.
Brading AF. How do drugs initiate contraction in smooth muscles? Trends Pharmacol Sci. 1981; 2: 26165.
Brunton LL. Agents affecting gastrointestinal water flux and motility; emesis and antiemetics; bile acids and pancreatic enzymes. In: Goodman and Gillmans The Pharmacological basis of therapeutics. Hardman JG, Limbird LE, Molinoff PB (eds). 9th ed. New York, McGraw Hill, 1996.
Croci T, Landi M, Edmonts-Alt X, Le Fur G, Maffrand JP, Manara L. Role of trachykinins in castor oil diarrhea in rats. Br J Pharmacol. 1997; 121: 375-80.
Das PK, Bhattacharya S, Pandey JN, Biswas M. Antidiabetic activity of Trapa natans fruit peel extract against streptozotocin-induced diabetic rats. Global J Pharmacol. 2011; 5: 186-90.
Edeoga H, Okwu D, Mbaebie B. Phytochemical constituents of some Nigerian medicinal plants. Afr J Biotechnol. 2005; 4: 685-88.
Farre A, Colombo M, Fort M, Gutierrez B. Differential effects of various Ca+2 antagonists. Gen Pharmacol. 1991; 22: 177-81.
Fleckenstein-Grün G. Calcium antagonism in vascular smooth muscle cells. Pflug Arch Eur J Phy. 1996; 432: R53-60.
Gilani AH, Khan AU, Subhan F, Khan M. Antispasmodic and bronchodilator activities of St John's wort are putatively mediated through dual inhibition of calcium influx and phosphodiesterase. Fundam Clin Pharmacol. 2005; 19: 695-705.
Godfraind T, Miller R, Wibo M. Calcium antagonism and calcium entry blockade. Pharmacol Rev. 1986; 38: 321-416.
Hussain S, Jamil M, Ullah F, Khan A, Ullah F, Arfan M, Ahmad S, Khatoon L. Antimicrobial and anti-oxidant activities of the plant Heliotropium strigosum. Afr J Biotechnol. 2010; 9: 7738-43.
Janbaz KH, Javed S, Saqib F, Imran I, Zia-Ul-Haq M, De Feo V. Validation of ethnopharmacological uses of Heliotropium strigosum Willd. as spasmolytic, bronchodilator and vasorelaxant remedy. BMC Complement Altern Med. 2015; 15: 169.
Kai L, Wang ZF, Xiao JS. L-type calcium channel blockade mechanisms of panaxadiol saponins against anoxic damage of cerebral cortical neurons isolated from rats. Zhongguo Yao Li Xue Bao. 1998; 19: 455-58.
Karaki H, Weiss GB. Calcium release in smooth muscle. Life Sci. 1988; 42: 111-22.
Khan H, Khan MA, Hussain S, Gaffar R, Ashraf N. In vivo antinociceptive and anticonvulsant activity of extracts of Heliotropium strigosum. Toxicol Ind Health. 2013; 12: 1176-77.
Mattocks A. Strigosine, major alkaloid of Heliotropium strigosum. J Chem Soc. 1964; 10: 1974-77.
Modak B, Rojas M, Torres R, Rodilla J, Luebert F. Anti-oxidant activity of a new aromatic geranyl derivative of the resinous exudates from Heliotropium glutinosum Phil. Molecules 2007; 12: 1057-63.
Parekh J, Chandana S. In vitro antimicrobial activity of Trapa natans L. Fruit rind extracted in different solvents. Afr J Biotechnol. 2007; 6: 766-70.
Patel SS, Verma NK, Ravi V, Gauthem K, Sony N. Antihypertensive effects of an aqueous extract of Passiflora nepalensis Wall. Int. J Appl Res Nat Prod. 2010; 3: 22-27.
Qayyum A, Sarfraz RA, Ashraf A, Shazia A. Phenolic composition and biological (antidiabetic and anti-oxidant) activities of different solvent extracts of an endemic plant (Heliotropium strigosum). J Chil Chem Soc. 2016; 61: 1.
Rafique N, Khan T, Shah A. Calcium entry blocking activity of the Elaeagnus umbellata fruit extract explains its use in diarrhea and gut spasm. Bangladesh J Pharmacol. 2016; 11: 585-92.
Rahman MM, Wahed MII, Biswas MHU, Sadik GMG, Haque ME. In vitro antibacterial activity of Trapa bispinosa Roxb. J Med Sci. 2001; 1: 214-46.
Shah AJ, Bhulani NN, Khan SH, Gilani AH. Calcium channel blocking activity of Mentha longifolia L. explains its medicinal use in diarrhoea and gut spasm. Phytother Res. 2010; 24: 1392-97.
Van Rossum JM. Cumulative dose-response curves. II. Techniques for the making of dose-response curves in isolated organs and the evaluation of drug parameters. Arch Int Pharmacodyn Ther. 1963; 143: 299-30.
Zhu F, Huang B, Hu CY, Jiang QY, Lu ZG, Lu M, Wang MH, Gong M, Qiao CP, Chen W, Huang PH. Effects of total flavonoids of Hippophae rhamnoides L. on intracellular free calcium in cultured vascular smooth muscle cells of spontaneously hypertensive rats and Wistar-Kyoto rats. Chin J Integr Med. 2005; 11: 287-92.
Zhu M, David PJ, Greengrass PM, Bowery NE, Cai Y. Plant polyphenols: Biologically active compounds or non-selective binders to protein? Phytochemistry 1997; 44: 441-47.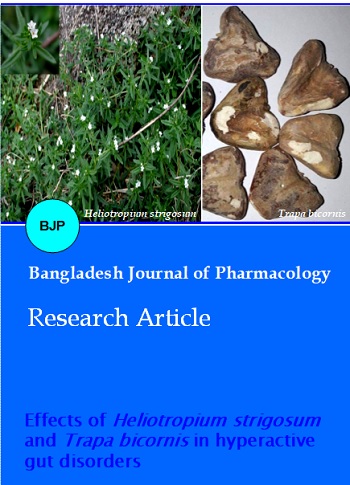 How to Cite
Saeed, A., F. Wahid, H. M. Rasheed, R. Qayyum, A. J. Shah, and T. Khan. "Effects of Heliotropium Strigosum and Trapa Bicornis in Hyperactive Gut Disorders". Bangladesh Journal of Pharmacology, Vol. 12, no. 2, June 2017, pp. 190-6, doi:10.3329/bjp.v12i2.31694.
Section
Research Articles
Copyright (c) 2017 Anam Saeed, Fazli Wahid, Hafiz Majid Rasheed, Rahila Qayyum, Abdul Jabbar Shah, Taous Khan
This work is licensed under a Creative Commons Attribution 4.0 International License.
Authors who publish with this journal agree to the following terms:
Authors retain copyright and grant the journal right of first publication with the work simultaneously licensed under a

Creative Commons Attribution License

that allows others to share the work with an acknowledgement of the work's authorship and initial publication in this journal.
Authors are able to enter into separate, additional contractual arrangements for the non-exclusive distribution of the journal's published version of the work (e.g., post it to an institutional repository or publish it in a book), with an acknowledgement of its initial publication in this journal.
Authors are permitted and encouraged to post their work online (e.g., in institutional repositories or on their website) prior to and during the submission process, as it can lead to productive exchanges, as well as earlier and greater citation of published work (See

The Effect of Open Access

).