Floroquinone induces apoptosis and inhibits carcinoma growth in mouse tumor xenograft model of anaplastic thyroid cancer
Keywords:
Anaplastic, Apoptosis, Carcinoma growth, Floroquinone, Thyroid cancer, Tumor xenograft model
Abstract
In the present study, effects of floroquinone on anaplastic thyroid cancer cell lines and mouse tumor xenografts were investigated. Increase in the concentration of floroquinone from 10 to 100 µM reduced the cell growth from 98 to 17% after 48 hours in HOTHC cells. Similarly, in FRO cells growth rate was found to be 96 and 21%, respectively at 10 and 100 µM concentra-tions of floroquinone. Western blot analysis showed a marked reduction in Bcl-2 expression and increased in Bax, caspase-3 and cleaved PARP expression in HOTHC cell lines on treatment with floroquinone. Floroquinone treatment of the HOTHC cells led to inhibition of the cobalt chloride-induced increase in the hypoxia-inducible factor 1α (HIF-1α) and vascular endothelial growth factor expression. In HOTHC cells, floroquinone treatment inhibited the tube formation and migration potential significantly compared to control cells. Treatment of the mouse bearing HOTHC tumor xenograft with 50 and 100 mg/kg doses of floroquinone alternatively for one month reduced the tumor volume to 48 and 17%, respectively compared to the control. Thus, floroquinone effectively inhibits growth of thyroid cancer and can be used for its treatment.
Video Clip of Methodology:
Migration assay: 1 min 09 sec   Click to watch
Downloads
Download data is not yet available.
Abstract
1138
Download
924 Read
314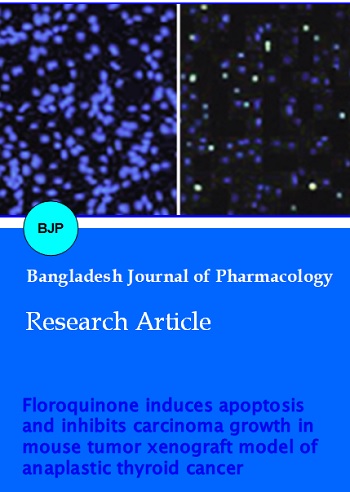 How to Cite
Zhao, L.-N., L.-B. Chen, X.-H. Hao, Z. Hu, J. Zhang, and C.-H. Zhang. "Floroquinone Induces Apoptosis and Inhibits Carcinoma Growth in Mouse Tumor Xenograft Model of Anaplastic Thyroid Cancer". Bangladesh Journal of Pharmacology, vol. 11, no. 3, July 2016, pp. 705-10, doi:10.3329/bjp.v11i3.26705.
Section
Research Articles
License
Authors who publish with this journal agree to the following terms:
Authors retain copyright and grant the journal right of first publication with the work simultaneously licensed under a

Creative Commons Attribution License

that allows others to share the work with an acknowledgement of the work's authorship and initial publication in this journal.
Authors are able to enter into separate, additional contractual arrangements for the non-exclusive distribution of the journal's published version of the work (e.g., post it to an institutional repository or publish it in a book), with an acknowledgement of its initial publication in this journal.
Authors are permitted and encouraged to post their work online (e.g., in institutional repositories or on their website) prior to and during the submission process, as it can lead to productive exchanges, as well as earlier and greater citation of published work (See

The Effect of Open Access

).