Calcium entry blocking activity of the Elaeagnus umbellata fruit extract explains its use in diarrhea and gut spasm
Nayyab Rafique

Department of Pharmacy, COMSATS Institute of Information Technology, University Road, Abbottabad 22060, KPK

Taous Khan

Department of Pharmacy, COMSATS Institute of Information Technology, University Road, Abbottabad 22060, KPK

Abdul Jabbar Shah

Department of Pharmacy, COMSATS Institute of Information Technology, University Road, Abbottabad 22060, KPK
Keywords:
Antidiarrheal, Antispasmodic, Calcium channel blockade, Elaeagnus umbellata
Abstract
This study was aimed to explore the pharmacological basis of potential medicinal use of Elaeagnus umbellata in gut disorders. Crude extract of E. umbellata, which was found positive for flavonoids, terpenoids and tannins, provided 9.9-71.9% protection in castor oil-induced diarrhea in mice, like verapamil. In isolated rabbit jejunum preparations, crude extract caused inhibition of spontaneous and high K+-induced contractions, with respective EC50 values of  0.3 (0.1-0.5) and 0.5 mg/mL, suggesting Ca2+ channel blockade (CCB). Pretreatment of tissue with crude extract (0.11 mg/mL) caused a rightward shift in Ca2+ concentration-response curves. With the exception of aqueous fraction, n-hexane, chloroform and ethyl acetate inhibited spontaneous and high K+-induced contractions and displaced rightward Ca2+ concentration-response curves. Extract was found safe up to 10 mg/kg in mice. Our data shows that anti-diarrheal effect of crude extract of E. umbellate is due to CCB-mediated spasmolytic effect, concentrated in the ethyl acetate fraction and suggests its medicinal importance in diarrhea and spasm.
Video Clip of Methodology:
Isolation of rat jejunum:  2 min 32 sec   Click to watch 
Downloads
Download data is not yet available.
Abstract
1498
Download
912 Read
705 Feature
304
References
Ahmad SD, Sabir MS, Juma M, Asad HS. Morphological and biochemical variations in Elaeagnus umbellata Thunb. from mountains of Pakistan. Acta Bot Croat. 2005; 64: 121-28.
Awouters F, Niemegeers CJE, Lenaerts FM, Janssen PAJ. Delay of castor oil diarrhea in rats, a new way to evaluate inhibitors of prostaglandin biosynthesis. J Pharm Pharmacol. 1978; 30: 4145.
Brading AF. How do drugs initiate contraction in smooth muscles? Trends Pharmacol Sci. 1981; 2: 261-65.
Brunton LL. Agents affecting gastrointestinal water flux and motility; emesis and antiemetics; bile acids and pancreatic enzymes. In: Goodman and Gillmans The pharmacological basis of therapeutics. Hardman JG, Limbird LE, Molinoff PB (eds). 7th ed. New York, McGraw Hill, 1996, pp 1771-85.
de Alencar Cunha KM, Paiva LA, Santos FA, Gramosa NV, Silveira ER and Rao VS. Smooth muscle relaxant effect of kaurenoic acid, a diterpene from Copaifera langsdorf?i on rat uterus in vitro. Phytother Res. 2003; 17: 32024.
Edeoga H, Okwu D, Mbaebie B. Phytochemical constituents of some Nigerian medicinal plants. Afr J Biotechnol. 2005; 4: 685-88.
Fordham IM, Clevidence BA, Wiley ER, Zimmerma RH. Fruit of autumn olive: A rich source of lycopene. Hort Sci. 2001; 36: 1136-37.
Gilani AH, Aftab K. Presence of acetylcholine-like substance (s) in Sesamum indicum. Arch Pharmacol Res. 1992; 15: 95-98.
Gilani AH, Bashir S, Janbaz KH, Shah AJ. Presence of cholinergic and calcium channel blocking activities explains the traditional use of Hibiscus rosasinensis in constipation and diarrhoea. J Ethnopharmacol. 2005a; 102: 289-94.
Gilani AH, Shah AJ, Ghayur MN, Majeed K. Pharmacological basis for the use of turmeric in gastrointestinal and respiratory disorders. Life Sci. 2005b; 76: 3089-105.
Godfraind T, Miller R, Wibo M. Calcium antagonism and calcium entry blockade. Pharmacol Rev. 1986; 38: 321416.
Hussain I. Physiochemical and sensory characteristics of Elaeagnus umbellata (Thunb) fruit from Rawalakot (Azad Kashmir) Pakistan. Afr J Food Sci. 2011; 2: 151-56.
Johnson EJ, Hammond BR, Yeum KJ. Relation among serum and tissue concentrations of lutein and zeaxanthin and macular pigment density. Am J Clin Nutr. 2000; 71: 155562.
Karaki H, Weiss G. Mini-review: Calcium release in smooth muscles. Life Sci. 1983; 42: 11122.
Khachik F, Carvalho L, Bernstein PS, Muir GJ, Zhao DY, Katz NB. Chemistry, distribution, and metabolism of tomato carotenoids and their impact on human health. Exp Biol Med. 2002; 227: 845-51
Lee YS, Chang ZQ, Oh BC, Park SC, Shin SR, Kim NW. Anti-oxidant activity, anti-inflammatory activity, and whitening effects of extracts of Elaeagnus multiflora Thunb. J Med Food. 2007; 10: 126-33.
Mohammed FI, Al-Essa MK, Shafagoj YA, Afifi FU. Investigation of the direct effects of the alcoholic extract of Elaeagnus angustifolia L. (Elaeagnaceae) on dispersed intestinal smooth muscle cells of guinea pig. Sci Pharm. 2006; 74: 21-33.
Shah AJ, Bhulani NN, Khan SH, Gilani AH. Calcium channel blocking activity of Mentha longifolia L. explains its medicinal use in diarrhea and gut spasm. Phytother Res. 2010a; 24: 1392-97.
Shah AJ, Gowani SA, Zuberi AJ, Ghayur MN, Gilani AH. Antidiarrhoeal and spasmolytic activities of the methanolic crude extract of Alstonia scholaris L. are mediated through calcium channel blockade. Phytother Res. 2010b; 24: 28-32.
Shah AJ, Begum S, Hassan SI, Ali SN, Siddiqui BS, Gilani AH. Pharmacological basis for the medicinal use of Psidium guajava leave in hyperactive gut disorders. Bangladesh J Pharmacol. 2011; 6: 110-16.
van Rossum JM. Cumulative dose-response curves. II. Techniques for the making of dose-response curves in isolated organs and the evaluation of drug parameters. Arch Int Pharmacodyn Ther. 1963; 143: 299330.
Williamson EM, Okpako DT, Evans FJ. Pharmacological methods in phytotherapy research. 1st ed. Chichester, John Wiley and Sons, 1996.
Zhu M, David PJ, Greengrass PM, Bowery NE, Cai Y. Plant polyphenols: Biologically active compounds or non-selective binders to protein? Phytochemistry 1997; 44: 441-47.
Zhu F, Huang B, Hu CY. Effects of total flavonoids of Hippophae rhamnoides L. on intracellular free calcium in cultured vascular smooth muscle cells of spontaneously hypertensive rats and Wistar-Kyoto rats. Chin J Integr Med. 2005; 11: 28792.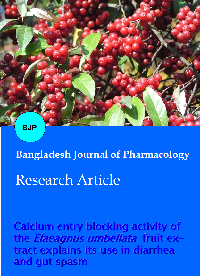 How to Cite
Rafique, N., T. Khan, and A. Shah. "Calcium Entry Blocking Activity of the Elaeagnus Umbellata Fruit Extract Explains Its Use in Diarrhea and Gut Spasm". Bangladesh Journal of Pharmacology, Vol. 11, no. 3, June 2016, pp. 585-92, doi:10.3329/bjp.v11i3.26101.
Section
Research Articles
Copyright (c) 2016 Nayyab Rafique, Taous Khan, Abdul Jabbar Shah
This work is licensed under a Creative Commons Attribution 4.0 International License.
Authors who publish with this journal agree to the following terms:
Authors retain copyright and grant the journal right of first publication with the work simultaneously licensed under a

Creative Commons Attribution License

that allows others to share the work with an acknowledgement of the work's authorship and initial publication in this journal.
Authors are able to enter into separate, additional contractual arrangements for the non-exclusive distribution of the journal's published version of the work (e.g., post it to an institutional repository or publish it in a book), with an acknowledgement of its initial publication in this journal.
Authors are permitted and encouraged to post their work online (e.g., in institutional repositories or on their website) prior to and during the submission process, as it can lead to productive exchanges, as well as earlier and greater citation of published work (See

The Effect of Open Access

).