Evaluation of pharmacological effect of Teucrium stocksianum extract on angiogenesis using chorioallantoic membrane assay
Nazia Tabassum

Department of Pharmacy, University of Sargodha, Sargodha

Alamgeer .

Department of Pharmacy, University of Sargodha, Sargodha

Abdul Aziz

Department of Pharmacy, Bahauddin Zakariya University, Multan

http://orcid.org/0000-0001-5393-3806

Bashir Ahmad

University College of Pharmacy, University of the Punjab, Lahore
Keywords:
Anti-angiogenesis, CAM assay, Teucrium stocksianum
Abstract
The present study was aimed to evaluate the effect of Teucrium stocksianum on angiogenesis by using chorioallantoic membrane (CAM) assay. Fertilized eggs were incubated on the 5th day and dose of different dilutions 0.03%, 0.05%, 0.1%, and 0.5% of the plant extract was applied on 6th day. Evaluation of primary, secondary and tertiary blood vessels diameter and CAM area on 7th day by SPIP software. T. stocksianum showed antiangiogenic effect by reducing the diameter of CAM of blood vessels by applying the dilutions while significant results were obtained at dilution of 0.5%.
Downloads
Download data is not yet available.
Abstract
1743
Download
821 Read
733 Feature
404
References
Aduragbenro DAA, Yeside OO, Adeolu AA, Olanrewaju MJ, Ayotunde SA, Olumayojun AO, Janet MM. Blood pressure lowering effect of Adenanthera pavonina seed extract on normotensive rats. Rec Nat Prod. 2009; 3: 82.
Alamgeer, Rashid M, Bashir, S, Mushtaq MN, Khan H, Malik MNH, Qayyum A, Rahaman MS. Comparative hypoglycemic activity of different extracts of Teucrium stocksianum in diabetic rabbits. Bangladesh J Pharmacol. 2013; 8: 186-93.
Ali N, Shah SWA. Antispasmodic activity of Teucrium stocksianum boiss. Antispasmodic activity of Teucrium stocksianum Boiss. Pakistan J Pharm Sci. 2011; 24: 171-74.
Ali N, Shah SWA, Shah I, Ahmed G, Ghias M, Khan I. Cytotoxic and anthelmintic potential of crude saponins isolated from Achillea wilhelmsii, C. Koch and Teucrium stocksianum Boiss. BMC Complement Altern Med. 2011; 11: 106.
Auerbach R, Rachel L, Brenda S, Louis K, Nasim A. Angiogenesis assays: A critical overview. Clin Chem. 2003; 49: 132-40.
Barkatullah, Ibrar M, Hussain F. Ethnobotanical studies of plants of Charkotli Hills, Batkhela District, Malakand, Pakistan. Front Biol China. 2009; 4: 539-48.
Bouloumie A, Valerie B, SchiniK, Rudi B. Vascular endothelial growth factor up-regulates nitric oxide synthase expression in edothelail cells. Cardiovasc Res. 1999; 41: 773?80.
Brown NS, Jones A, Fujiyama C, Harris AL, Bicknell R. Thymidine phosphorylase induces carcinoma cell oxidative stress and promotes secretion of angiogenic factors. Cancer Res. 2000; 60: 6298-302.
Ejaz S, Seok KB, Woong LC. Toxicological effects of main-stream whole smoke solutions on embryonic movements of the developing embryo. Drug Chem Toxicol. 2005; 28: 1-14.
Folkman J. Tumor angiogenesis: Therapeutic implications. New Engl J Med. 1971 285: 118286
Ferrara N, Davis-Smyth T. The biology of endothelial growth factor. Endocr Rev. 1997; 18: 4-25
Garnaes J, Hansen PE, Agersnap N, Holm J, Borsetto F, Kuhle A. Profiles of a high aspect ratio grating determined by spectroscopic and atomic-force microscopy. Appl Opt. 2006; 45: 3201-12.
Islam MW, Zakaria MNM, Radhakrishnan R, Kamil M. Effect of Teucrium stocksianum on gastric ulceration and secretion in rats. Pharmaceut Biol. 2002; 40: 216-20.
Lin JY, Tang CY. Strawberry, loquat, mulberry and bitter melon juices exhibit prophylactic effects on LPS-induced inflammation using murine peritoneal macrophages. Food Chem. 2008; 107: 1587-96.
Mojab F, Javidnia K, Yazdani D, Rustaiynan A. Essential oil of the aerial parts of Teucrium stocksianum Boiss subsp. Stocksianum (Lamiacea) from Iran. J Med Plants. 2003; 2: 4953.
Miller GA, Morris M. Ethnoflora of the Socotra Archipelago. Charlesworth Group, Huddersfield, UK, 2004, pp 45764.
Naghibi F, Mosaddegh M, Motamed MS, Ghorbani A. Labiatae family in folk medicine in Iran from ethnobotany to pharmacology. IJPR. 2005; 2: 63-79.
Nadaf SK, Al-Farsi SM, Al-Hinai SA. Germplasm collection of range land forage and medicinal plant species in north Oman. In: Annu Rep ICARDAAPRP. ICARDAAPRP, Dubai, 2003, pp 63-64.
Pepper MS. Manipulating angiogenesis: From basic sciences to besides. Arterioscler Thromb Vasc Biol. 1997; 17: 605-19.
Shah SMM, Sadiq A, Shah SMH, Ullah F. Antioxidant, total phenolic contents and antinociceptive potential of Teucrium stocksianumm ethanolic extract in different animal models. BMC Complement Altern Med. 2014; 14: 181.
Story M, Nanney MS, Schwartz MB. Schools and obesity prevention: Creating school environments and policies to promote healthy eating and physical activity. PMCID 2009; 87: 71-100.
Western AR. The flora of the United Arab Emirates, an introduction. United Arab Emirates University. Al-Ain, U.A.E., 1989.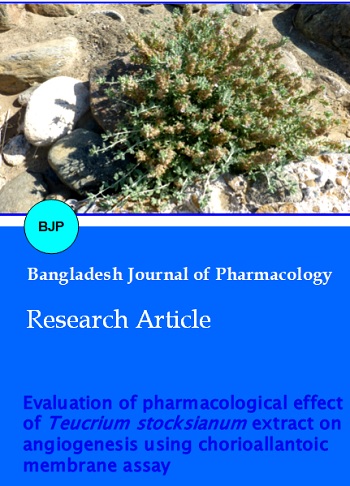 How to Cite
Tabassum, N., A. ., A. Aziz, and B. Ahmad. "Evaluation of Pharmacological Effect of Teucrium Stocksianum Extract on Angiogenesis Using Chorioallantoic Membrane Assay". Bangladesh Journal of Pharmacology, Vol. 11, no. 3, June 2016, pp. 621-7, doi:10.3329/bjp.v11i3.24472.
Section
Research Articles
Copyright (c) 2016 Nazia Tabassum, Alamgeer, Abdul Aziz, Bashir Ahmad
This work is licensed under a Creative Commons Attribution 4.0 International License.
Authors who publish with this journal agree to the following terms:
Authors retain copyright and grant the journal right of first publication with the work simultaneously licensed under a

Creative Commons Attribution License

that allows others to share the work with an acknowledgement of the work's authorship and initial publication in this journal.
Authors are able to enter into separate, additional contractual arrangements for the non-exclusive distribution of the journal's published version of the work (e.g., post it to an institutional repository or publish it in a book), with an acknowledgement of its initial publication in this journal.
Authors are permitted and encouraged to post their work online (e.g., in institutional repositories or on their website) prior to and during the submission process, as it can lead to productive exchanges, as well as earlier and greater citation of published work (See

The Effect of Open Access

).