Vitis vinifera juice ameliorates depression-like behavior in mice by modulating biogenic amine neurotransmitters
Keywords:
Depression, Forced swimming test, Tail suspension test, Vitis vinifera
Abstract
The advantageous effects of Vitis vinifera juice on depressive model mice were examined utilizing a blend of behavioral evaluations and biogenic amine neurotransmitter estimations. During the behavioral evaluations, immobility time on the forced swimming test and tail suspension test were measured in unstressed and immobilization-induced stressed mice. V. vinifera juice (4 mL/kg and 8 mL/kg) and fluoxetine (20 mg/kg) produced a significant decrease in immobility time of both unstressed and stressed mice when compared with their respective saline-treated control groups in both paradigms. Neurotransmitters were measured using high-performance liquid chromatography with electrochemical detector. V. vinifera juice raised the levels of both serotonin (p<0.001) and noradrenalin (p<0.001) in brain tissue. These outcomes give significant mechanistic insights into the protective effect of V. vinifera juice against depressive disorders. Our results showed that V. vinifera juice could relieve depressive manifestations in the rodent model of depression.
Downloads
Download data is not yet available.
Abstract
1406
Download
938 Read
746
References
Ali K, Maltese F, Choi Y, Verpoorte R. Metabolic constituents of grapevine and grape-derived products. Phytochem Rev. 2009; 9: 357-78.
Belmaker R, Agam G. Major depressive disorder. N Engl J Med. 2008; 358: 5568.
Borsini F, Meli A. Is the forced swimming test a suitable model for revealing antidepressant activity? Psychopharmacol 1988; 94: 147-60.
Bowers J. Historical genetics: The parentage of chardonnay, gamay, and other wine grapes of Northeastern France. Science 1999; 285: 1562-65.
Chantal M, Mike B. The importance of norepinephrine in depression. Neuropsychiatr Dis Treat. 2011; 7: 9-13.
Cheong H, Ryu S, Kim K. Anti-allergic action of resveratrol and related hydroxystilbenes. Planta Med. 1999; 65: 266-68.
Chuang C, Shi Y, You H, Lo Y, Pan T. Antidepressant effect of GABA-rich Monascus-fermented product on forced swimming rat model. J Agric Food Chem. 2011; 59: 3027-34.
Dang H, Chen Y, Liu X, Wang Q, Wang L, Jia W, Wang Y. Antidepressant effects of ginseng total saponins in the forced swimming test and chronic mild stress models of depression. Prog Neuro-Psychopharmacol Biol Psychiatry. 2009; 33: 1417-24.
Dhingra D, Chhillar R. Antidepressant-like activity of ellagic acid in unstressed and acute immobilization-induced stressed mice. Pharmacol Reports. 2012; 64: 796-807.
Donald SR. The role of dopamine and norepinephrine in depression. Prim Psychiatry. 2007; 14: 21-23.
Fava M. Diagnosis and definition of treatment-resistant depression. Biol Psychiatry. 2003; 53: 649-59.
Frankel E. Inhibition of human LDL oxidation by resveratrol. Lancet. 1993; 341: 1103-04.
Freitas A, Budni J, Lobato K, Binfaré R, Machado D, Jacinto J, Veronoze PO, Pizzolatti MJ, Rodrigues AL. Antidepressant-like action of the ethanolic extract from Tabebuia avellanedae in mice: Evidence for the involvement of the monoaminergic system. Prog Neuropsychopharmacol Biol Psychiatry. 2010; 34: 335-43.
Haleem DJ, Saify ZS, Sonia S, Farhat B, Haleem MA. Pre and postsynaptic responses to 1-(1-naphthylpiperazine) following adaptation to stress in rats. Prog Neuropsychopharmacol Biol Psych. 2002; 26: 149-56.
Ikram H, Ahmad S, Haleem DJ. Effects of apomorphine on locomotive activity and monoamine metabolism: A dose related study. Pak J Pharm Sci. 2011; 24: 315-21.
Krishnan V, Nestler EJ. The molecular neurobiology of depression. Nature 2008; 455: 894902.
Liao J, Tsai J, Liu C, Huang H, Wu L, Peng W. Antidepressant-like activity of turmerone in behavioral despair tests in mice. BMC Complement Altern Med. 2013; 13: 299.
Mann JJ, Arango V, Marzuk PM, Theccanat S, Reis DJ. Evidence for the 5-HT hypothesis of suicide: A review of post-mortem studies. Br J Psychiatry. 1989; 8: 7-14.
Papakostas GI, Thase ME, Fava M, Nelson JC, Shelton RC. Are antidepressant drugs that combine serotonergic and noradrenergic mechanisms of action more effective than the selective serotonin reuptake inhibitors in treating major depressive disorder? A meta-analysis of studies of newer agents. Biol Psychiatry. 2007; 62: 121727.
Porsolt R, Anton G, Blavet N, Jalfre M. Behavioural despair in rats: A new model sensitive to antidepressant treatments. Eur J Pharmacol. 1978; 47: 379-91.
Saima K, Saida H, Shaida PA, Tahira P, Darakhshan JH. Relationship of brain tryptophan and serotonin in improving cognitive performance in rats. Pak J Pharm Sci. 2006; 19: 11-15.
Saito M, Hosoyama H, Ariga T, Kataoka S, Yamaji N. Antiulcer activity of grape seed extract and procyanidins. J Agric Food Chem. 1998; 46: 1460-64.
Sheikh N, Ahmad A, Siripurapu K, Kuchibhotla V, Singh S, Palit G. Effect of Bacopa monniera on stress-induced changes in plasma corticosterone and brain monoamines in rats. J Ethnopharmacol. 2007; 111: 671-76.
Stahl SM. Stahls Essential psychopharmacology: Neuroscientific basis and practical applications. 3rd ed. New York, Cambridge University Press, 2008.
Steru L, Chermat R, Thierry B, Simon P. The tail suspension test: A new method for screening antidepressants in mice. Psychopharmacology 1985; 85: 367-70.
Rodrigues A, da Silva G, Mateussi A, Fernandes E, Miguel O, Yunes R, Calixto J, Santos A. Involvement of monoaminergic system in the antidepressant-like effect of the hydroalcoholic extract of Siphocampylus verticillatus. Life Sci. 2002; 70: 1347-58.
Suzuki E, Yagi G, Nakaki T, Kanba S, Asai M. Elevated plasma nitrate levels in depressive states. J Affect Disord. 2001; 63: 221-24.
Tahira P, Roomana R, Sadia H, Darakhan JH. Increased serotonergic functions following administration of 1-(1-naphthyl) piperazine in propranolol injected rats. Pak J Pharm Sci. 2006; 19: 190-94.
Xia E, Deng G, Guo Y, Li H. Biological activities of polyphenols from grapes. IJMS. 2010; 11: 622-46.
Yi L, Xu H, Feng J, Zhan X, Zhou L, Cui C. Involvement of monoaminergic systems in the antidepressant-like effect of nobiletin. Physiol Behavior. 2011; 102: 1-6.
Zheng M, Fan Y, Shi D, Liu C. Antidepressant-like effect of flavonoids extracted from Apocynum venetum leaves on brain monoamine levels and dopaminergic system. J Ethnopharmacol. 2013; 147: 108-13.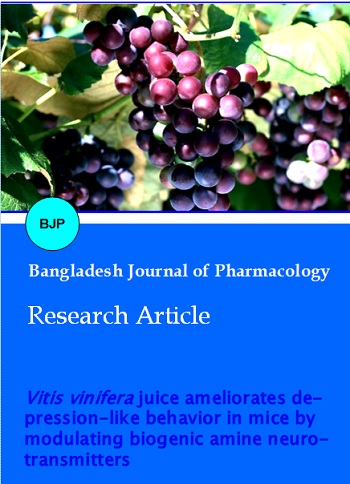 How to Cite
Aslam, M., and N. Sultana. "Vitis Vinifera Juice Ameliorates Depression-Like Behavior in Mice by Modulating Biogenic Amine Neurotransmitters". Bangladesh Journal of Pharmacology, Vol. 10, no. 4, Sept. 2015, pp. 753-8, doi:10.3329/bjp.v10i4.23732.
Section
Research Articles
Copyright (c) 2015 Muhammad Aslam, Nuzhat Sultana
This work is licensed under a Creative Commons Attribution 4.0 International License.
Authors who publish with this journal agree to the following terms:
Authors retain copyright and grant the journal right of first publication with the work simultaneously licensed under a

Creative Commons Attribution License

that allows others to share the work with an acknowledgement of the work's authorship and initial publication in this journal.
Authors are able to enter into separate, additional contractual arrangements for the non-exclusive distribution of the journal's published version of the work (e.g., post it to an institutional repository or publish it in a book), with an acknowledgement of its initial publication in this journal.
Authors are permitted and encouraged to post their work online (e.g., in institutional repositories or on their website) prior to and during the submission process, as it can lead to productive exchanges, as well as earlier and greater citation of published work (See

The Effect of Open Access

).