GC-MS analysis, evaluation of phytochemicals, anti-oxidant, thrombolytic and anti-inflammatory activities of Exacum bicolor
Keywords:
Anti-inflammatory, Anti-oxidant, Exacum bicolor, GC-MS analysis, Thrombolytic activity
Abstract
The aim of the present study was to investigate the GC-MS analysis, phytochemical screening, anti-oxidant, thrombolytic and anti-inflammatory activities of methanol extract of leaves of Exacum bicolor. FTIR analysis confirmed the presence of alcohol, phenols, alkanes, aromatic compounds, aldehyde and ethers. GC-MS analysis revealed the presence of eight phyto-constituents. The total phenol, flavonoid and alkaloid contents were 18.0 ± 0.2 mg/GAE/g, 13.1 ± 0.4 mg QE/g and 108.0 ± 1.2 mg AE/g respectively. The DPPH assay exhibited potent anti-oxidant abilities with IC50 8.8 µg/mL. Significant thrombolytic activity was demonstrated by clot lysis method (45.1 ± 0.8%). The methanol extract showed significant membrane stabilization on human red blood cell with IC50 value of 37.4 µg/mL. There was a significant correlation (R2>0.98) with total phenolic content versus anti-oxidant and anti-inflammatory activity. The above results confirmed that E. bicolor could be a promising anti-oxidant, thrombolytic and anti-inflammatory agent.
Downloads
Download data is not yet available.
Abstract
2410
Download
1053 Read
1068
References
American Pharmacist Association. The pharmacy technician, 4th ed. Englewood, Morton Publishing Company, 2010, p 434.
Ashwini AM, Majumdar M. Qualitative phytochemical screening and in vitro anthelmintic activity of Exacum bicolor Roxb., an endemic medicinal plant from Western Ghats in India. Acta Biol Ind. 2014; 3: 510-14.
Ashwini AM, Majumdar M. Quantification of phytochemical contents and in vitro anti-oxidant activity of Exacum bicolor (Roxb.), an endemic medicinal plant. Int J Pharm Pharma Sci. 2015; 7: 225-30.
Baba SA, Malik SA. Evaluation of anti-oxidant and antibacterial activity of methanolic extracts of Gentiana kurroo Royle. Saudi J Biol Sci. 2014; 21: 493-98.
Bakirel T, Bakirel U, Kele? OU, Ulgen SG, Yardibi H. In vivo assessment of antidiabetic and anti-oxidant activities of rosemary (Rosmarinus officinalis) in alloxan-diabetic rabbits. J Ethnopharmacol. 2008; 116: 64-73.
Bandyopadhyay U, Das D, Banerjee RK. Reactive oxygen specie: Oxidative damage and pathogenesis. Curr Sci. 1999; 77: 658-66.
Braca A, Politi M, Sanogo R, Sanou H, Morelli I, Pizza C, Tommasi ND. Chemical composition and anti-oxidant activity of phenolic compounds from wild and cultivated Sclero caryabirrea (Anacardiaceae) leaves. J Agric Food Chem. 2003; 51: 6689-95.
Brilliant R, Vincy MV, Joby P, Pradeepkumar. AP Vegetation analysis of Montane forest of Western Ghats with special emphasis on RET species. IJBC 2012; 4: 652-64.
Bunghez IR, Raduly M. Doncea S, Aksahin I, Ion RM. Lycopene determination in tomatoes by different spectral techniques (UVVIS, FTIR, and HPLC). Dig J Nanomater Bioest. 2011; 6: 1349-56.
Cekic SDC¸ Baskan KN, Tütem E, Apak R. Modified cupric reducing anti-oxidant capacity (CUPRAC) assay for measur-ing the anti-oxidant capacities of thiol-containing proteins in admixture with polyphenols. Talanta 2009; 79: 344-51.
Chang C, Yang M, Wen H, Chern J. Estimation of total flavonoid content in propolis by two complementary colorimetric methods. J Food Drug Anal. 2002; 10: 178-82.
Danino O, Gottlieb HE, Grossman S, Bergman M. Anti-oxidant activity of 1,3-dicaffeoylquinic acid isolated from Inula viscosa. Food Res Int. 2008; 42: 1273-80.
Das S, Barua, RN, Sharma RP, Baruah, JN, Kulanthaivela P, Herza W. Secoiridoids from Exacum tetragonum. Phyto-chemistry 1985; 23: 908-09.
Deore SL, Khadabadi SS, Daulatkar VD, Deokate UA, Farooqui IU. Evaluation of hypoglycemic and anti-diabetic activity of bark of Butea monosperma. Pharmacog Mag. 2008; 4: 134-38.
Dhande SR, Aakruti AK, Kalpana AP, Vilasrao K. Antihyperlipidemic activity of Bambusa bambos (Druce.) and Swertia chirata (Buch-ham) in cholesterol suspension induced hypercholesterolemia in rats. Int J Pharm Pharm Sci. 2014; 6: 607-10.
Dinstel RR, Cascio J, Koukel S. The anti-oxidant level of Alaska's wild berries: High, higher and highest. Int J Circumpolar Health. 2013; 72: 796-802.
Filomena C, Sosa S, Mariangela M, Statti F, Uzunov G, Tubaro D, Menichini A, Loggia F, Della R. In vivo anti-inflammatory and in vitro anti-oxidant activities of Mediterranean dietary plants. J Ethanopharma. 2008; 116: 144-51.
Freedman JE. Oxidative stress and platelets. Arterioscl Throm Vas. 2008; 28: 11-16.
Fu R, Zhang YT, Guo YR, Liu FX, Chen F. Determination of phenolic contents and anti-oxidant activities of extracts of Jatropha curcas L. seed shell, a by-product, a new source of natural anti-oxidant. Indian Crop Prod. 2014; 58: 265-70.
Gandhisan R, Thamaraichelvan A, Baburaj. Anti-inflammatory action of Lannea coromandelica HRBC membrane stabilization. Fitotherapia 1991; 62: 82-83.
Ghosal S, Singh AK, Sharma PV, Chaudhuri RK. Chemical constituents of Gentianacceae IX: Natural occurrence of erythrocentaurin in Enicostemma hissopifolium and Swertia lawii. J Pharm Sci. 1974; 63: 944-45.
Harborne JB. Phytochemical methods. London, Chapman and Hall Ltd, 1973.
Hossain SM, Sharmin IF, Sheikh T, Hasan H, Rashedul AM. In vitro anti-oxidant, membrane stabilizing and thrombolytic activities of Glycosmis arborea. J Pharm Biol Sci. 2012; 15: 141-43.
Jovanovi? O, Radulovi? N, Stojanovi? G, Pali? R, Zlatkovi? B, Gudi? B. Chemical composition of the essential oil of Centaurium erythraea Rafn (Gentianaceae) from Serbia. J Essent Oil Res. 2009; 21: 317-22.
Katalinic V, Milos M, Kulisic T, JukicM. Screening of 70 medicinal plant extracts for anti-oxidant capacity and total phenols. Food Chem. 2006; 94: 550-57.
Khare CC. Indian medicinal plants: An illustrated Dictonary. Berlin, Springer Verlag, 2007, pp 699-700.
Leelaprakash G, Dass SM. In vitro anti-inflammatory activity of methanol extract of Enicostemma axillare. Int J Drug Dev Res. 2011; 3: 189-96.
Li BB, Smith AB, HossainMM. Extraction of phenolics from citrus peels: II. Enzyme-assisted extraction method. Sep Purif Technol. 2006; 48: 189-96.
Marles RJ, Farnsworth NR. Antidiabetic plants and their active constituents. Phytomedicine 1995; 2: 137-89.
Murugasan N, Vember S, Damodharan C. Studies on erythrocyte membrane IV. In vitro haemolytic activity of oleander extract. Toxicol Lett. 1981; 8: 33-38.
Ning G, Tianhua L, Xin Y, He P. Constituents in Desmodium blandum and their antitumor activity. Trad Her Drug. 2009; 40: 852-56.
Nuengchamnong N, Krittasilp K, Ingkaninan K. Rapid screening and identification of anti-oxidants in aqueous extracts of Houttuynia cordata using LCESI-MS coupled with DPPH assay. Food Chem. 2009; 117: 750-56.
Pashkow FJ. Oxidative stress and inflammation in heart disease: Do anti-oxidants have a role in treatment and/or prevention? Int J Inflam. 2011; 514623.
Prasad S, Kashyap RS, Deopujari JY, Purohit HJ, Taori GM, Daginawala HF. Effect of Fagonia arabica (Dhamasa) on in vitro thrombolysis. BMC Complement Altern Med. 2007; 7: 36.
Pullaiah T. Encyclopaedia of World medicinal plant. Vol. II. New Delhi, Regency Pub, 2006.
Rajendran P, Nandakumar N, Rengarajan T, Palaniswami R, Gnanadhas N, Lakshminarsaiah U, Gopas J, Nishigaki I. Anti-oxidants and human diseases. Clinica Chimica Acta. 2014; 436: 332-47.
Reddi STV, Naidu BVAR, Prasanthi S. In: Herbal remedies for diseases. Alikhan I, Khanum A (eds). Hyderabad, Ukay Publications, 2005, pp 13-67.
Sanchez-Moreno C. Methods used to evaluate the free radical scavenging activity in foods and biological systems. Food Sci Tech Int. 2002; 8: 121-37.
Sellamuthu PS, Muniappan BP, Perumal SM, Kandasamy M. Antihyperglycemic effect of mangiferin in streptozotocin induced diabetic rats. J Health Sci. 2009; 55: 206-14.
Shamsa F, Monsef H, Ghamooshi R, Verdianrizi M. Spectrophotometric determination of total alkaloids in some Iranian medicinal plants. Thai J Pharm Sci. 2008; 32: 17-20.
Singleton VL, Rossi JA. Colorimetry of phenols with phosphomolybdicphospotungstic and reagents. Am J Enol Viticult. 1965; 37: 144-48.
Sreelatha U, Baburaj TS, Kutty NC, Nazeem P, Bhaskar J. Cultivation prospects of Exacum bicolor Royle: An endangered, ornamental & anti-diabetic herb. Nat Prod Rad. 2007; 6: 402-04.
Tupe RS, Kemse NG, Khaire AA. Evaluation of anti-oxidant potentials and total phenolic contents of selected Indian herbs powder extracts. Int Food Res J. 2013; 20: 1053-63.
Vaijanathappa J, Baami S, Bhojraj S. In vitro anti-oxidant activity of Enicostemma axillare. J Health Sci. 2008; 54: 524-28.
Vinay V, Karimulla S, Saravanan D. GC-MS analysis, preliminary phytochemical screening, physicochemical analysis and anti-diabetic activity of ethanol extract of Jasminum cuspidatum leaves. Bangladesh J Pharmacol. 2014; 9: 610-16.
Wong CC, Li HB, Cheng KW, Chen F. A systematic survey of anti-oxidant activity of 30 Chinese medicinal plants using the ferric reducing anti-oxidant power assay. Food Chem. 2006; 97: 705-11.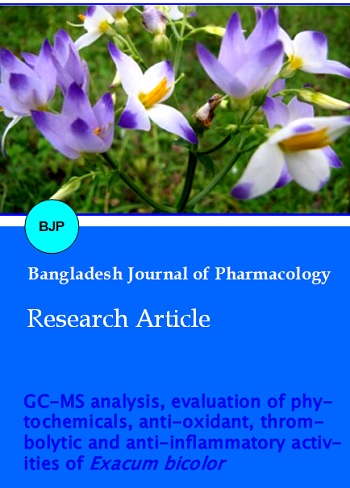 How to Cite
Ashwini, A., L. Puttarudrappa, B. Ravi, and M. Majumdar. "GC-MS Analysis, Evaluation of Phytochemicals, Anti-Oxidant, Thrombolytic and Anti-Inflammatory Activities of Exacum Bicolor". Bangladesh Journal of Pharmacology, Vol. 10, no. 4, Sept. 2015, pp. 745-52, doi:10.3329/bjp.v10i4.23610.
Section
Research Articles
Copyright (c) 2015 Appaji Mahesh Ashwini, Latha Puttarudrappa, Belagumba Vijaykumar Ravi, Mala Majumdar
This work is licensed under a Creative Commons Attribution 4.0 International License.
Authors who publish with this journal agree to the following terms:
Authors retain copyright and grant the journal right of first publication with the work simultaneously licensed under a

Creative Commons Attribution License

that allows others to share the work with an acknowledgement of the work's authorship and initial publication in this journal.
Authors are able to enter into separate, additional contractual arrangements for the non-exclusive distribution of the journal's published version of the work (e.g., post it to an institutional repository or publish it in a book), with an acknowledgement of its initial publication in this journal.
Authors are permitted and encouraged to post their work online (e.g., in institutional repositories or on their website) prior to and during the submission process, as it can lead to productive exchanges, as well as earlier and greater citation of published work (See

The Effect of Open Access

).