Anti-oxidant and hepatoprotective activities of total flavonoids of Indocalamus latifolius
Juan Tan

The Department of Life Science, Huaihua University, Huaihua 418008

Li Shenghua

The Department of Life Science, Huaihua University, Huaihua 418008

http://orcid.org/0000-0002-0042-1855

Junying Zeng

The Department of Life Science, Huaihua University, Huaihua 418008

Xianjin Wu

The Department of Life Science, Huaihua University, Huaihua 418008
Keywords:
Anti-oxidant, Flavonoid, Hepatoprotective, Indocalamus latifolius
Abstract
The total flavonoids of Indocalamus latifolius were evaluated in term of their anti-oxidant and hepatoprotective activities. The results showed that in vitrohepatoprotective and anti-oxidant activities of total flavonoids at doses of 200 and 400 mg/kg and 100 mg/kg, respectively, were comparable to those of the known hepatoprotective drug silymarin at 100 mg/kg. These data were supplemented with histopathological studies of rat liver sections. Seven of the main flavonoid compounds purified by column chromatography using silica gel, sephadex LH-20 and develosil ODS, and determined to be vitexin, orientin, isovitexin, homoorientin, tricin, tricin-7-O-β-D-glucopyranoside and quercetin-3-O-glucopyranoside.
Downloads
Download data is not yet available.
Abstract
1231
Download
863 Read
589
References
Afolayan AJ, Aboyade OM, Sofidiya MO. Total phenolics content and free scavenging activity of Malva parviflora. J Biol Sci, 2008; 8: 945-49.
Apak A, Güçlü K, Özyürek M, Celik SE. Mechanism of antioxidant capacity assays and the CUPRAC (cupric ion reducing antioxidant capacity) assay. Microchimica Acta. 2008; 160: 413-19.
Avallone R, Zanoli P, Pula G, Matthias K, Schreier MB. Pharmacological profile of apigenin, a flavonoid isolated from Matricaria chamomilla. Biochemical Pharmacol. 2000; 59: 1387-94.
Awaad AS, Maitland DJ, Soliman GA. Hepatoprotective activity of Schouwia thebica Webb. Bioorg Med Chem Lett. 2006; 16: 4624-28.
Basu S. Carbon tetrachloride-induced lipid peroxidation: Eicosanoid formation and their regulation by antioxidant nutrients. Toxicology 2003; 189: 113-27.
Chen CY, Ding YQ, Elmahadi EA, Zhou JG, Xu HB. Study on the isolation, purification and structural property of polysacchrides from Ruoye (Indocalamus tesselatus). Prog Biochem Biophys. 1999; 25: 51-55.
Flora. Republicae Popularis Sinicae [M]. Beijing, Science Press, 1996; 9: 689-90.
Huang B, Ban X, He J, Tong J, Tian J, Wang YW. Hepato-protective and antioxidant activity of ethanolic extracts of edible lotus (Nelumbo nucifera Gaertn.) leaves. Food Chem. 2010; 120: 873-78.
Jain A, Soni M, Deb L, Jain A, Rout SP. Antioxidant and hepatoprotective activity of ethanolic and aqueous extracts of Momordica dioica Roxb. leaves. J Ethnopharmacol. 2008; 115: 61-66.
Kikuzaki H, Nakatani N. Antioxidant effects of some ginger constituents. J Food Sci. 1993; 58: 1407-10.
Li YF, Wen DZ, Zeng D. Extraction and determ ination of essential oils in Indocalamus latifolius leaves and Indocalamus tessellatus leaves. Chinese J Chromatogr. 2007; 25: 53-57.
Li ZZ. Study on the extraction optimal technology of flavoniods from common lophatherun herb and anti-oxidative activity. Food Res Dev. 2008; 29: 42-45.
Liu Q, Yao HY. Antioxidant activities of barley seeds extracts. Food Chem. 2007; 102: 732-37.
Luo JY, Chen XY. Study on extracting tea polyphenols from of Indocalamus. J Chem Industry Forest Prod. 2003; 37: 15-19.
Meir S, Kanner J, Akiri B. Determination and involvement of aqueous reducing compounds in oxidative defense systems of various senescing leaves. J Agric Food Chem. 1995; 43: 1813-19.
Ordonez AL, Gomez JD, Vattuone MA. Antioxidant activities of Sechium edule (Jacq.) Swartz extracts. Food Chem. 2006; 97: 452-58.
Osawa T, Namaki M. A novel type antioxidant isolated from leaf wax of Eucalyptus leaves. Agric Biol Chem. 1981; 45: 735-39.
Oyaizu M. Studies on products of browning reactions: Antioxidative activities of products of browning reaction prepared from glucosamine. Japanese J Nutr. 1986; 44: 307-15.
Re R, Pellegrini N, Proteggente A, Pannala A, Yang M, Rice-Evans C. Antioxidant activity applying an improved ABTS radical cation decolorization assay. Free Radic Biol Med. 1999; 26: 1231-37.
Sanchez-Moreno C. Review: Methods used to evaluate the free radical scavenging activity in foods and biological systems. Food Sci Technol Int. 2002; 8: 121-37.
Shenoy KA, Somayaji SN, Bairy KL. Hepatoprotective effects of Ginkgo biloba against carbon tetrachloride induced hepatic injury in rats. Indian J Pharmacol. 2001; 33: 260-66.
Shimada K, Fujikawa K, Yahara K, Nakamura T. Antioxidative properties of xanthan on the autoxidation of soybean oil in cyclodextrin emulsion. J Agric Food Chem. 1992; 40: 945-48.
Shon MY, Kim TH, Sung NJ. Antioxidants and free radical scavenging activity of Phellinus baumii (Phellinus of Hymenochaetaceae) extracts. Food Chem. 2003; 82: 593-97.
Xiang TY, Zhang C, Xie DP. The separation and purification of the bioactive substances of Indocalamus leaves. J Hubei Institute Nationalities. 2002; 22: 73-74.
Xiang Z, Ning ZX. Scavenging and antioxidant properties of compound derived from chlorogenic acid in South-China honeysuckle. LWT-Food Sci Technol. 2008; 41: 1189-203.
Xu XY, Xie HH, Hao J, Jiang YM, Wei XY. Flavonoid glycosides from the seeds of Litchi chinensis. J Agric Food Chem. 2011; 59: 1205-09.
Wang DY, Zhao Y, Jiao YD, Yu LH, Yang F,Yang XB. Antioxidative and hepatoprotective effects of the polysaccharides from Zizyphus jujubae cv. Shaanbeitanzao. Carbohydrate Polymers. 2012; 88: 1453-59.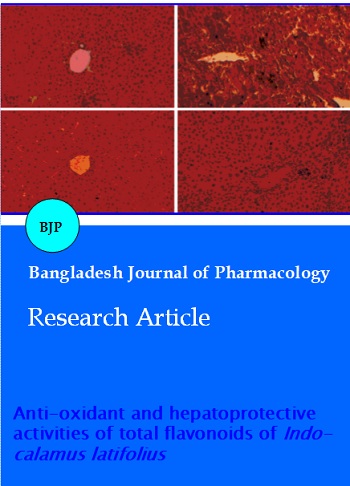 How to Cite
Tan, J., L. Shenghua, J. Zeng, and X. Wu. "Anti-Oxidant and Hepatoprotective Activities of Total Flavonoids of Indocalamus Latifolius". Bangladesh Journal of Pharmacology, Vol. 10, no. 4, Sept. 2015, pp. 779-8, doi:10.3329/bjp.v10i4.23496.
Section
Research Articles
Copyright (c) 2015 Juan Tan, Li Shenghua, Junying Zeng, Xianjin Wu
This work is licensed under a Creative Commons Attribution 4.0 International License.
Authors who publish with this journal agree to the following terms:
Authors retain copyright and grant the journal right of first publication with the work simultaneously licensed under a

Creative Commons Attribution License

that allows others to share the work with an acknowledgement of the work's authorship and initial publication in this journal.
Authors are able to enter into separate, additional contractual arrangements for the non-exclusive distribution of the journal's published version of the work (e.g., post it to an institutional repository or publish it in a book), with an acknowledgement of its initial publication in this journal.
Authors are permitted and encouraged to post their work online (e.g., in institutional repositories or on their website) prior to and during the submission process, as it can lead to productive exchanges, as well as earlier and greater citation of published work (See

The Effect of Open Access

).