In vitro inhibitory potential of methanolic extract of Celosia argentea var. cristata on tyrosinase, acetylcholinesterase and butyrylcholinesterase enzymes
Fatima Saqib

Faculty of Pharmacy, Bahaudin Zakariya University, Multan

Khalid Hussain Janbaz

Faculty of Pharmacy, Bahaudin Zakariya University, Multan

Maryam Khan Sherwani

Faculty of Pharmacy, Bahaudin Zakariya University, Multan
Keywords:
Acetylcholinesterase, Butyrylcholinesterase, Celosia argentea var. cristata, Neurodegenarative disorders, Tyrosinase
Abstract
In the current study, methanol extract of Celosia argentea var. cristata was tested for its inhibitory potential against tyrosinase, acetylcholinesterase and butyrylcholinesterase enzymes at the concentration of 0.5 mM by ELISA microtiter plate assays. A significant tyrosinase inhibitory activity (63.6%), acetylcholinesterase inhibitory activity (80.3%) and butyrylcholinesterse inhibitory activity (68.24%) was shown by crude methanolic extract of C. argentea var. cristata with respective IC50 values of 268.5 ± 0.2 µg/mL, 73.6 ± 0.1 µg/mL and 132.8 ± 0.9 µg/mL. The result of this study reveals the use of C. argentea var. cristata in skin hyperpigmentation, Parkinsons disease and neurodegenerative disorders like Alzheimers disease and dementia.
Downloads
Download data is not yet available.
Abstract
1814
Download
1134 Read
936
References
Akhondzadeh S, Noroozian M, Mohammadi M, Ohadinia S, Jamshidi AH, Khani M. Salvia officinalis extract in the treatment of patients with mild to moderate Alzheimer's disease: A double blind, randomized and placebo-controlled trial. J Clin Pharm Ther. 2003; 28: 5359.
Asanuma M, Miyazaki I, Ogawa N. Dopamine- or L-DOPA-induced neurotoxicity: The role of dopamine quinone formation and tyrosinase in a model of Parkinsons disease. Neurotox Res. 2003; 5: 16576.
Ballard CG, Greig NH, Guillozet-Bongaarts AL, Enz A, Darvesh S. Cholinesterases: Roles in the brain during health and disease. Curr Alzheimer Res. 2005; 2: 307-18.
Begam M, Narwal S, Roy S, Kumar S, Lodha ML, Kapoor HC. 2006. An Antiviral Protein Having Deoxyribonuclease and Ribonuclease Activity from Leaves of the Post-flowering Stage of Celosia cristata. Biochemistry (moscow). 2006; 71: 44-48.
Blennow K, de Leon MJ, Zetterberg H. Alzheimer's disease. Lancet. 2006; 368: 387403.
Briganti S, Camera E, Picardo M. Chemical and instrumental approaches to treat hyperpigmentation. Pigment Cell Res. 2003; 16: 10110.
Cygler M, Schrag JD, Sussman JJ, Harel LM, Silman I, Gentry MK. Doctor, relationship between sequence conservation and three-dimensional structure in a large family of esterases, lipases and related proteins. Protein Sci. 1993; 36682.
Duke JA, Bogenschutz-Godwin M J, duCellier J, Peggy-Ann KD. Handbook of medicinal herbs. CRC Press,2002, p 205.
Ellman GL, Courtney KD, Andres V, Featherstone RM. A new and rapid colorimetric determination of acetylcholinesterase activity. Biochem Pharmacol. 1961; 7: 88-95.
Janbaz KH, Saqib F. Pharmacological evaluation of Dactyloctenium aegyptium, an indigenous plant used to manage gastrointestinal ailments Bangladesh J Pharmacol. 2015; 10: 295-302.
Khaled E, Hassan HNA, Mohamed GG, Ragab FA, Seleim AEA. ?-Cyclodextrin-based potentiometric sensors for flow-injection determination of acetylcholines Int J Electrochem Sci. 2010; 5: 448-58.
Khan MTH. Molecular design of tyrosinase inhibitors: A critical review of promising novel inhibitors from synthetic origins. Pure App. Chem. 2007; 79: 227795.
Kim YJ, Kang KS, Yokozawa T. The anti-melanogenic effect of pycnogenol by its anti-oxidative actions. Food Chem Toxicol. 2008; 46: 2466-71.
Kiritikar KR, Basu BD. Indian medicinal plants. Blatter E, Caius JF, Mahaskr KS (eds). Vol III, 2nd ed. Dehradun, India, 1987, pp 2054-55.
Kubo I, Chen QX, Nihei Ki. Molecular design of anti-browning agents: Antioxidative tyrosinase inhibitors. Food Chem. 2003; 81: 241-47.
Lee KH, Ab Aziz FH, Syahida A, Abas F, Shaari K, Israf DA, Lajis NH. Synthesis and biological evaluation of curcumin-like diarylpentanoid analogues for anti-inflammatory, antioxidant and antityrosinase activities. Eur J Med Chem. 2009; 44: 3195-200.
Maeda K, Fukuda M. Arbutin: Mechanism of its depigmenting action in human melanocyte culture. J Pharmacol Exp Ther. 1996; 276: 765-69.
Maeda K, Fukuda M. In vitro effectiveness of several whitening cosmetic components in human melanocytes. J Soc Cosmet Chem. 1991; 42: 36168.
Nagendra Prasad K, Yang B, Yang S, Chen Y, Zhao M, Ashraf M, Jiang Y. Identification of phenolic compounds and appraisal of antioxidant and anti tyrosinase activities from litchi (Litchi sinensis Sonn.) seeds. Food Chem. 2009; 116: 1-7.
Pawelek JM, Komer AM. The biosynthesis of mammalian melanin. Am Sci.1982; 70: 136-45.
Perry EK. The cholinergic hypothesis: Ten years on. Br Med Bull. 1986; 42: 6369.
Pohanka M, Karasova JZ, Kuca K, Pikula J, Holas O, Korabecny J, Cabal J. Colorimetric dipstick for assay of organophosphate pesticides and nerve agents represented by paraoxon, sarin and VX. Talanta. 2010; 81: 621-24.
Pohanka M, Musilek K, Kuca K. Progress of biosensors based on cholinesterase inhibition. Curr Med Chem. 2009; 16: 1790-98.
Prajapati ND, Pyrohit SS. A hand book of medicinal plants. Agrobios, Jodhpur, India, 2003, p 135.
Pyo YH, Yoon MY, Son JH, Cho TB. The effect of Celosia cristata L. ethanol extract on anti-oxidant and anti-aging activity. Korean J Biotech Bioeng. 2008; 23: 431-38.
Quinn DM. Acetylcholinesterase: Enzyme structure, reaction dynamics, and virtual transition-states. Chem Rev. 1987; 87: 95579.
Schwarz M, Glick D, Loewensten Y, Soreq H. Engineering of human cholinesterases explains and predicts diverse consequences of administration of various drugs and poisons. Pharmacol Ther. 1995; 67: 283-322.
Shanmugam S, Annadurai M, Rajendran K. Ethnomedicinal plants used to cure diarrhoea and dysentery in Pachalur Hills of Dindigul district in Tamil Nadu, Southern India. J App Pharma Sci. 2011; 1: 94-97.
Sun H, El Yazal J, Lockridge O, Schopfer LM, Brimijoin S, Pang YP. Predicted Michaelis-Menten complexes of cocaine-butyrylcholinesterase: Engineering effective butyrylcholines-terase mutants for cocaine detoxication. J Biol Chem. 2001; 276: 933036.
Sun ZL, Gao GL, Xia YF, Feng J, Qiao ZY. A new hepatoprotective saponin from semen Celosia cristatae. Fitoterapia 2011; 82: 591-94.
Tova Navarra. The encyclopedia of vitamins, minerals and supplements. 2nd ed. New York, Facts on File Inc., 2004, p 44.
Vamos-Vigyazo L. Polyphenol oxidase and peroxidase in fruits and vegetables. Crit Rev Food Sci Nutr. 1981; 15: 49127.
Wang Y, Lou Z, Wu QB, Guo ML. A novel hepatoprotective saponin from Celosia cristata L. Fitoterapia. 2010: 81: 1246-52.
Wettstein A. Cholinesterase inhibitors and Gingko extracts: Are they comparable in the treatment of dementia?: Comparison of published placebo-controlled efficacy studies of at least six months' duration. Phytomedicine 2000; 6: 393401.
Williamson EM, Okpako DT, Evans FJ. Selection, preparation and pharmacological evaluation of plant material. John Wiley and Sons, Chichester, 1998, pp 15-23.
Xiang C, Guo M, Song H, Yadan C. Study on chemical constituents of Celosia cristata seed. J Jilin Agric Uni. 2010; 32: 657-60.
Yasui H, Sakurai H. Age dependent generation of reactive oxygen species in the skin of live hairless rats exposed to UVA light. Exp Dermatol. 2003; 12: 655-61.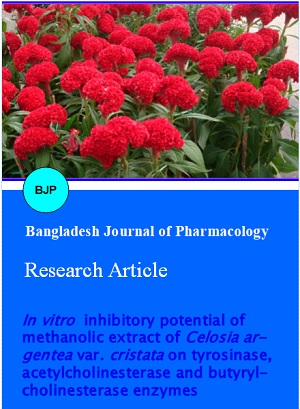 How to Cite
Saqib, F., K. Janbaz, and M. Sherwani. "In Vitro Inhibitory Potential of Methanolic Extract of Celosia Argentea Var. Cristata on Tyrosinase, Acetylcholinesterase and Butyrylcholinesterase Enzymes". Bangladesh Journal of Pharmacology, Vol. 10, no. 2, May 2015, pp. 449-54, doi:10.3329/bjp.v10i2.22880.
Section
Research Articles
Copyright (c) 2015 Fatima Saqib, Khalid Hussain Janbaz and Maryam Khan Sherwani
This work is licensed under a Creative Commons Attribution 4.0 International License.
Authors who publish with this journal agree to the following terms:
Authors retain copyright and grant the journal right of first publication with the work simultaneously licensed under a

Creative Commons Attribution License

that allows others to share the work with an acknowledgement of the work's authorship and initial publication in this journal.
Authors are able to enter into separate, additional contractual arrangements for the non-exclusive distribution of the journal's published version of the work (e.g., post it to an institutional repository or publish it in a book), with an acknowledgement of its initial publication in this journal.
Authors are permitted and encouraged to post their work online (e.g., in institutional repositories or on their website) prior to and during the submission process, as it can lead to productive exchanges, as well as earlier and greater citation of published work (See

The Effect of Open Access

).