In vitro anthelmintic activity of Heliotropium indicum, Senna fistula and Spigelia anthelmia used as worm expeller in South West Nigeria
Oluwakemi K. Sobiyi

Phytomedicine and Phytopharmacology Research Group, Department of Plant Sciences, University of the Free State, Qwaqwa Campus, Phuthaditjhaba 9866

A. O. Tom Ashafa

Phytomedicine and Phytopharmacology Research Group, Department of Plant Sciences, University of the Free State, Qwaqwa Campus, Phuthaditjhaba 9866
Keywords:
Anthelmintic, Heliotropium indicum, Senna fistula, Spigelia anthelmia, Worm expeller
Abstract
The anthelmintic potential of Heliotropium indicum, Senna fistula and Spigelia anthelmia were investigated using nematodes larvae from sheep and adult earthworms in order to justify the folkloric claim of the plants as worm expeller in south west of Nigeria. The acetone, ethanol, hydro-alcohol and distilled water extracts showed dose-dependent anthelmintic activities at the different concentrations (0.25, 0.50, 1.0 mg/mL) when tested against nematodes larvae. The order of anthelmintic effect for the plants was H. indicum> S. fistula> S. anthelmia. Acetone and ethanol extracts of the three plants showed the most effective activity (100% mortality) against adult earth worm (Pheretima posthuma) after 30 min of exposure The reference standard drug (Vermox®) showed less effectiveness compared to the medicinal plants used in the study. Overall, the study indicates that Heliotropium indicum, Senna fistula and Spigelia anthelmia are potential anthelmintic herbal drugs, which in turn validates the use of the three species as worm expellers by the Yorubas tribe of South West Nigeria.
Downloads
Download data is not yet available.
Abstract
1905
Download
1056 Read
969
References
Abunna F, Tilahun G, Megersa B, Regassa A. Taeniasis and its socio-economic implication in Awassa town and its surroundings, Southern Ethiopia. East Afr J Public Health. 2007; 4: 7379.
Ajaiyeoba EO, Onocha P, Olarenwaje OT. In vitro anthelmintic properties of Buchholzia coriaceae and Gynandropis gynanadra extract. Pharm Biol. 2001; 39; 217-20.
Ajayi EOS, Akinyinka OO. Evaluation of the nutritional status of first year school students in Ibadan South. West Afr J Med. 1999; 28: 59-63.
Ashafa AOT, Afolayan AJ. Screening the root extracts from Biden pilosa L. var. radiata (Asteraceae) for antimicrobial potentials. J Med Plants Res. 2009; 3: 568-72.
Ashok Kumar BS, Lakshman K, Jayaveera KN, Nandeesh R, Manoj B, Ranganayakulu D. Comparative in vitro anthelmintic activity of three plants from the Amaranthaceae family. Arch Biol Sci Belgrade. 2010; 62: 185-89.
Carabin H, Krecek RC, Cowan LD, Michael L, Foyaca-Sibat H, Nash T, Willingham AL. Estimation of the cost of Taeniasolium cysticercosis in Eastern Cape Province, South Africa. Trop Med Int Health. 2006; 11: 906-16.
Chatterjee KD. Parasitology, protoxoology and helminthology. Calcutta, Guha Ray Sree Saraswaty Press Ltd, 1967, pp 168-69.
Chavan CB, Hogade MG, Bhinge SD, Kumbhar M, Tamboli A. In vitro anthelmintic activity of fruit extract of Barleeia prionitis L against Pheretima posthuma. Int J Pharm Pharmaceutic Sci. 2010; 2: 49.
Dalziel JM. The useful plants of West Tropical Africa. The crown agents for the colonies. London, 1937.
Eloff JN. Which extractant should be used for screening and isolation of antimicrobial components from plants? J Ethno-pharmacol. 1998; 60: 18.
Ezike AC, Akah PA, Okore V, Okoli CO, Okoye TC, Okoye AC. In vitro evaluation of the anthelmintic and antibacterial activities of three Nigerian medicinal plants. Bio Med Rx. 2013; 1: 254-57.
Fu PP, Yang YC, Xia Q, Chou MC, Cui YY, Lin G. Pyrrolizidine alkaloids-tumorigenic components in Chinese herbal medicines and dietary supplements. J Food Drug Anal. 2002; 10: 198-11.
Makkar HPS, Sidhuraju P, Becker K. Plant secondary metabo-lites. New Jersey, USA., Humana Press Inc., 2007.
Margono SS, Wandra T, Swasono MF, Murni S, Craig PS, Ito A. Taeniasis/cysticercosis in Papua (Irian Jaya), Indonesia. Parasitol Int. 2006; 55 Suppl.: S143-48.
Martinez M, Ramo JD, Torreblanca A, Diazmayans J. Effect of cadmium exposure on zinc levels in the brine shrimp Artemia parthenogenetica. Aquaculture 1999; 172: 315-25.
Mbaria JM, Maitho TE, Mitema ES, Muchiri DJ. Comparative efficacy of pyrethrum marc with albendazole against sheep gastrointerstinal nematodes. Trop Anim Health Prod. 1998; 30: 17-22.
Muthu C, Ayyana M, Raja N, Ignacimuthu S. Medicinal plants used by traditional healers in Kancheepuram District of Tamil Nadu, India. J Ethnobiol Ethnomed. 2006; 2: 43.
Oguoma VM, Anyasodor AE, Mbata TI. Prevalence of intestinal protozoan parasites among children aged 5-12 years in Owerri Metropolis South Eastern Nigerian. Trop J Health Sci. 2008; 15: 43-48.
Savioli L, Albonico M. Soil-transmitted helminthiasis. Nat Rev Microbiol. 2004; 2: 61819.
de Silva NR, Brooker PJ, Hotez PJ, Montresor A, Engels D, Savioli L. Soil-transmitted helminth infections: Updating the global picture. Trends Parasitol. 2003; 19: 547-51.
Sofowora AB. 1993. Medicinal plants and traditional medicine in Africa. 3rd ed. Nigeria, Spectrum Book Ltd, 1993, pp 195238.
Sofowora AB. Medicinal plants of West Tropical Africa. Lagos, Sunders Publishers Ltd, 2006, pp 45-57.
Sollmann T. Anthelmintics: Their efficiency as tested on earth-worms. J Pharmcol Exp Ther. 1918; 12: 129-70.
Spiller HA, Winter Ml, Weber JA, Krenzelok EP, Anderson DL, Ryan ML. Skin breakdown and blisters from senna-containing laxatives in young children. Annals Pharmacother. 2003; 37: 63639.
Sundeep Kumar HK, Bose A, Raut A, Sahu SK, Raju MBV. Evaluation of anthelmintic activity of Pistia stratiotes Linn. J Basic Clin Pharm. 2010; 1: 103-05.
Togola A, Diallo D, Demb´el´e S, Barsett H, Paulsen BS. Ethnopharmacological survey of different uses of seven medicinal plants from Mali, (West Africa) in the regions Doila, Kolokani and Siby. J Ethnobiol Ethnomed. 2005; 1: 7.
Vidyarthi RD. A textbook of Zoology. New Delhi, 1967, S Chand and Co. pp 329-70.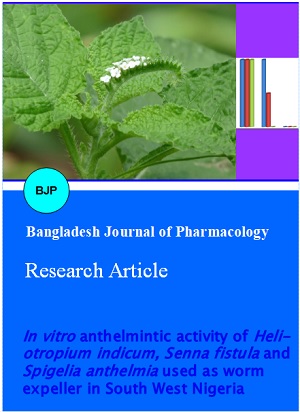 How to Cite
Sobiyi, O., and A. O. T. Ashafa. "In Vitro Anthelmintic Activity of Heliotropium Indicum, Senna Fistula and Spigelia Anthelmia Used As Worm Expeller in South West Nigeria". Bangladesh Journal of Pharmacology, Vol. 10, no. 2, May 2015, pp. 417-22, doi:10.3329/bjp.v10i2.22589.
Section
Research Articles
Copyright (c) 2015 Oluwakemi K. Sobiyi, A. O. Tom Ashafa
This work is licensed under a Creative Commons Attribution 4.0 International License.
Authors who publish with this journal agree to the following terms:
Authors retain copyright and grant the journal right of first publication with the work simultaneously licensed under a

Creative Commons Attribution License

that allows others to share the work with an acknowledgement of the work's authorship and initial publication in this journal.
Authors are able to enter into separate, additional contractual arrangements for the non-exclusive distribution of the journal's published version of the work (e.g., post it to an institutional repository or publish it in a book), with an acknowledgement of its initial publication in this journal.
Authors are permitted and encouraged to post their work online (e.g., in institutional repositories or on their website) prior to and during the submission process, as it can lead to productive exchanges, as well as earlier and greater citation of published work (See

The Effect of Open Access

).