In vitro studies on the antimicrobial, antioxidant and antidiabetic potential of Cephalaria gigantea
Nobuhle Mbhele

Phytomedicine and phytopharmacology Research Group, Department of Plant Sciences, University of the Free State, Qwaqwa campus, Phuthaditjhaba 9866

Fatai O. Balogun

Phytomedicine and phytopharmacology Research Group, Department of Plant Sciences, University of the Free State, Qwaqwa campus, Phuthaditjhaba 9866

Mutiu I. Kazeem

Phytomedicine and phytopharmacology Research Group, Department of Plant Sciences, University of the Free State, Qwaqwa campus, Phuthaditjhaba 9866

Tom Ashafa

Phytomedicine and phytopharmacology Research Group, Department of Plant Sciences, University of the Free State, Qwaqwa campus, Phuthaditjhaba 9866
Keywords:
?-Amylase, Antimicrobial, Anti-oxidant, Cephalaria gigantean, ?-Glucosidase
Abstract
This study evaluates the antimicrobial, antioxidant and antidiabetic potential of leaf and root extracts of Cephalaria gigantea. The results showed that the extracts inhibited both bacteria and fungi tested at MIC values which ranged from 3.1 to 12.5 mg/mL. The root water and leaf hydro-ethanol extracts had the highest content of phenolics exhibiting IC50 values of 310.9 mg/g and 275.2 mg/g respectively. The leaf water extract possessed the highest amount of flavonoids with IC50 value of 145.4 mg/g followed by root hydro-ethanol extract with IC50 value of 53.4 mg/g. The leaf and root water extracts had the best DPPH radical scavenging activity with IC50 values of 0.6 µg/mL and 2.8 µg/mL compared to gallic acid at 14.0 µg/mL. The leaf hydro-ethanol and root water extracts scavenged ABTS radical best. Also the leaf and root hydro-ethanol extract exhibited the best reducing power activity when compared to gallic acid. The root water and leaf ethanol extracts displayed the most potent inhibition of ?-amylase and ?-glucosidase respectively. It can be concluded that C. gigantea extracts possessed antioxidant and antidiabetic potentials but has poor antimicrobial activities.
Downloads
Download data is not yet available.
Abstract
2896
Download
912 Read
2753
References
Ajose FO. Some Nigerian plants of dermatologic importance. Int J Dermatol. 2007; 46: 48-55.
Ali H, Houghton PJ, Soumyanath A. Alpha-amylase inhibitory activity of some Malaysian plants used to treat diabetes with particular reference to Phyllanthus amarus. J Ethnopharmacol. 2006; 107: 449-55.
Alia M, Horcajo C, Bravo L, Goya L. Effect of grape antioxidant dietary fiber on the total antioxidant capacity and the activity of liver antioxidant enzymes in rats. Nutr Res. 2003; 23: 1251-67.
Amic D, Davidovic-Amic D, Beslo D, Trinajstic N. Structureradical scavenging activity relationship of flavonoids. Croatia Chemical Acta. 2003; 76: 5561.
Berg JM, Tymoczko JL, Stryer L. Glycolysis and gluconeogenesis. In: Biochemistry. New York, W. H. Freeman and Company, 2001, pp 425-64.
Caliskan OA, Anil H, Stephenson GR. Cephalaria saponin A, a new bidesmosidic triterpene saponin from Cephalaria transsylvanica. J Nat Prod. 1994; 57: 1001-03.
Dastmalchi K, Dorman HJD, Kosar M, Hiltunen R. Chemical composition and in vitro antioxidant evaluation of a water soluble Moldavian balm (Dracocephalum moldavica L.) extract. Lebensmittel Wissenschaft Technol. 2007; 40: 23948.
Dorman HJD, Hiltunen R. Fe(II) reductive and free radical scavenging properties of summer savory (Satureja hortensis L.) extract and subfractions. Food Chem. 2004; 88: 193-99.
Eloff JN. A sensitive and quick microplate method to deter-mine the minimal inhibitory concentration of plant extracts for bacteria. Planta Medica. 1998; 64: 711-13.
Gerkens PC, Dobson R, Tabatadze N, Mshviladzade V, Elias R, Peulen OJ, Jolois OM, De Pauw-Gillet MA. Apoptosis and cytolysis induced by giganteosides and hederacolchisides in HL-60 Cells. Anticancer Res. 2007; 27: 2529-34.
Geyid A, Abebe D, Debella A, Makonnen Z, Aberra F, Teka F, Kebede T, Urga K, Yersaw K, Biza T, Mariam BH, Guta M. Screening of some medicinal plants of Ethiopia for their antimicrobial properties and chemical profiles. J Ethnopharmacol. 2005; 97: 421-27.
Gyamfi MA, Yonamine M, Aniya Y. Free-radical scavenging action of medicinal herbs from Ghana: Thonningia sanguinea on experimentally-induced liver injuries. Gen Pharmacol. 1999; 32: 66167.
Halvorsen BL, Holte K, Myhrstad MCW, Barikmo I, Hvattum E, Remberg SF. Systematic screening of total antioxidants in dietary plants. J Nutr. 2002; 132: 46171.
Isaac AB, George IN, Oladimeji TA, James DH. A bioactive flavonoid from Pavetta crassipes K. Schum. Org Med Chem Lett. 2011; 1: 14
Kayce P, K?rm?z?gül S. Chemical constituents of two endemic Cephalaria species. Records Nat Prod. 2010; 4: 141-48.
Kazeem MI, Abimbola SG, Ashafa AOT. Inhibitory potential of Gossypium arboreum Linn leaf extracts on diabetes key enzymes (?-amylase and ?-glucosidase). Bangladesh J Pharmacol. 2013; 8: 149-55.
Kim YM, Jeong YK, Wang MH, Lee WY, Rhee HI. Inhibitory effects of pine bark extract on alpha-glucosidase activity and postprandial hyperglycemia. Nutrition 2005; 21: 756-61.
Kwon YI, Apostolidis E, Kim YC, Shetty K. Health benefits of traditional corn, beans and pumpkin: In vitro studies for hyperglycemia and hypertension management. J Med Foods. 2007; 10: 26675.
Mabona U, van Vuuren SF. Southern African medicinal plants used to treat skin diseases. South African J Bot. 2013; 87: 175-93.
Mccue PP, Shetty K. Inhibitory effects of rosmarinic acid extracts on porcine pancreatic mylase in vitro. Asia Pacific J Clin Nutr. 2004; 13: 10106.
Meda A, Lamien CE, Romito M, Millogo J, Nacoulma OG. Determination of the total phenolic, flavonoid and proline contents in Burkina Fasan honey as well as their radical scavenging activity. Food Chem. 2005; 91: 57177.
Movsumov IS, Garaev EA, Isaev MI. Flavonoids from Cephalaria gigantea flowers. Chem Nat Comp. 2006; 42: 677-80.
Mshvildadze V, Elias R, Faure R, Debrauwer L, Dekanosidze G, Kemertelidze E, Balansard G. Triterpenoid saponins from berries of Hedera colchica. Chem Pharmaceut Bull (Tokyo). 2001; 49: 752-54.
Oboh G, Puntel RL, Rocha JBT. Hot pepper (Capsicum annuum, Tepin and Capsicum chinese, Habanero) prevents Fe2+-induced lipid peroxidation in brain in vitro. Food Chem. 2007; 102: 178-85.
Oyaizu M. Studies on products of browning reaction: Antioxidative activity of products of browning reaction prepared from glucosamine. Japan J Nutr. 1986; 44: 30715.
Rice-Evans C, Miller NJ, Paganga G. Structureantioxidant activity relationships of flavonoids and phenolic acids. Free Radical Biol Med. 1996; 20: 933-56.
Rosenbloom R, Chaudhary J, Castro-Eschenbach D. Traditional botanical medicine: An introduction. Am J Ther. 2011; 18: 158-61.
Said O, Khalil K, Fulder S, Azaizeh H. Ethnobotanical survey of medicinal herbs of the Middle Eastern region. J Ethnopharmacol. 2002; 83: 251-65.
Shai LJ, Masoko P, Mokgptho MP, Magano SR, Mogale AM, Boaduo N, Elof JN. Yeast alpha glucosidase inhibitory and antioxidant activity of six medicinal plants collected in Phalaborwa, South Africa. South African J Bot. 2010; 76: 465-70.
Shim YA, Doo HB, Ahn SB, Kim YC. Inhibitory effect of aque-ous extract from the gall of Rhus chinensis on alpha-glucosidase activity and postprandial blood glucose. J Ethnopharmacol. 2003; 85: 28387.
Singleton VL, Orthofer R, Lamuela-Raventos RM. Analysis of total phenols and other oxidation substrates and antioxidants by means of FolinCiocalteu reagent. In: Methods in enzymology. Vol. 299. Oxidants and antioxidants, part A San Diego, Academic Press, 1999, pp 15278.
Tabatadze N, Elias R, Faure R, Gerkens P, De Pauw-Gillet MA, Kemertelidze E, Chea A, Ollivier E. Cytotoxic triterpenoid saponins from the roots of Cephalaria gigantea. Chem Pharmaceut Bull. 2007; 55: 102-05.
Tung YT, Wu JH, Huang CY, Ku YH, Chang ST. Antioxidant activities and phytochemical characteristics of extracts from Acacia confusa bark. Bioresources Technol. 2009; 100: 509-14.
Weichselbaum E, Buttriss JL. Polyphenols in the diet. Nutr Bull. 2010; 35: 157-64.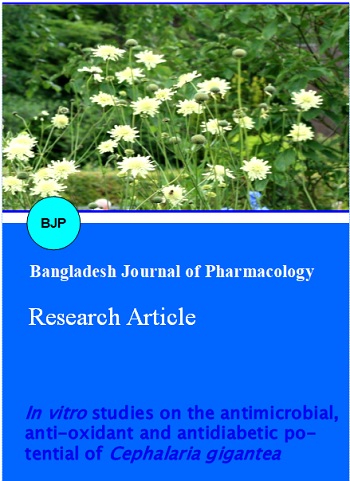 How to Cite
Mbhele, N., F. Balogun, M. Kazeem, and T. Ashafa. "In Vitro Studies on the Antimicrobial, Antioxidant and Antidiabetic Potential of Cephalaria Gigantea". Bangladesh Journal of Pharmacology, Vol. 10, no. 1, Mar. 2015, pp. 214-21, doi:10.3329/bjp.v10i1.21716.
Section
Research Articles
Copyright (c) 2015 Nobuhle Mbhele, Fatai O. Balogun, Mutiu I. Kazeem, Tom Ashafa
This work is licensed under a Creative Commons Attribution 4.0 International License.
Authors who publish with this journal agree to the following terms:
Authors retain copyright and grant the journal right of first publication with the work simultaneously licensed under a

Creative Commons Attribution License

that allows others to share the work with an acknowledgement of the work's authorship and initial publication in this journal.
Authors are able to enter into separate, additional contractual arrangements for the non-exclusive distribution of the journal's published version of the work (e.g., post it to an institutional repository or publish it in a book), with an acknowledgement of its initial publication in this journal.
Authors are permitted and encouraged to post their work online (e.g., in institutional repositories or on their website) prior to and during the submission process, as it can lead to productive exchanges, as well as earlier and greater citation of published work (See

The Effect of Open Access

).