Iron deposition causes oxidative stress, inflammation and fibrosis in carbon tetrachloride-induced liver dysfunction in rats
Hasan Mahmud Reza

Department of Pharmaceutical Sciences, School of Life Science, North South University, Bashundhara, Dhaka

Md. Abu Taher Sagor

Department of Pharmaceutical Sciences, School of Life Science, North South University, Bashundhara, Dhaka

Md. Ashraful Alam

Department of Pharmaceutical Sciences, School of Life Science, North South University, Bashundhara, Dhaka
Keywords:
Carbon tetrachloride, Fibrosis, Inflammation, Iron, Liver, Oxidative stress, Rat
Abstract
The present study investigates the pathological implications of parenchymal iron overload due to CCl4 treatment in liver dysfunction. Sixteen female rats were randomly divided into control and CCl4 treated groups. The serum levels of tramsaminases, malondialdehyde, advanced protein oxidation product, catalase, and reduced glutathione concentrations in the plasma and hepatic homogenate were determined. Moreover, histopathological changes in liver sections were investigated for inflammatory cell infiltration, fibrosis and iron overload. The administration of CCl4 resulted in increased liver marker enzymes activities and oxidative stress parameters mentioned above compared to control. Moreover, CCl4 administration also decreased antioxidant enzymes activities and increased inflammatory cell infiltration and fibrosis along with iron deposition in liver of rats. These findings indicate that CCl4 may induce hepatic fibrosis and inflammation during CCl4 induced liver injury via iron mediated oxidative damages.
Downloads
Download data is not yet available.
Abstract
2932
Download
470 Read
417
References
Ali SA, Faddah L, Abdel-Baky A, Bayoumi A. Protective effect of L-carnitine and coenzyme Q10 on CCl4-induced liver injury in rats. Sci Pharm. 2010; 78: 881-96.
Bradbear RA, Bain C, Siskind V, Schofield FD, Webb S, Axelsen EM, Halliday JW, Bassett ML, Powell LW. Cohort study of internal malignancy in genetic hemochromatosis and other chronic nonalcoholic liver diseases. J Natl Cancer Inst. 1985; 75: 81-84.
Cui X, Shimizu I, Lu G, Itonaga M, Inoue H, Shono M, Tamaki K, Fukuno H, Ueno H, Ito S. Inhibitory effect of a soluble transforming growth factor β type II receptor on the activation of rat hepatic stellate cells in primary culture. J Hepatol. 2003; 39: 731-37.
El-Khatib AS, Mansour MA. Prior treatment with captopril attenuates carbon tetrachloride-induced liver injury in mice. Res Commun Mol Pathol Pharmacol. 2001; 110: 3-16.
Friedman SL. Mechanisms of hepatic fibrogenesis. J Gastroenterol. 2008; 134: 1655-69.
Galli A, Svegliati-Baroni G, Ceni E, Milani S, Ridolfi F, Salzano R, Tarocchi M, Grappone C, Pellegrini G, Benedetti A, Surrenti C, Casini A. Oxidative stress stimulates proliferation and invasiveness of hepatic stellate cells via a MMP2-mediated mechanism. J Hepatol. 2005; 41: 1074-84.
Georg S, Claus N, Wolfgang S. Survival and causes of death in hemochromatosis. Ann N Y Acad Sci. 1988; 526: 245-57.
Ghiassi-Nejad Z, Friedman SL. Advances in antifibrotic therapy. Expert Rev Gastroenterol Hepatol. 2008; 2: 803-16.
Giannini EG, Testa R, Savarino V. Liver enzyme alteration: A guide for clinicians. CMAJ. 2005; 172: 367-79.
Gowri Shankar NL, Manavalan R, Venkappayya D, David Raj C. Hepatoprotective and antioxidant effects of Commiphora berryi (Arn) Engl bark extract against CCl(4)-induced oxidative damage in rats. Food Chem Toxicol. 2008; 46: 3182-85.
Imamura M, Ogawa T, Sasaguri Y, Chayama K, Ueno H. Suppression of macrophage infiltration inhibits activation of hepatic stellate cells and liver fibrogenesis in rats. J Gastroenterol. 2005; 128: 138-46.
Iwaisako K, Brenner DA, Kisseleva T. What's new in liver fibrosis? The origin of myofibroblasts in liver fibrosis. J Gastroenterol Hepatol. 2012; 27(Suppl 2): 65-68.
Jin CF, Li B, Lin SM, Yadav RK, Kim HR, Chae HJ. Mechanism of the Inhibitory effects of Eucommia ulmoides Oliv. cortex extracts (EUCE) in the CCl4-induced acute liver lipid accumulation in rats. Int J Endocrinol. 2013; 2013: 751854.
Karlmark KR, Weiskirchen R, Zimmermann HW, Gassler N, Ginhoux F, Weber C, Merad M, Luedde T, Trautwein C, Tacke F. Hepatic recruitment of the inflammatory Gr1+ monocyte subset upon liver injury promotes hepatic fibrosis. J Hepatol. 2009; 50: 261-74.
Khan R. Protective effects of Sonchus asper (L.) Hill, (Asteraceae) against CCl4-induced oxidative stress in the thyroid tissue of rats. BMC Complement Altern Med. 2012; 12: 181.
Kremer M, Thomas E, Milton RJ, Perry AW, van Rooijen N, Wheeler MD, Zacks S, Fried M, Rippe RA, Hines IN. Kupffer cell and interleukin-12-dependent loss of natural killer T cells in hepatosteatosis. J Hepatol. 2010; 51: 130-41.
Lee M, Kowdley KV. Alcohol's effect on other chronic liver diseases. Clin Liver Dis. 2012; 16: 827-37.
Li X, Li H, Lu N, Feng Y, Huang Y, Gao Z. Iron increases liver injury through oxidative/nitrative stress in diabetic rats: Involvement of nitrotyrosination of glucokinase. Biochimie 2012; 94: 2620-27.
Liaskou E, Wilson DV, Oo YH. Innate immune cells in liver inflammation. Mediators Inflamm. 2012; 2012: 21.
Mohammed NA, El-Aleem SA, Appleton I, Maklouf MM, Said M, McMahon RFT. Expression of nitric oxide synthase isoforms in human liver cirrhosis. J Pathol. 2003; 200: 647-55.
Montosi G, Garuti C, Martinelli S, Pietrangelo A. Hepatic stellate cells are not subjected to oxidant stress during iron-induced fibrogenesis in rodents. J Hepatol. 1998; 27: 1611-22.
Nabeshima Y, Tazuma S, Kanno K, Hyogo H, Iwai M, Horiuchi M, Chayama K. Anti-fibrogenic function of angiotensin II type 2 receptor in CCl4-induced liver fibrosis. Biochem Biophys Res Commun. 2006; 346: 658-64.
Neubauer K, Eichhorst ST, Wilfling T, Buchenau M, Xia L, Ramadori G. Sinusoidal intercellular adhesion molecule-1 up-regulation precedes the accumulation of leukocyte function antigen-1-positive cells and tissue necrosis in a model of carbontetrachloride-induced acute rat liver injury. Lab Invest. 1998; 78: 185-94.
Niehaus WG, Samuelsson B. Formation of malonaldehyde from phospholipid arachidonate during microsomal lipid peroxidation. Eur J Biochem. 1968; 6: 126-30.
Novo E, Parola M. The role of redox mechanisms in hepatic chronic wound healing and fibrogenesis. Fibrogenesis Tissue Repair. 2012; 5: 1.
Pietrangelo A, Gualdi R, Casalgrandi G, Montosi G, Ventura E. Molecular and cellular aspects of iron-induced hepatic cirrhosis in rodents. J Clin Invest. 1995; 95: 1824-31.
Poss KD, Tonegawa S. Heme oxygenase 1 is required for mammalian iron reutilization. Proc Natl Acad Sci. 1997; 94: 10919-24.
Price L, Kowdley KV. The role of iron in the pathophysiology and treatment of chronic hepatitis C. Can J Gastroenterol. 2009; 23: 822-28.
Siah CW, Ombiga J, Adams LA, Trinder D, Olynyk JK. Normal iron metabolism and the pathophysiology of iron overload disorders. Clin Biochem Rev. 2006; 27: 5-16.
Tipoe GL, Leung TM, Liong E, So H, Leung KM, Lau TY, Tom WM, Fung ML, Fan ST, Nanji AA. Inhibitors of inducible nitric oxide (NO) synthase are more effective than an NO donor in reducing carbon-tetrachloride induced acute liver injury. Histol Histopathol. 2006; 21: 1157-65.
Tiwari BK, Kumar D, Abidi AB, Rizvi SI. Efficacy of composite extract from leaves and fruits of medicinal plants used in traditional diabetic therapy against oxidative stress in alloxan-induced diabetic rats. ISRN Pharmacol. 2014; 2014: 7.
Tracey WR, Tse J, Carter G. Lipopolysaccharide-induced changes in plasma nitrite and nitrate concentrations in rats and mice: Pharmacological evaluation of nitric oxide synthase inhibitors. J Pharmacol Exp Ther. 1995; 272: 1011-15.
von Montfort C, Matias N, Fernandez A, Fucho R, Conde de la Rosa L, Martinez-Chantar ML, Mato JM, Machida K, Tsukamoto H, Murphy MP, Mansouri A, Kaplowitz N, Garcia-Ruiz C, Fernandez-Checa JC. Mitochondrial GSH determines the toxic or therapeutic potential of superoxide scavenging in steatohepatitis. J Hepatol. 2012; 57: 852-59.
Witko-Sarsat V, Friedlander M, Capeillère-Blandin C, Nguyen-Khoa T, Nguyen AT, Zingraff J, Jungers P and Descamps-Latscha B. Advanced oxidation protein products as a novel marker of oxidative stress in uremia. Kidney Int. 1996; 49: 1304-13.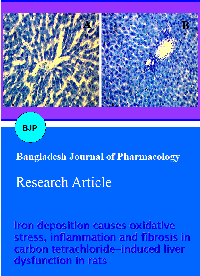 How to Cite
Reza, H., M. Sagor, and M. Alam. "Iron Deposition Causes Oxidative Stress, Inflammation and Fibrosis in Carbon Tetrachloride-Induced Liver Dysfunction in Rats". Bangladesh Journal of Pharmacology, Vol. 10, no. 1, Feb. 2015, pp. 152-9, doi:10.3329/bjp.v10i1.21711.
Section
Research Articles
Authors who publish with this journal agree to the following terms:
Authors retain copyright and grant the journal right of first publication with the work simultaneously licensed under a Creative Commons Attribution License that allows others to share the work with an acknowledgement of the work's authorship and initial publication in this journal.
Authors are able to enter into separate, additional contractual arrangements for the non-exclusive distribution of the journal's published version of the work (e.g., post it to an institutional repository or publish it in a book), with an acknowledgement of its initial publication in this journal.
Authors are permitted and encouraged to post their work online (e.g., in institutional repositories or on their website) prior to and during the submission process, as it can lead to productive exchanges, as well as earlier and greater citation of published work (See The Effect of Open Access).