Cytotoxic activity of isolated constituents from leaves of Premna serratifolia on MCF-7 and HT-29 cell lines
Mahesh Biradi

Department of Pharmacognosy, KLES College of Pharmacy, Nehru Nagar, Belagavi 590010

Kirankumar Hullatti

Department of Pharmacognosy, KLES College of Pharmacy, Nehru Nagar, Belagavi 590010
Keywords:
Agnimantha, column chromatography, cytotoxicity, Premna integrifolia.
Abstract
Premna serratifolia (Syn: Premna integrifolia) is an important medicinal herb known as Agnimantha in Ayurveda and traditionally used for anticancer activity. The objective of present study was to isolate the cytotoxic phytoconstituents from the n-hexane soluble fraction of P. serratifolia leaf extract. Unsaponifiable portion of n-hexane soluble fraction was subjected to silica based column chromatography. The major constituents present in all the sub-fractions were identified by TLC and phytochemical tests. Two constituents were isolated and they were purified. Sub-fractions with isolates were tested for cytotoxic effect by BSL bioassay. Two isolates were found to be active and which were tested on cancer cell lines MCF-7 and HT-29 for their cytotoxicity. Among two isolates, one compound has shown significant cytotoxicity. From the results we conclude that the plant isolates showed cytotoxicity against selected human cancer cell lines.
Downloads
Download data is not yet available.
Abstract
2496
Download
1217 Read
961
References
Ahmed B, Usman AA, Muhammad TQ, Matloob A. Anticancer potential of phytochemicals against breast cancer: Molecular docking and simulation approach. Bangladesh J Pharmacol. 2014; 9: 545-50.
Anonymous. Agro-techniques of selected medicinal plants. National Medicinal Plants Board, 2008, Vol. 2, pp 151-54.
Anonymous. American Cancer Society. Colorectal cancer: Facts & figures 2011-2013.
Awasare S, Bhujbal S, Nanda R. In vitro cytotoxic activity of novel oleanane type of triterpenoid saponin. Asian J Pharm Clin Res. 2012; 5: 18388.
Biradi M, Hullatti K. Screening of Indian medicinal plants for cytotoxic activity by brine shrimp lethality (BSL) assay and evaluation of their total phenolic content. Drug Dev Ther. 2014; 5: 139-44.
Cos P, Vlietinck AJ, Berghe DV, Maes L. Anti-infective potential of natural products: How to develop a stronger in vitro proof-of-concept. J Ethnopharmacol. 2006; 106: 29092.
Cragg GM, Newman DJ. Plant as a source of anti-cancer agents. J Ethnopharmacol. 2005; 100: 72-79.
Da Silva Filho AA, Resende DO, Fukui MJ, Santos FF, Pauletti PM, Cunha WR, et al. In vitro antileishmanial, antiplasmodial and cytotoxic activities of phenolics and triterpenoids from Baccharis dracunculifolia D.C. (Asteraceae). Fitoterapia. 2009; 80: 47882.
Evans WC. Trease and Evans Pharmaconosy. 15th ed. London: W. B. Saunders Company Ltd; 2005.
Koba K, Sanda K, Guyon C, Raynaud C, Chaumont JP, Nicod L. In vitro cytotoxic activity of Cymbopogon citratus L. and Cymbopogon nardus L. essential oils from to go. Bangladesh J Pharmacol. 2009; 4: 29-34
Majumder R, Akter S, Naim Z, Al-Amin M, Badrul M. Antioxidant and anti-diabetic activities of the methanolic extract of Premna integrifolia bark. Adv Bio Res. 2014; 8: 29-36.
Mali PY. Beneficial effect of extracts of Premna integrifolia root on human leucocytes and erythrocytes against hydrogen peroxide induced oxidative damage. Chron Young Sci. 2014; 5: 53-58.
Sandjo LP, Kuete V. SE. Medicinal plant research in Africa. Elsevier Inc.; 2013. Available from: http://dx.doi.org/ 10.1016/B978-0-12-405927-6.00004-7.
Selvam TN, Venkatakrishnan V, Kumar S. Damodar, Elumalai P. Antioxidant and tumor cell suppression potential of Premna serratifolia L. leaf. Toxicol Int. 2012; 19: 3134.
Singh RC. Antimicrobial effect of Callus and Natural plant extracts of Premna serratifolia L. Int J Pharm Biomed Res. 2011; 2: 17-20.
Vadivu R, Jerad S, Girinath K, Kannan PB, Vimala R, Kumar NM. Evaluation of hepatoprotective and in vitro cytotoxic activity of leaves of Premna serratifolia Linn. J Sci Res. 2009; 1: 145-52.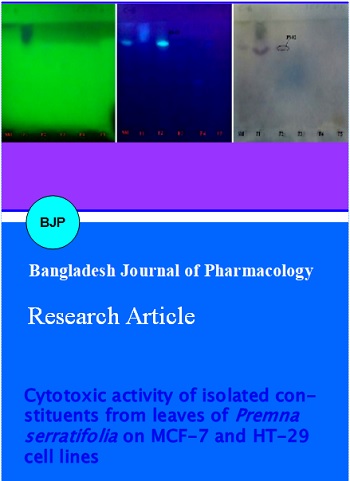 How to Cite
Biradi, M., and K. Hullatti. "Cytotoxic Activity of Isolated Constituents from Leaves of Premna Serratifolia on MCF-7 and HT-29 Cell Lines". Bangladesh Journal of Pharmacology, Vol. 10, no. 1, Mar. 2015, pp. 205-8, doi:10.3329/bjp.v10i1.21658.
Section
Research Articles
Copyright (c) 2015 Mahesh Biradi, Kirankumar Hullatti
This work is licensed under a Creative Commons Attribution 4.0 International License.
Authors who publish with this journal agree to the following terms:
Authors retain copyright and grant the journal right of first publication with the work simultaneously licensed under a

Creative Commons Attribution License

that allows others to share the work with an acknowledgement of the work's authorship and initial publication in this journal.
Authors are able to enter into separate, additional contractual arrangements for the non-exclusive distribution of the journal's published version of the work (e.g., post it to an institutional repository or publish it in a book), with an acknowledgement of its initial publication in this journal.
Authors are permitted and encouraged to post their work online (e.g., in institutional repositories or on their website) prior to and during the submission process, as it can lead to productive exchanges, as well as earlier and greater citation of published work (See

The Effect of Open Access

).